Monos review - teenage guerrillas raising havoc |

reviews, news & interviews
Monos review - teenage guerrillas raising havoc
Monos review - teenage guerrillas raising havoc
Visually stunning and a brilliant soundtrack - but there's a lack of heart to Alejandro Landes's darkness
Thursday, 24 October 2019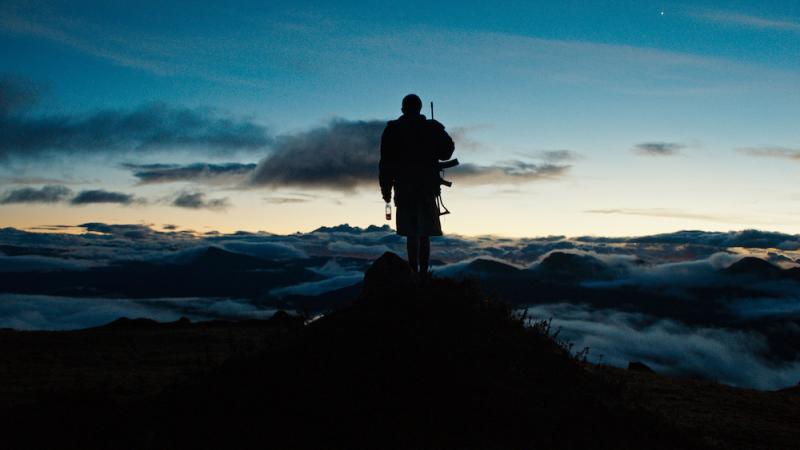 Head above the clouds: the remote outpost where Monos is based
In the opening scene of Alejandro Landes's strange, beautiful but finally unsatisfying Monos, eight teenage guerrillas are playing football blindfold on a high mountain plateau. Why the blindfolds? Perhaps to warn us not to expect any light to be thrown on whys and wherefores in this unsettling, visually stunning film, with its echoes of Lord of the Flies and Apocalypse Now.
These Colombian kids, some gender fluid and mostly first-time actors, are a convincingly feral, Mad Max-ish bunch, with names like Wolf, Bigfoot, Swede, Rambo and Lady. Their code name is Monos and they receive sporadic military training from a small, muscular man they call Messenger; he's their link to a shadowy outfit called the Organisation and is played by Wilson Salazar, in real life an ex-commander of FARC, Colombia's main guerrilla group, who until recently had a price on his head. Quite a coup there, then.
But although the Messenger calls Monos his family, he mostly leaves them alone to carry out their allocated missions: that of guarding a milk cow called Shakira and a thin, strung-out American prisoner of war known as Doctora (a mesmerising Julianne Nicholson, her hair greying at the roots, her personality somehow remaining intact).
Not surprisingly, as unsupervised adolescents, they fail dismally in both tasks, as their main interests lie in having sex, getting drunk and raising havoc with their machine guns, resulting in the cow getting shot. Wolf (Julian Giraldo), as squad leader, will be held responsible, so he shoots himself, to the brief dismay of his lover Lady (Karen Quintero). Malign, sharp-featured Bigfoot (Moises Arias: Hannah Montana, Despicable Me 2, Ben Hur, pictured above) takes over as leader, but none of this matters much – most of the action is random and inconsequential.
Does this reflect the pointless chaos of conflict? If so, it's not a clear message. Soon after, they're ambushed while some of them are tripping on the shrooms that they find growing in Shakira's cowpats, and although they win the battle (we don't see how), they're forced to relocate to the jungle, their only link with Messenger via a radio.
All this is interspersed with many violent squabbles and occasional interludes of tenderness, such as a telling moment between Doctora and Swede (Laura Castrillon), who's guarding her during the ambush. "What do you want?" asks Doctora (pictured below, with the Monos), perhaps hoping to leverage some way of escape, "I can help you with anything." Swede's eyes glisten and she looks like the child that she is. "I want to dance on television," she says. As bombs rain down and the walls cave in, she puts down her machine-gun and the two embrace, desperate for a moment of comfort.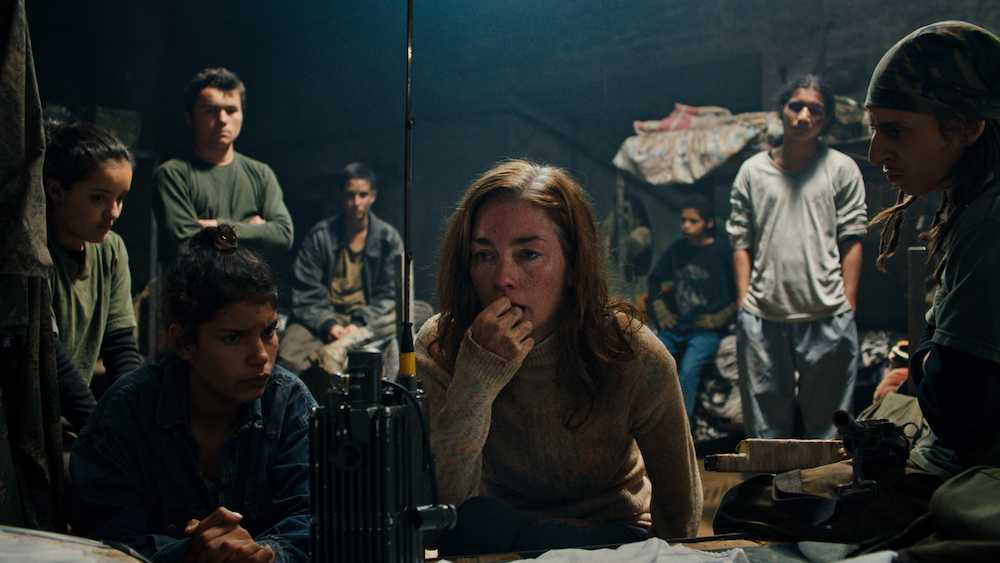 In one of the most haunting scenes, the androgynous Rambo (Sofia Buenaventura) is rescued from the jungle river by a kind, normal couple with three small children. Bizarrely, they all sit in front of the TV watching a documentary about the gummy-bear factory in Bonn. For the first time, Rambo sleeps in a bed, waking up to the sounds of children playing, and not the brutal Monos version of play that she's used to.
Jasper Wolf's cinematography, some of it aerial, some of it underwater, is exceptional – and definitely worth seeing on a big screen - as is the intense soundtrack by Mica Levi (Under the Skin), full of thunder and bird-like whistles. These teenage soldiers are all impressive actors, but they're not differentiated enough as characters to be very compelling. Although there's undeniable tension and force throughout, and Doctora's attempts at escape provide a bit of substance to the wavering plot line, there's nevertheless something hollow at the heart of this darkness.
Subscribe to theartsdesk.com
Thank you for continuing to read our work on theartsdesk.com. For unlimited access to every article in its entirety, including our archive of more than 10,000 pieces, we're asking for £3.95 per month or £30 per year. We feel it's a very good deal, and hope you do too.
To take an annual subscription now simply click here.
And if you're looking for that extra gift for a friend or family member, why not treat them to a theartsdesk.com gift subscription?