Memory Box review - exquisitely made drama set in Lebanon |

reviews, news & interviews
Memory Box review - exquisitely made drama set in Lebanon
Memory Box review - exquisitely made drama set in Lebanon
Ingenious fusion of archival material and constructed narrative brings the civil war to life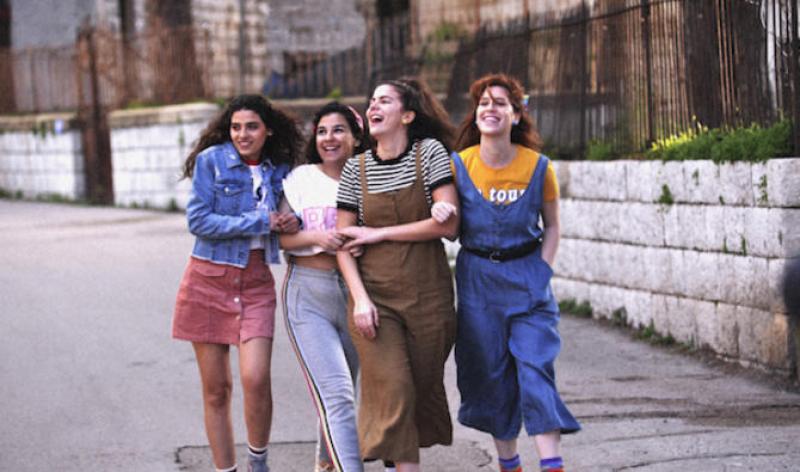 Girls aloud: celebrating teenage friendship in 80s Beirut
Memory Box is that rare thing, a glimpse into a lost world from its traumatised inhabitants. Made by the Lebanese artist-filmmakers, Joana Hadjithomas and Khalil Joreige (a husband and wife team), it's an intergenerational drama split between Beirut during the Eighties (the height of the Lebanese Civil War) and present day Canada.
During the war, over a million people fled the country, including Hadjithomas's best friend, a teenage girl who moved to Paris.They kept in close touch sending each other notebooks filled with photos, drawings, magazine cuttings and recorded voice messages on cassette tapes. It's that archival material that forms the documentary backbone to Memory Box and is brought to life on screen deploying an artful mix of techniques – Super 8 film, animation, recreations and superimposition. We are steeped in these teenagers' friendship, their romances, their battles with parents and angst over fat thighs and pimples. But this isn't a documentary – an imagined narrative is constructed around these fragments from the past.
The crate containing these memories arrives unexpectedly on a snowy Christmas Eve in Montreal at the house of Maia, a divorcée who lives with her teenage daughter, Alex. Maia is not home, but her own mother Téta (Lebanese for granny) is preparing vine leaves and kibbeh for the holidays. Played by the brilliant Clémence Sabbagh (pictured below left), Téta recognises a potential Pandora's Box. She knows its secrets will cause trouble and hides it in the basement. But Téta and Maia (beautifully portrayed by Rim Turki, pictured below centre), and her insatiably curious daughter Alex (Paloma Vauthier, pictured below right) are soon at loggerheads about the box's contents.
Maia needs to come to terms with the reason why the box has been sent to her after all these years. It triggers resentment against her mother Téta for other long held secrets that boil over in an angry scene. Meanwhile Alex, an aspiring photographer herself, wants to know about her mother's teenage years in Beirut and goes about secretively reading the notebooks and snapping the contact sheets and portraits she sneaks out of the basement. All these revelations are relayed to her (unseen) friends via her smart phone, highlighting the shift in communication tech since her mother's teen years mailing audiotapes.
Memory Box is very beautifully made. As well as the intricate graphic treatments of the archival material, every shot in the present day scenes and flashbacks are carefully composed with much use being made of door and window frames. Western pop hits from bands like Visage and Blondie as well as Lebanese indie bands like the Bunny Tylers duo, keep the soundtrack vibrant. There is an exquisite final sequence depicting Beirut Tthrough time lapse photography.
he acting by all the female leads is excellent and the engaging dialogue is split between French and Arabic. But the promised traumatic revelations are oddly muffled in the second half of the film. And there's very little about the politics of Lebanon during the war or in the present day. It's as if the film's makers don't want to distract an international art house audience from the poetry of their images or widen their focus away from family history and romantic dynamics.There are hints – Maia's teenage friend was a Catholic, her forbidden lover, Raja, was a sympathiser to the resistance. But without an intimate knowledge of the Lebanese civil war's history, these points would pass a viewer by. Despite that caveat, Memory Box is an engaging and enjoyable drama.