Margaret |

reviews, news & interviews
Margaret
Margaret
Teen angst and tough lessons in this mistreated gem
Inner city pressure: Anna Paquin in 'Margaret'
Idiotically buried by a release which sees it appearing on just one screen nationally, Kenneth Lonergan's triumphant follow-up to his Oscar-nominated debut You Can Count on Me (2000) is, without a scintilla of a doubt, one of the finest films of 2011.
Rich, resonant and with a meticulous approach to characterisation, it captivates, convinces and challenges.
Margaret opens on the streets of New York in intermittent slo-mo, giving the impression of a city collectively under strain (not least as such images are sombrely set to Francisco Tárrega's "Recuerdos de la Alhambra"). Our protagonist is Lisa Cohen (Anna Paquin), a smart-arse, surly teen on a half-scholarship to a private school. She begins the film seemingly without a care, on a somewhat asinine quest for a cowboy hat. However, when it leads her into a reckless flirtation with a bus driver, played by Mark Ruffalo (pictured below), this in turn triggers a fatal accident.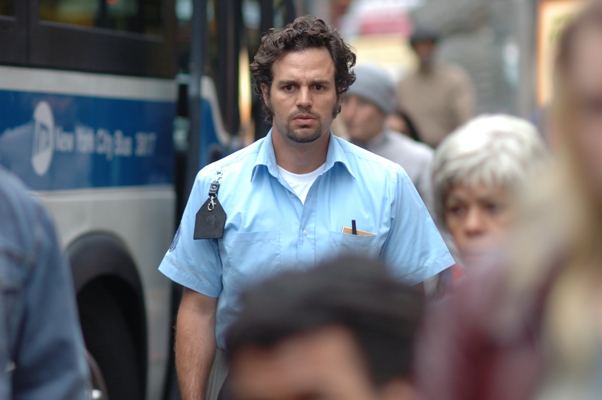 Lisa's desperation to atone pulls her in a number of directions. Carrying the burden of impotent anger she increasingly acts up at home, to the chagrin of her actress mother (J Smith-Cameron); there's trouble with boys and a more risky dalliance with her geometry teacher, Mr Aaron (Matt Damon, putting his Good Will Hunting mathematics wizardry to use). More significantly, she aggressively pursues justice for the victim, Monica (Allison Janney), when the bus driver escapes without reprimand.
It has been cast with great care and even the more minor interactions hum with significance. When Lisa and her friend Becky (Sarah Steele) are informally chastised for smoking pot by their English teacher (Matthew Broderick) they cruelly mock his efforts to seem hip and, as he walks away, the camera bears down upon his shoulders to show the impact their casual ridicule has on him. Paquin as the film's firebrand centre demonstrates once again what a fearless, direct and unselfconscious actress she is, and there are sensitive performances from the supporting cast.
These are people who have seen horror and felt grief on a massive scale
Margaret's New York setting couldn't be more significant. It shows a city still reeling from the events of 9/11, with its classrooms still trying to comprehend what happened and where to point the blame. When the bus tears a woman in two, the crowd that swarm aren't afraid to get their hands dirty: these are people who have seen horror and felt grief on a massive scale. When Lisa arrives home afterwards, she doesn't just have Monica's blood on her hands, but all over her legs and in her hair.
Alongside his duties as director, Lonergan wrote the screenplay and appears briefly as Lisa's absentee father, Karl. The film takes its name from Spring and Fall: to a Young Child by Gerard Manley Hopkins which features in a classroom scene. It deals with a child, Margaret, who in her innocence mourns the coming of winter and describes how this represents a burgeoning consciousness of her own mortality. Like Margaret, Lisa has much to learn and her erratic, emotional response to the accident is judged to be a sign of her immaturity.
That Margaret's executive producer is Anthony Minghella (who died in 2008) will flag up to many that this film has been gathering dust for some time. A quite obviously pre-True Blood Anna Paquin is another clue. Legal disputes over the final cut with its distributors Fox Searchlight have caused this delay and the film has reputedly been whittled down from three hours to its current two and a half. What's missing is impossible to say, but what remains is magnificent. Catch it if and while you can.
Margaret is showing now at the Odeon Panton Street, London
Watch the trailer for Margaret