King Richard review - Will Smith gives an affecting performance as Richard Williams |

reviews, news & interviews
King Richard review - Will Smith gives an affecting performance as Richard Williams
King Richard review - Will Smith gives an affecting performance as Richard Williams
Biopic of Venus and Serena Williams' father
Thursday, 18 November 2021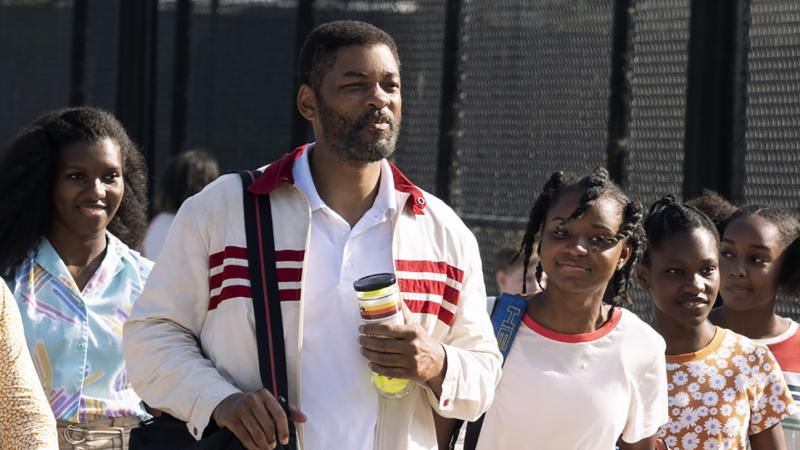 Will Smith as Richard Williams, who planned his daughters' careers before they were born
It's difficult to know if this biopic of Richard Williams – father of Venus Williams and Serena Williams, two of the greatest tennis players ever (perhaps the greatest in the latter's case) – is true to the facts, or just a version of them.
The women are listed as executive producers, so it was with a cynical reporter's eye and someone who has a little knowledge of the subject (I've interviewed Richard Williams several times over the years, and attended numerous press conferences given by his daughters), that I watched King Richard. It's an enjoyable appreciation of his role in their success but rarely poses any deeper questions that may discomfort those exec producers.
Written by Zach Baylin and directed by Reinaldo Marcus Green, the film covers a few years in the early 1990s. We begin in Compton, Los Angeles and follow Venus and Serena (Saniyya Sidney and Demi Singleton respectively) up to when Venus turns pro at 14. (She wouldn't be allowed to today at such a young age.)
Richard (Will Smith) is a night security guard and, despite no obvious ability or training in the sport, teaches his girls tennis each day after school, on crappy public courts, where he hangs positive messages on cards and feeds the girls ball after ball. Their mother, Oracene (Aunjanue Ellis), also coaches them while working double shifts to keep the family afloat.
Having read of the huge money in tennis at that time, we learn that Richard had written a 78-page plan about making the girls champions before they were even born. Unable to afford membership of a club, he contacted every coach he could find to take his girls on for free, but each one turned him down.
The film shifts a gear when one coach, Rick Macci (Jon Bernthal), sees the girls' potential and invites the family to relocate to his tennis academy in Florida – although he has no idea what a thorn in his side Richard will be, coaching from the sidelines and treating the place as his own. The rest you will probably know.
Smith gives an understated but affecting performance as a headstrong and flawed, sometimes irascible character, while Ellis does her best with an underwritten role. Sidney and Singleton are superb and, unusually for a sports film, the action scenes where matches are recreated are strikingly authentic.
The story is a straightforward sports drama of talent winning through, while the meatier personal issues are sidelined. Who knows what motivations there were, what uncomfortable facts have been glossed over? The story ends some years before Richard and Oracene divorced, acrimoniously, in 2002. But it's hinted at here in a terrific, emotionally charged scene when she points out that he has been an absent father (to five children by his first wife), doesn't give her any credit for her part in their daughters' coaching, and is a dreamer whose many business ventures have come to nought.
Richard Williams had a vision and a purpose, and neither was jolted by the poverty of ambition that surrounded his girls in Compton nor by the undisguised racism of much of tennis – at any level – at the time. The racism, surprisingly, is never overt in King Richard – just disapproving looks from white members of tennis clubs and condescending marketing men hoping to make fast buck from the girls – while the movie's aggression and violence comes entirely from gang members in Compton who sneer at Richard's efforts and beat him up.
Richard Williams (who is now 79 and frail) grew on me over the years; his dry sense of humour was a gift to any tennis reporter looking for a quote, and my favourite was when I asked where I might find him after both his daughters had appeared in the Wimbledon semi-finals. He responded: "Just look for a six-foot-three black man at Wimbledon and you'll be able to locate me just fine."