JT Leroy review - pseudonym, avatar, literary hoax |

reviews, news & interviews
JT Leroy review - pseudonym, avatar, literary hoax
JT Leroy review - pseudonym, avatar, literary hoax
Revisiting the scandal of 2006: Kristen Stewart shines as Savannah Knoop/JT LeRoy
Wednesday, 14 August 2019
The JT circus: Geoff Knoop (Jim Sturgess) Savannah Knoop/JT LeRoy (Kristen Stewart) and Laura Albert (Laura Dern)
Based on Savannah Knoop's memoir Girl Boy Girl: How I became JT LeRoy, Justin Kelly's film skims the surface of the sensational literary hoax of the early 2000s, that far-off time before avatars, gender fluidity and fake online identity were part of everyday life.
Kristen Stewart, with her own queer identity as a background hum, is a fine, understated match for the role of the androgynous Knoop, who was roped in by her sister-in-law, 40-year-old author Laura Albert (a harsh, one-note Laura Dern) to play LeRoy at literary events and parties. This is Knoop's side of the story, set in San Francisco, but it's so intricately tied up with Albert's that the end result is not completely satisfying – and you feel that another documentary would have been a better vehicle for this extraordinary story.
Albert's fictional persona was an abused rent boy, known as a lot lizard, whose prostitute, drug-addicted mother pimped him out in truck stops down south. Albert, as JT LeRoy, wrote Sarah, a "semi-autobiographical" novel about JT's mother, in 2000, and, in 2001, The Heart is Deceitful Above All Things, a short-story collection. The books became international bestsellers. Albert felt she was inhabited by the character.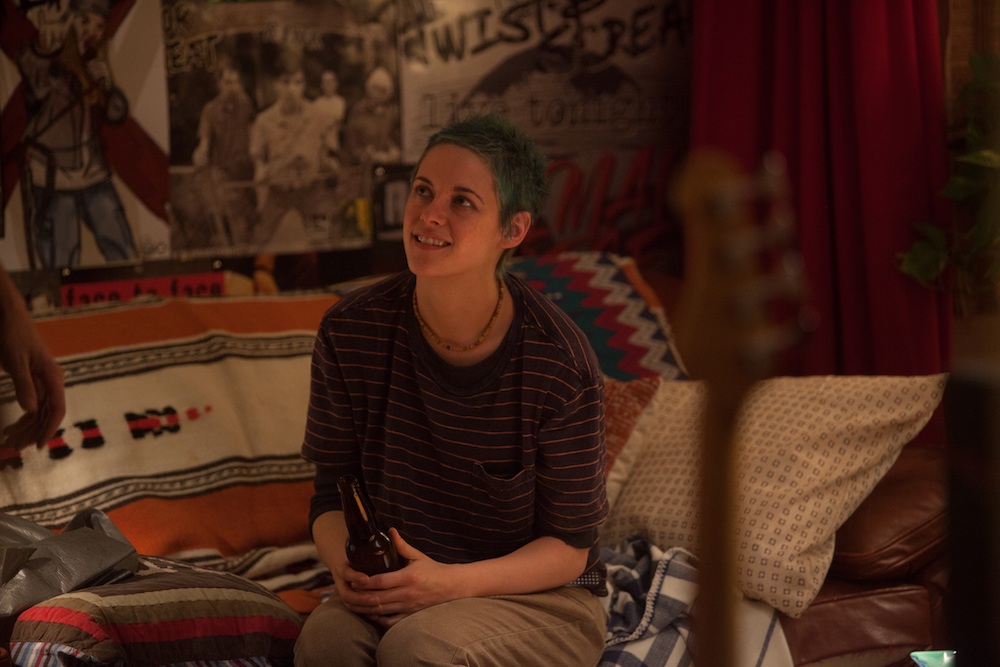 Celebs like Courtney Love (who has a cameo role in the film), Tom Waits, Bono, Gus Van Sant and Winona Ryder lapped JT up, with Albert spending hours on the phone in character with them, as well as with her publishers and eager journos (she'd worked as a phone sex operator to pay the bills, which came in handy for inspiration). Of course JT himself was never seen. Madonna sent Kabbalah books. Everyone bought raccoon-penis-bone necklaces, JT's truck-stop trademark.
As the buzz grew, Albert needed to give the transgender JT a physical presence. "I felt him leave my body and enter yours," she tells Knoop, who soon embraces the role – and the celeb lifestyle – wearing a blonde wig and sunglasses and not saying much while trying to copy Albert's haphazardly southern accent. "It feels like I'm making something, like a performance," she says earnestly (pictured above).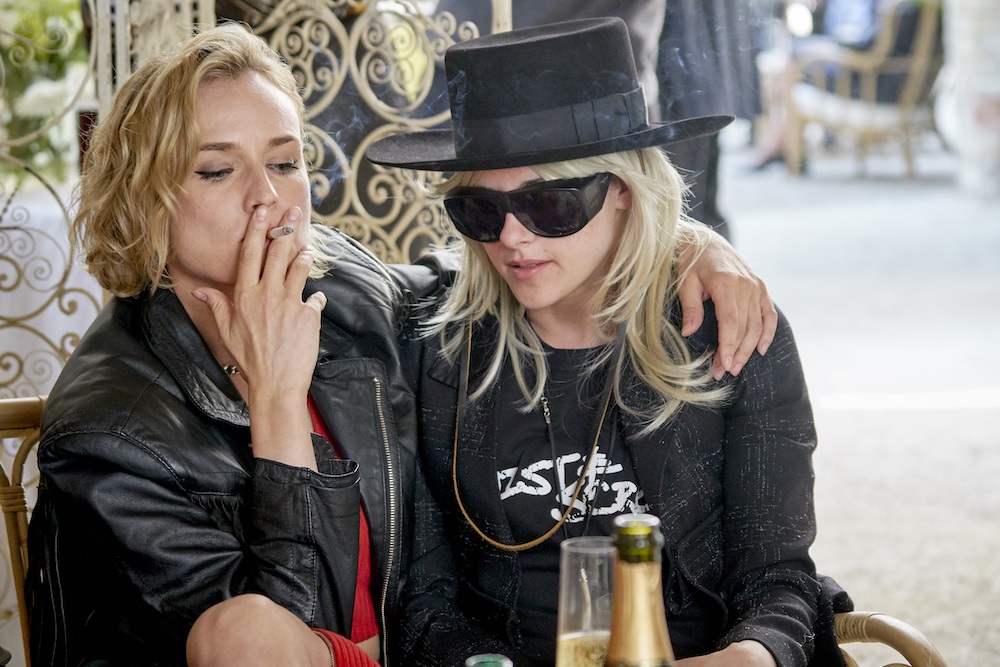 To complicate things further, Albert takes on the part of Speedie, JT's obnoxious British manager (she's also a singer under the name of Emily), who answers questions for him and tries to keep his partying under control. Asia Argento (here played by Diane Kruger as Eva, a French rather than Italian actress, pictured above with Stewart as JT) and JT have a passionate affair. Does Eva know that JT is a woman? Does she care? Is she only in it for the movie rights (in 2005 Argento made a panned film of The Heart is Deceitful)?
Some have their suspicions – JT sounds very much like a woman and seems oddly distant with people whom he, or rather Albert, has been phoning and emailing intimately for months. Coordinating their stories gets harder as Albert loses control of Knoop, especially when she becomes obsessed with Eva, and Knoop is often left out of the loop by Albert. "Eva's into who she thinks JT is, not you," Albert tells Knoop furiously, jealous of Knoop's appropriation of her creation. "Are you really who you say you are?" asks a journalist. "Are you?" JT comes right back at him.
They carried on the hoax for six years, with Albert moving into screen-writing and producing with Van Sant and David Milch, until New York magazine (changed in the film to the Guardian, for some reason) outed them all (Geoff Knoop, Savannah's brother and Albert's partner, was also involved) in 2006. Albert was sued for fraud, Savannah Knoop, now gender neutral, became a clothes designer – and writer.
Such a many-layered, confusing tale needs a stronger vehicle but the film is an interesting addition to the JT oeuvre (Jeff Feuerzeig's 2016 documentary Author: the JT LeRoy Story, where Albert tells her side of it, is well worth watching as a companion piece – in fact you need to see both to get the picture). James Jagger has a bit part as Eva's lover and Jim Sturgess plays Geoff, whose music forms a large part of the soundtrack.
Albert had worked as a phone sex operator to pay the bills, which came in handy for inspiration
rating
Explore topics
Share this article