Hercules |

reviews, news & interviews
Hercules
Hercules
3D reboot of the myth is hard labour
Take that! Dwayne Johnson goes clubbing in 'Hercules'
A Grecian palace on a studio lot. Gods wander about among the plywood and polystyrene looking deific. As a child is raised to the heavens a voice(over) is heard to intone the following legend.
Oracle: You don't want to believe those myths you've read in boys' own books about the heroes of ancient times. That Roger Lancelyn Green is so tediously on-message. Take the dozen labours of the demi-god Hercules…
Young mother of Hercules (from the pages of Playboy): Wait up while I flash a 3D breast at everyone's goggles, but just once or we'll never get our PG rating. Now let's get on with the retarded orgy of violence.
Dwayne: You may call me The Raaack, hero of the legend of The Scorpion King and other such less than hallowed products of my breakout from the basketball court. By my adamantine pecs, Hollywood hair and bodacious dentistry shall y'all know me. Lemme introdooce you to my randomly selected wingmen. Regulation weedy guy, dumb psycho guy, and not one but two British guys whose superpower is cocking an eyebrow. Plus girl guy.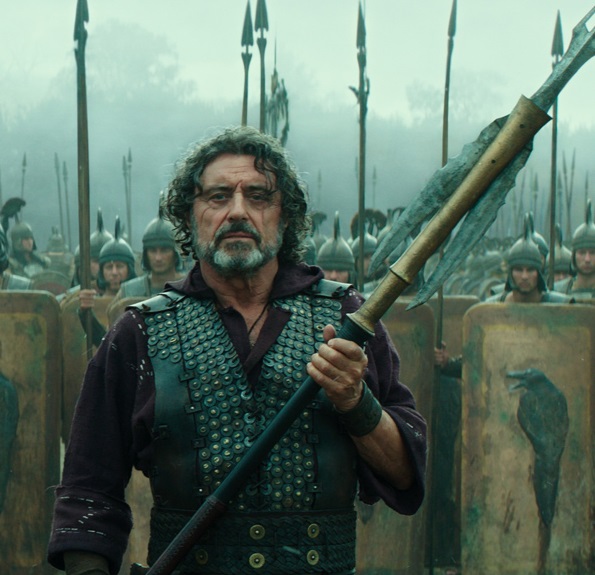 Campaschristmaus (Ian McShane cocking an eyebrow): Kindly deposit my latest cheque for looking leathery and bored in the usual offshore account.
Marquess of Autolycus (Rufus Sewell cocking an eyebrow): Quip choppered in by script doctors to lighten up turgid dog's dinner.
Atålanta (Ingrid Bolsø Berdal): Every Greek måsh-up needs a tøken Scåndizønian bitch-on-ice. And nej, I wasn't in The Killing.
Ergånia (Rebecca Ferguson): Budge up, Atålanta, there's røøm for two Nordic heroines in this bottle-blonde corner of Ancient Greece. I wasn't in The Killing either, but I do know my way around a specious costume drama. Promise I won't strip if you don't. The coloured-in kingdøm of Thråce is under threat. My bearded old pøp Jan Hurt and his heir/my sson (who is on hol from a pøsh London prep skol) crave help from Dwayne's 12-pack.
Quentincrispos (after swallowing a cup of gravel): The last time I wore a skirt was in I, Claudius. Where in Hades is Robert Graves when you need him?
MacSitacles (Peter Mullan, in helmet and kilt): Och I cannae lie, I dinnae like the look o' yon Dwayne. I ken he's oot tae foil ma thinly disguised dastardliness.
Dwayne: Listen up, you 20 or so extras in the front of the column plus the CGI hordes making up the numbers in back! We must search for the hero inside ourselves and fulfil other knackered comicbook tropes or else we die on our butts. On the morrow we march over a computerised sketch of a Grecian mountaintop, there to do battle with hired ethnic dudes in greasepaint and loincloths. Let me just down a vat of steroids so the veins in my biceps jump out of the 3D screen nice and big. Then bring me my chariot of lukewarm water!
Vast horde: CHAAAARGE!
Dwayne: Take that, punks. And that. And that. And that. And that. And that. And that. And that. And that. And that. And that. And that. And that. And that. And that. And that. And that. And that.
Atålanta: And thåt.
Marquess of Autolycus: Quip.
Rhesusson (Tobias Santelmann): Hellø bøys, got røøm for one more Scåndy you've never heard of with nice cheekbones? Nej?
Vast horde: CHAAAARGE!
Quentincrispos: I can now reveal I'm with MacSitacles. Evil to the very depths of my 2D characterisation. Meet my other partner in crime.
King of somewhere else vaguely Hellenistic (Joseph Fiennes, all iambic vowels and self-contempt): What in the name of Zeus happened to my career? To think I starred in Shakespeare in Love! How does my jammy big bro avoid crap like this?
Marquess of Autolycus: Quip.
Dwayne: Take that, punks. And that. And that.
Quentincrispos: Ouch.
MacSitacles: Ooch.
King of somewhere else vaguely Hellenistic: Boo hoo hoo. I'm been acted off the screen by The Rock! Save me, RSC! Voldemort! Anyone!
Campaschristmaus: I wish I were dead.
Dwayne: No can do, Campaschristmaus, I need you by my side for the sequel, and the threequel, and – for the diehard loyalists - the geekquel. You don't believe me? Read the entrails on imdb.com of the great god Brett Ratner. He created the legend of Horrible Bosses 2, Rush Hour 3, Beverley Hills Cop 4 and Madonna 65. His works have imbibed the nectar of the immortals. It is foretold that we shall be clubbing the audience into submission for all eternity.
Overleaf: watch the trailer to Hercules
On the morrow we march over yon computerised sketch of a Grecian mountaintop, there to do battle with hired ethnic dudes
rating
Explore topics
Share this article