Haywire
Haywire
Soderbergh makes a welcome return to the thriller with mixed martial arts star Gina Carano
Wednesday, 18 January 2012
A woman's work is never done: Gina Carano aims straight in Soderbergh's 'Haywire'
The protean director Steven Soderbergh has offered us many things, from the art house individualism of his debut, sex lies and videotape, to glossy mainstream hits like Ocean's Eleven and Erin Brockovich, the sci-fi of Solaris to the satire of The Informant!, and the meticulous biography of Che to the eccentric, experimental Schizopolis.
But my favourite of his modes is the hardboiled thriller. In fact, it was two such films in the late Nineties, Out of Sight and The Limey, which arguably saved his career from the rabbit hole of Schizopolis and nudged Soderbergh towards his current high status. Haywire is a reminder of those films. It's a lean, mean, exciting, intriguing and ineffably stylish film, with an action heroine who gives new meaning to "kick-ass" – indeed, a nice gathering of A-list actors suffer much more than a kick in the butt.
Following on from his successful casting of porn star Sasha Grey as a call girl in The Girlfriend Experience, Soderbergh now, and with equal cunning, throws former mixed martial arts star Gina Carano into the spotlight. The effect of these non-actors (my term notwithstanding Grey's job description as a porn "actress") is similar: while their wooden delivery of dialogue actually suits characters who want to give little away, the sense of authenticity is invaluable – in one case an innate understanding of what it is like to use your body as a sexual commodity, the other of how to use it to wreak havoc.
Carano plays Mallory Kane, a private-sector special ops specialist (that's my best stab at job description), her company renting her out to perform all kinds of covert derring-do for the government. We first meet Mallory in a diner in upstate New York, shiftily awaiting a contact. But the person who walks through the door is unexpected, leading to one of those across-the-table encounters in which friendly banter feels like the beat of a ticking bomb; and then it blows.
Her fracas sends Mallory driving into a snowy wilderness with a "civilian" passenger by her side, to whom she relates how she came to be on the run. It's a cheesy but effective device, the innocent spectator representing the audience's desire to know why Mallory is suddenly a target, and for whom.
And so Soderbergh takes us on the flashback trail to Barcelona and Dublin. What ensues is a novel kind of spy story, which starts with the rescue of a Chinese journalist, and is followed by all manner of skulduggery involving a group of men none of whose motives are clear. They include a US government official (Michael Douglas, pictured above with Carano), his Spanish counterpart (Antonio Banderas), an Irish spy (Michael Fassbender) and Mallory's boss (Ewan McGregor). En route, former marine Mallory is involved in a street gunfight, takes on an entire SWAT team, and is involved in a number of one-on-one fights that showcase Carano's talents (no stunt doubles needed here, for sure), the best of which – she and Fassbender beating the bejesus out of each other in a Dublin hotel – bounds over the bar set by the Bourne movies.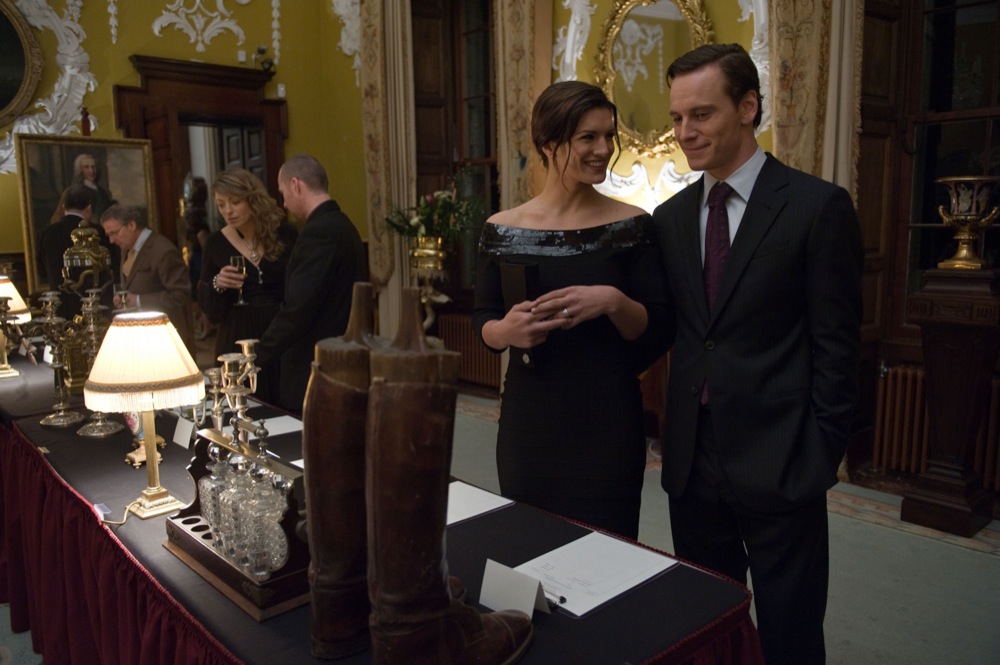 For a time, Fassbender and Carano (pictured left) play the perfect spy couple – gorgeously groomed, meticulously synchronised, equally deadly. Alongside his sex addict in Shame and his delicious portrayal of Carl Jung in A Dangerous Method (out in a few weeks), it's another glimpse of the awesome range of the young Irishman; taking him on is perhaps the high point of Carano's initiation.
Much is made in the film of Mallory's gender. "I don't wear the dress," she barks at one point to her boss. Elsewhere, an assassin is warned, "You shouldn't think of her as being a woman. That would be a mistake." But to her credit, Carano does allow us to see the woman beneath the operative, one with an assured sexuality and moral code. It's a delicately achieved, logical balancing act; when Mallory heads for the New Mexican mountains to seek help from her father (Bill Paxton), there is no sense that she's going to leave her guns in the boot and hand over fight duties to papa.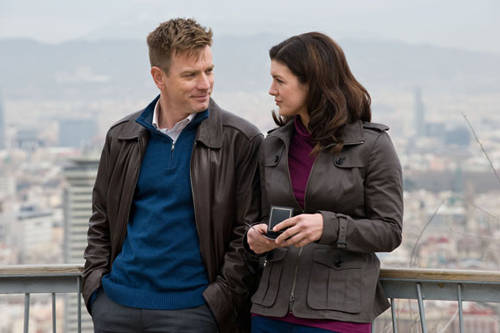 Mallory's ambiguity is in keeping with that of all the other characters, beautifully played by a fine array of leading men happy to work in the orbit of the newcomer. It's good to see Douglas, only recently recovered from cancer, back in the saddle and as intimidating as ever; Banderas is fabulously mischievous (and sports a nice range of facial hair) and McGregor (pictured above right with Carano) seems to combine bank manager, naughty schoolboy, pathetic ex-lover and Machiavellian puppet master in his portrayal.
Soderbergh's direction is snappy and efficient, jumping between locations and time slots with aplomb, and showing himself a dab hand at action choreography (a deer's sudden appearance during a car chase simply takes the breath away). All the while, two old collaborators add enormously to the tone of the film: scriptwriter Lem Dobbs, who wrote The Limey, whose spare but juicy dialogue keeps the intrigue bubbling beautifully; and composer David Holmes, whose eclectic, classy scores have been integral to the success of Out of Sight and the Oceans trilogy, and here lends a muscular, drum-heavy but hugely textured motor to the action. Like Mallory herself, Haywire is a well-oiled machine, without an ounce of flab on it; like her victims, we can only stagger back in admiration.
Soderbergh's direction is snappy and efficient, jumping between locations and time slots with aplomb
rating
Explore topics
Share this article