Haley Fohr: Salomé, Brighton Festival 2019 review – potently camp debauch |

reviews, news & interviews
Haley Fohr: Salomé, Brighton Festival 2019 review – potently camp debauch
Haley Fohr: Salomé, Brighton Festival 2019 review – potently camp debauch
Infamous Wilde silent film adaptation scored live and reconsidered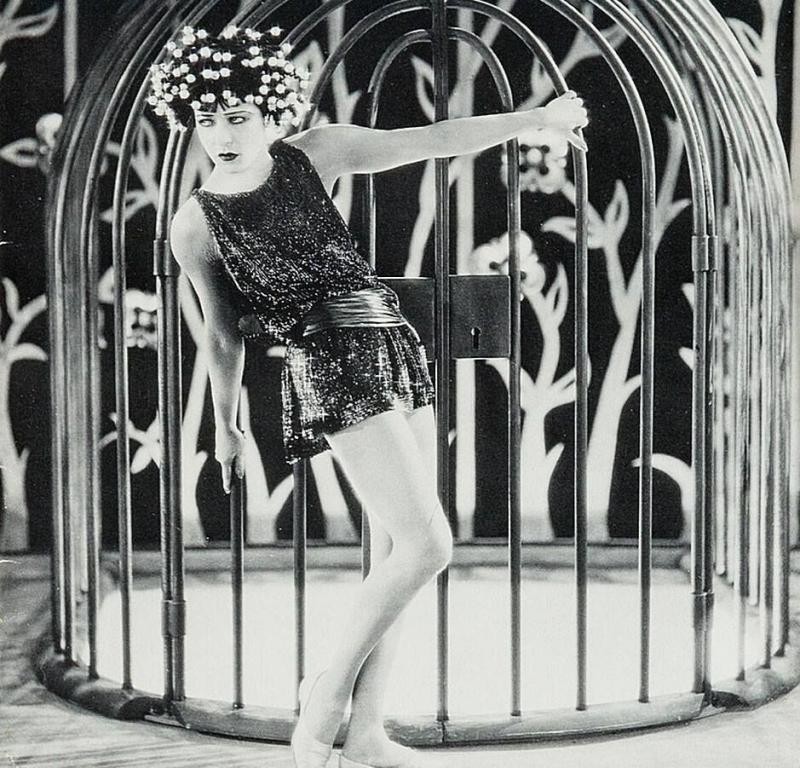 Alla Nazimova as Salome
Haley Fohr's disquiet at the "wildly outmoded" sexual politics of this notorious 1923 Wilde adaptation led her to cut its intertitles, relying only on sometimes delirious imagery and her throbbing live score.
The inherent misogyny of the story of Herod's step-daughter erotically dancing to gain John the Baptist's head is, though, already undercut by Alla Nazimova's bizarrely beautiful version.
The Jewish-Russian émigré was a major Broadway and Hollywood star when her uncompromising, ruinously expensive vision for Salomé, and the scandal of her fake marriage to its director Charles Bryant, bankrupted her production company and all but finished her film career. Fohr helps a substantial audience at Hove's The Old Market relish it rather more.
Anyone wondering whether Herod's outrageously effeminate, nipple-painted guards were accidental proto-camp is pointed towards its makers' lives. Producer-star and pseudonymous screenwriter Nazimova held lesbian court in the Hollywood Hills with lovers including Oscar's niece Dolly Wilde and, it was rumoured, Salomé's costume designer – and Valentino's wife – Natacha Rambova. Scandalmonger Kenneth Anger's assertion that the whole cast was gay seems credible, and men play female courtiers. Queen Herodias's male favourite, dryly supplying booze and sympathy, suggests George Sanders. But Salomé's reputation for practically inventing camp proves its least interesting aspect.
Chicagoan Fohr, aka Circuit Des Yeux (pictured above), pulls synth sounds from a circuit-board as her voice plumbs androgynous, lugubrious depths, in an otherwise acoustic band of viola, double-bass and drums. There's a prevailing sense of ominous pressure in a score whose performance never overwhelms the film. It would frankly be hard to, as the first gauzy veil parts to reveal Rambova's spectacular costumes, inspired by Aubrey Beardsley's illustrations to Wilde's play and her fascination with Egyptology. We are visually somewhere between the Naughty Nineties and Roaring Twenties, Pharaoh's court and a Flash Gordon serial.
Nazimova's Salomé is first seen in a glittering flapper dress with lit baubles in her frizzed brunette hair, and later with the wild blonde bob of an electrocuted pageboy. A slip of a woman with a dancer's litheness, her heavy-lidded petulance rarely seems seductive. Herod, played by Mitchell Lewis as a toad-like Capone, responds anyway. So does John the Baptist, briefly, as Salomé hangs from his cage with a cat's intent, and strokes him as a brazier's hell-smoke rises behind them. More naked than Salomé in his loincloth, John seems priggish more than noble as he rejects her.
Critics thought Salomé slow even in 1923. But the climactic Dance of the Seven Veils lays waste to the languor. Fohr gives a mighty howl mixing power and anguish, drums pound, and on-screen brass-playing dwarves and false-bearded wise men are equally, lasciviously transfixed. Salomé spins, abandoned, then rises under a veil like a ghost. The music's low moan hovers between sacred and unholy ritual. It falls silent as Salomé's perverse but serious, almost sorrowful lust sees her kill its saintly object. She rises from the cell with a shield as a basket for the Baptist's head, and a Beardsley-esque conjurer's cloak (Beardsley's Salome, pictured right). In a theme which would define the Twenties, the debauch has gone too far.
Nazimova's Salomé is at her most potent as horrified guards destroy her, Herod flees, drums hammer as if forcing entry in a nightmare, and Fohr's electronics roil. Her cutting of Nazimova's script is a debatable feminist act. But misogyny and murder do coalesce into female power, in our final sight of this film's astonishing maker.
Salomé's reputation for practically inventing camp proves its least interesting aspect
rating
Explore topics
Share this article