Fifty Shades of Grey |

reviews, news & interviews
Fifty Shades of Grey
Fifty Shades of Grey
More, please, sir. EL James's filmed fable doesn't go the distance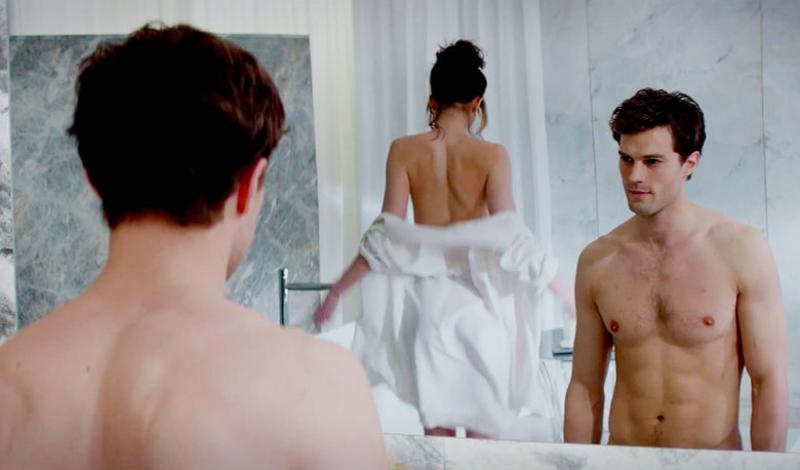 Watch your backs: Jamie Dornan and Dakota Johnson in 'Fifty Shades of Grey'
Fifty Shades of Grey is upon us, more or less literally. It's a bit like the clamber-cam POV shot of Jamie Dornan materialising through Dakota Johnson's spread legs. The teaser campaign has completed its titillating foreplay, and this weekend the fairytale fantasy franchise about fucking and slapping (but please, sir, no fisting) thrusts its entire length into the world's cinemas. How will it be for you?
The morning after, will audiences still be applying Arnica to their assaulted senses?
Let's start with what it's not. It's not the worst film in the world. To an extent, it has been rescued from its lowly origins, like its enigmatic billionaire anti-hero Christian Grey. As a trilogist EL James has been all about inflicting the wrong sort of pain, visiting bruises, welts and assorted aches upon the English language. Her instrument of abuse is Roget's Thesaurus. That the world has willingly submitted to the dull thwacks of her prose – and to Dan Brown's cloth ear – suggests both a vast market for masochism and the mass failure of the education system.
The good thing about Kelly Marcel's script, visualised by director Sam Taylor-Johnson, is the wholesale absence of James's sentences, if not her sensibility. Instead it's Dakota Johnson's job to embody Anastasia Steele's surrender in writhing shivers and shimmering squeals and other sundry liquescences. She does it creditably. She's a beautiful flirt too who – and this is a very old-fashioned concept, almost as old-fangled as Anastasia's prelapsarian complement of unwaxed pubes – knows how and when to say no. While Grey is busy seducing her into his little boy's toy room, she is seducing the audience, vulnerably gnawing her lower lip and doing the coy doe-eyed Diana look thing. If you care about anything in this film stuffed to the gunwales with planes and fleets of purring motors, with Apple product placements and a fuck-off property portfolio, then it's the girl, a lovely innocent on the age-old path into the dark wood.
But we need to talk about Christian, a walking, stalking erection with a platinum credit card and a knowledge of knots. Put together from papier-mâché and ply, and vacuum-wrapped in a plucked epidermis of lotion and ripples, he is a fatal nullity as a dramatic character. Dornan does what's required with Grey, but he's a real no-one boy, who just happens to have a massive chopper. His desire to dominate but inability to love is the conundrum the film seems to task itself with unpicking. "It's the way I am," he says. There is no rosebud. Beyond a cockamamie back-story about some sort of crack whore for a mother, told to Anastasia when she's sleeping, the story has no interest in investigating its own mystery. Several years in analysis would sort him out. Alas, the film hasn't got the time, or the curiosity (or, more likely, permission from the plot dominatrix EL James), to dig deeper. In dramatic terms Fifty Shades ejaculates early. Invoking its own safety word at precisely the point things might have got interesting, it brings things to a juddering halt and lops off the third act entirely. Boy gets girl, boy loses girl. Beauty doesn't tame the beast. That's it.
Instead there are surfaces, loads of them - sheeny chrome and glass, stainless steel and polished wood and, yes, lashings of comely skin. Even Christian's red-walled playpen is mostly for show. He's got enough instruments of torture to tool up the Spanish Inquisition, but, a bit like most of his car pool, they mainly stay parked. The film's cinematic forebear is the straight-to-video softcore sex thriller, which may explain the quantity of floppy-cock rock freighted into the soundtrack direct from the 1980s. This is a wannabe tragedy (with whips) about the knightly failure to commit to the maiden's romantic narrative. Of course, it's good that he doesn't get his way. But on the whole, this is fifty shades of grrr.
We need to talk about Christian, a walking, stalking erection with a platinum credit card
rating
Explore topics
Share this article