The Equalizer |

reviews, news & interviews
The Equalizer
The Equalizer
Denzel Washington fights crime in appealingly predictable thriller
Tuesday, 23 September 2014
"Odds against you? Need help?" Denzel Washington will find you.
Denzel Washington steps into the shoes of avenger Edward Woodward (TV series 1985-89) as a quiet, private man wrestling with his demons as he tries to stifle his natural gifts for violent justice. He's reluctant to hurt people but, you know, he has skillz. Washington's easy grace and intelligence give this predictable policier manqué almost edible allure.
It was Antoine Fuqua who directed Washington to an Oscar in 2001's Training Day. In the tough world of Hollywood, Fuqua's Olympus Has Fallen won a match race between two White-House-in-jeopardy films. So, this vigilante story that's been around for years with Weinstein, Sony and others, finally ended up in good hands, with filmmakers who understand the genre. The Fuqua/Washington team are also in line for The Equalizer 2 and a remake of The Magnificent Seven.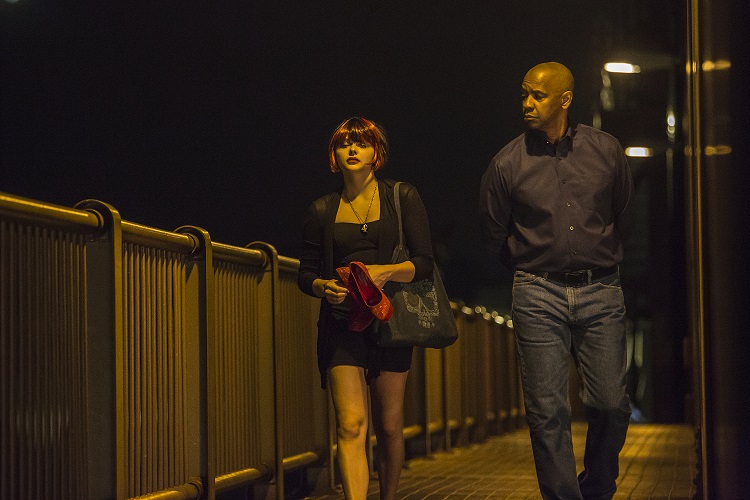 As entertainment, The Equalizer's memorable moments are very visual and, mainly, wordless. The script, written by Richard Wenk (Expendables 2), reportedly lost a lot of dialogue once Washington got involved – and it was the actor's idea, apparently, for McCall to be rather obsessive if not OCD, lining up his cutlery and napkin, keeping his home spotless, et al. Washington's McCall is, literally, a handyman. He works for a DIY warehouse where he's razzed by colleagues about his mysterious past. A straightedge, he keeps to himself, spending sleepless nights reading The Old Man and The Sea at a corner diner. It all kicks off when Teri - Chloë Grace Moretz, sort of wasted in a wig (pictured above with Washington) - a young Russian prostitute, is beaten to pieces by her pimp. The girl wanted to be a singer and McCall just can't leave it out.
Beautifully shot in Boston locations by Mauro Fiore (The A-Team and Training Day), McCall's super-calculated fighting skills are seen as trajectories of his thoughts, arcs of planning (as seen in TV's Sherlock, et al). While there's little new here, the pacing of Fuqua's direction keeps predictable scenes surprising in delivery. Most notable is the confrontation scene at the hotel where Russian baddies are not quite bad enough.
Living in a bare apartment, helping an obese workmate get a better job, reading the classics, Washington's McCall walks like a panther in workday overalls, with the serenity of a shaven-headed monk (albeit a deadly monk). He's appealing to watch, even if his feats verge on magical. Bill Pullman and Melissa Leo are wonderful too as McCall's secret contacts. The real discovery here is New Zealand actor Marton Csokas as the Russian who comes over to discipline the American mob. He's scary and thrilling and dangerous and businesslike: think a bizzaro world James Bond.
Overleaf: watch a clip from The Equalizer