This Is The End |

reviews, news & interviews
This Is The End
This Is The End
Seth Rogen's apocalypse comedy is narcissistic and charmless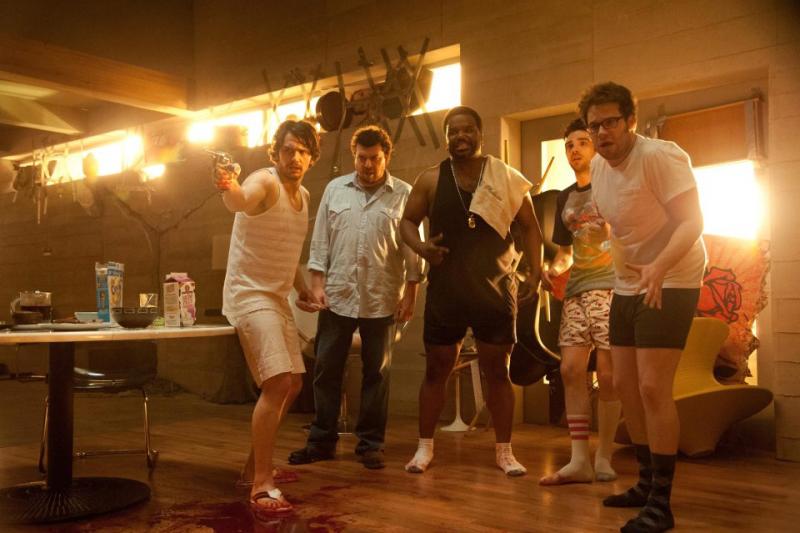 Bring on the four horsemen
People do the funniest things. Seth Rogen is not one of those people. Or not this week. An amiable enough graduate of Judd Apatow's school of slackers, stoners and other bromantic under-achievers, Rogen has in his time swum upstream by industriously tossing off scripts. Pineapple Express and The Green Hornet told of his one-tracked interest in do-gooding beta males, and his latest project travels down the same road, all the way to the end.
This Is The End
rounds off a kind of loose trilogy celebrating slobby moral infantilism.
Usually when Tinseltown imagines the apocalyptic obliteration of a city, it picks on those fancy-dan preppy types in New York, New York. This time round Rogen and his regular co-writer Evan Goldberg have taken the unusual step of inviting Armageddon to put down roots in the Hollywood Hills. If any metropolis has earned a visit from monstrous CGI critters with flapping phalluses sowing destruction in the boulevards, it is of course the wellspring of vanity projects such as This Is The End.
At the very epicentre of Narcissopolis we find the stars all partying hard round at James Franco's mansion when the Book of Revelations comes good on its promise. Yes, this is one of those films in which the A-listers get to play themselves. Emma Watson is on site furrowing her brow as per, Rihanna lands a haymaker on anyone who lays a greedy paw on her butt, and so on. The subtle twist is that these insanely over-rewarded megastars portray ugly versions of themselves. Franco is slothful, Jay Baruchel envious, Jonah Hill gluttonous, Danny McBride greedy. You name it, they've minted the seven deadly T-shirts. Oh, and Rogen is just Rogen. There's also someone called Craig Robinson.
The apocalypse comes with a massive surroundsound boom that has your seat shuddering in sympathy. The good people of LA are instantly teleported to heaven while the damned are sucked down a sinkhole into the fires of hell (Rihanna and the odd rapper included). A small posse of actors somehow survive the cull, leaving them shored up in Casa Franco with a diminishing stock of food, drink and drugs.
Worst of all, they've got no script to work with. What follows is a studio-bound horror comedy which trades in entry-level references to vastly more pleasing movies, undercut by the stars' own contributions to cinematic history. Most of these are of course negligible (ho ho ho, we make shit movies), and when they're not, they're worth mentioning in the ledger: "Dear God, it's me," says Jonah Hill. "Jonah Hill… from Moneyball."
Of all the bad-taste lapses, a severed, oozing head used as a football doesn't even make it onto the podium. If you want to stab your eyes out in the gruelling ejaculation sequence, make sure to keep one back for the tongue-in-cheek riff on the rapeability of Hermione Grainger. That Watson is on hand to mete out sisterly retribution (pictured left) is not remotely a get-out-of-jail card.
Baruchel at one point complains of being "barricaded in here with a bunch of people I really hate". Check. In the end the good guys redeem themselves and get to heaven, which here is deemed to consist of a further serving of women, reefers and parties. For the rest of us, heaven is escaping the stench of self-love coming off Rogen and his pals. If this film makes money, by all means bring on the four horsemen.
Watch the trailer to This Is The End