Eddie the Eagle |

reviews, news & interviews
Eddie the Eagle
Eddie the Eagle
High-flying no-hoper finds feelgood nirvana
Go ahead, jump: Taron Egerton (left) and Hugh Jackman defy the odds
By finishing last in the ski jumping events at the Calgary Winter Olympics in 1988, Eddie Edwards became the epitome of the plucky no-hoper, a mediocre amateur equipped only with British true grit. He epitomised a curious strain in the national psyche, whereby our nation has been able to celebrate the calamity of Dunkirk as a heroic escapade, and endure with masochistic stoicism decades of humiliation in tennis or World Cup football.
Still, being the solitary British Olympic ski jumper in history must be good for something, such as being tailor-made for a great British feelgood movie. Producer Matthew Vaughn and director Dexter Fletcher have obliged with a breezy, lightweight confection which is difficult to dislike, and has been strenuously swept clean of anything too testing or complex. We first meet Eddie, the future "Eagle", as a rather earnest boy living with parents Terry and Janette in a modest house in the un-posh part of Cheltenham. For no discernible reason, young Eddie, who suffers from poor eyesight and dodgy knees, is fixated on becoming an Olympic athlete, and keeps running away from home to pursue his destiny. He gets about as far as the local bus stop before Terry (Keith Allen, slightly more likeable than usual) tracks him down in his plasterer's van and brings him home.
While mum Janette (Jo Hartley) is warm and supportive, grumpy Terry tries to make the fledgling Eagle see reason and follow him into the family firm (Terry's plastering speciality is the "Arctic Stipple"), but the lad just won't give up. He shows some potential as a skier, but not enough to impress Dustin Target, supremo of the British winter sports team. Target is a posh, blazered buffoon afflicted with tragic delusions of adequacy, and is played on the precarious borderline of slapstick by Tim McInnerny.
Then Eddie hits on the brilliant wheeze of becoming a ski-jumper. Since Britain doesn't have any, he reasons, he must be in with a chance as the sole applicant. He borrows his dad's van and heads for the Alps, and with little money, no kit and no idea of what he's letting himself in for, prepares to hurl himself down the ski-ramps. Although Target and his snide cronies try to exclude Edwards by rewriting the entry criteria, he just sneaks in under the wire (the real Eddie Edwards, pictured below).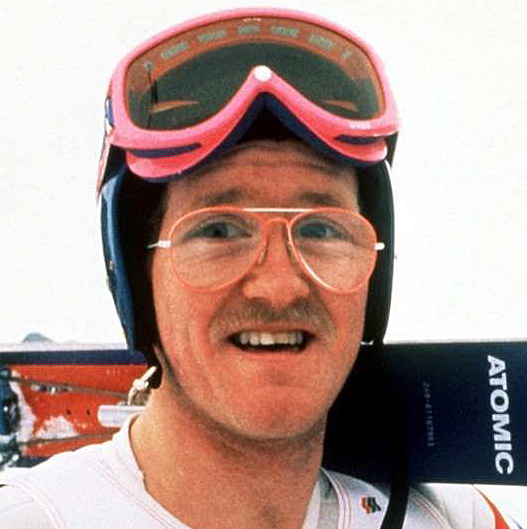 The depiction of the terror of plummeting down a vertiginous snow-covered slope, then flying off the edge towards a landing point that seems to be about five miles below, is one of the film's strongest suits ("whoever invented ski jumping was insane," Matthew Vaughn points out). They've achieved it potently enough, thanks to a variety of blood-freezing camera angles, to make you think again about what Eddie the Eagle really achieved. True, there was no danger of him winning anything, but the biggest battle was surely plucking up the courage to make the long climb to the top of the ramp, then pushing off into the void. It was this that made him a media darling in Calgary (cue Jim Broadbent as an avuncular doyen of British sports broadcasting), to the chagrin of the rest of the British entourage.
Eddie is portrayed with dogged determination by Taron Egerton (star of Vaughn's Kingsman: The Secret Service), who might perhaps have been urged to go a bit easier on the Edwards facial impersonations, which make him look like a bulldog suffering from lockjaw. What gives the flick legs (or possibly wings) is the addition of Hugh Jackman as Bronson Peary, a former ski-jumper who was dropped from the American Olympic team and is now living as a semi-alcoholic snowplough driver in Austria. Jackman looks far too muscular and super-fit for the role (which was invented by screenwriters Sean Macauley and Simon Kelton to give the yarn a bit of turbo-boost), but he brings a welcome splash of laid-back charisma to the proceedings as he agrees to coach the irrepressible Eddie, earning a little personal redemption in the process. The non-stop soundtrack of pseudo-Vangelis synth-pomp and cheesy Eighties pop hits gets quite annoying (it culminates, as it had to, with Van Halen's "Jump"), but Eddie the Eagle might just tap into that teeming ocean of Saturday night punter-hood that lies somewhere between Mamma Mia! and Made in Dagenham.