DVD/Blu-ray: Mr Klein |

reviews, news & interviews
DVD/Blu-ray: Mr Klein
DVD/Blu-ray: Mr Klein
Alain Delon shines in flawed Losey take on the hunted man
Tuesday, 14 September 2021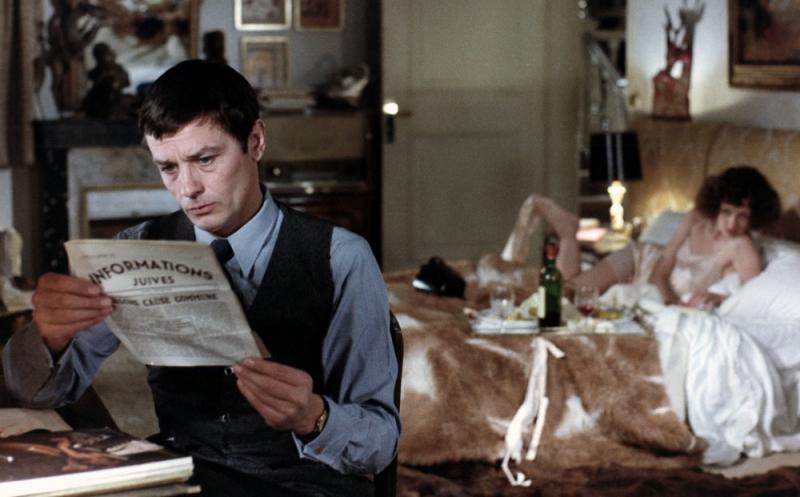 Alain Delon as Robert Klein
Joseph Losey's career covered a great deal of ground, and several continents.
From
The Boy with the Green Hair,
a noirish sci-fi film from 1948, through to his richly psychological collaborations with Harold Pinter,
The Servant
(1963),
Accident
(1967) and
The Go-Between
(1971), he navigated an outsider's route, rooted in 1930s left-wing connections – after he had studied with Bertolt Brecht and worked extensively in the American theatre. He was also a master of the thriller, and some of his best (and under-rated) films include
The Sleeping
Tiger
(1954) and
The Criminal
(1960), both made in England.
Losey was a victim of the McCarthy and HUAC purges and exiled to Europe. His own journey is reflected in the material to which he was drawn, as the French film writer Michel Ciment makes very clear in an illuminating interview included in the Blu-ray bonuses on this Vintage release.The figures of the ostracised or hunted man run through much of his work and Mr Klein (1976), which describes the predicament of a wealthy Jewish art dealer in Paris under the Nazi Occupation demonstrates very powerfully a theme that defined much of Losey's inner life. The story, written in collaboration with Franco Solinas, follows its title character, whose life is increasingly circumscribed and finally threatened by the Impending deportation of the French capital's Jews. Klein is played by Alain Delon, a master of the portrayal of the morally ambiguous – from his roles in the classic thrillers of Jean-Pierre Melville to his role as a political assassin in Alain Cavalier's masterpiece L'insoumis (1964).
Intent on personal survival, the sublimely elegant art dealer's pose is gradually worn down by the sense that his days are numbered, and the discovery that there is another Robert Klein, involved in the Resistance and also Jewish. Both of them are pursued by the French police, who are under the Gestapo's control. The Alain Delon character, with the help of his lawyer, well-played by Michel Lonsdale, tries to prove that he an Aryan, as many Jews did under Nazism, especially if they had the means and the connections to do so. His "double" is underground, a kind of shadow figure who threatens to drag him down in a knot of mistaken identities.
The story is convoluted and unnecessarily baroque in its construction. Losey fails to make it sufficiently intelligible: influenced perhaps by the films of Alain Resnais, he made a virtue of the mystery, but the result is a little too artful and does not ring true or create the poetic labyrinth that he probably hoped to bring to the screen. Sets by the great Alexandre Trauner – who did more to create an image of night-time Paris streets than any other designer of his generation – create an atmosphere, but the drama that unfolds fails to engage, and Losey never seems to know for sure whether he is making a gripping political thriller or an impenetrable arthouse cinema classic.
The final section of the film is without doubt the most powerful. It doesn't rely on excessive obliqueness when bringing to life one of the iconic horrors of the Occupation, the rafle du Vel' d'Hiv' , when the French police rounded up thousands of Paris Jews, adults and children, at dawn on 16-17 July 1942, herded them into a sports arena, from which they were brutally loaded into trains that would take them to Auschwitz and their deaths. Monsieur Klein has not been able to disprove his Jewish identity, and although his lawyer arrives at the eleventh hour with documents that might save him, he becomes obsessed with finding the other Robert Klein, and is engulfed in the human tide that is being driven to its destruction.
Losey was the first film-maker to bring this event to life – a moment in which French collaboration was perhaps at its most slavish and shameful. In the cattle truck that is making its way to the extermination camp, Monsieur Klein has to face the desperate Jew from whom he bought a Dutch painting at a fraction of its market price. For this gut-wrenching final sequence alone, this is a film worth revisiting, but its status as one Losey's best remains very much in question.
The story is convoluted and unnecessarily baroque in its construction
rating
Share this article