DVD/Blu-ray: The Final Programme |

reviews, news & interviews
DVD/Blu-ray: The Final Programme
DVD/Blu-ray: The Final Programme
Michael Moorcock's decadent assassin Jerry Cornelius's sole, wayward Seventies adventure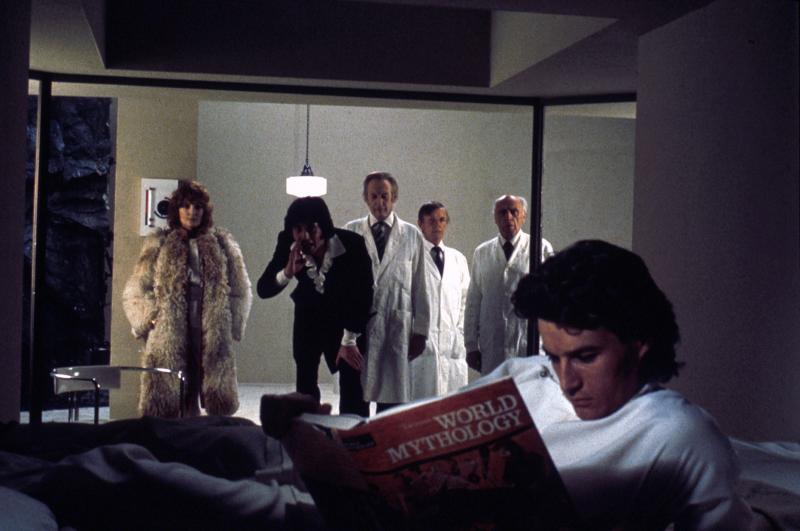 Missing link: Dmitri (Gilles Millinaire, in foreground) ponders becoming "a hermaphrodite in every respect"
Michael Moorcock's Jerry Cornelius is a multiversal dandy, androgynous harlequin, English assassin and sometimes Cockney, an sf adventure hero who grew through four novels into a walker in the elegiac post-Sixties wastelands. He's an apocalyptic Swinging Londoner, a protopunk Bond.
Reincarnated in numerous subsequent novels, as Moorcock and compadres such as JG Ballard led literary responses to the Sixties' glamorous and violent warps through experimental narratives forged from pulp fiction, Cornelius is a crucial decadent figure from a great writer. All the greater shame, Moorcock bitterly believed, that Robert Fuest's 1973 adaptation of Cornelius's 1965 debut, The Final Programme, was his sole cinema appearance.
The Final Programme is the least of Moorcock's Cornelius Quartet, a relatively simple dry run for later entropic epics, and Fuest lifts some scenes straight as Cornelius (Jon Finch) attends his father's funeral pyre, then becomes part of a quest by competing parties for microfilm which will unlock the titular programme, intended to create "an all-purpose human being. A hermaphrodite in every respect", as conventional humanity sinks to its doom. Timely now, the idea of a post-gender world also chimed with 1973's glam-rock UK, even if Cornelius, drifting through an apartment with Peter Blake's Babe Rainbow on the wall, remains in a Sixties fug.
There's an abstract and detached tone to events, perhaps the inevitable result of putting the book on the screen with only fitful inspiration: Cornelius's car nosing under the Westway and through a junkyard Trafalgar Square, an Anatolian ruin and hazy mist on a Scottish loch catch Moorcock's sunset tone, glorying in decline. There's a ripe cast – Graham Crowden, Hugh Griffith, Harry Andrews, Sarah Douglas, Sterling Hayden and Patrick Magee, the latter pair's respective Dr Strangelove and Clockwork Orange associations reinforcing sporadic Kubrick vibes. Finch (pictured below) fresh from Polanski's Macbeth and Hitchcock's Frenzy, is, though, a dour lead. Jenny Runacre's Miss Brunner, seducing women and beating up men with much more success, finds the arch, sexy lightness he lacks. She's the reason to see it, a cult performance in a stuttering cult film.
Fuest is best-known for the brace of camp and gruesome Vincent Price Dr Phibes films, having apprenticed as art director then director on The Avengers. The Final Programme is "designed, directed and written" by him, a unique credit showing his ongoing emphasis on his work's look. Ossie Clark and John Nutter dress Finch's Jerry in functionally Carnabetian black velvet; Runacre's Miss Brunner, in white Russian outfits and green boilersuits, again outdoes him.
Kim Newman lays out Fuest's finally frustrated career, and The Final Programme's dismal, Moorcock-cursed commercial fate, "peculiarly distributed" on a double-bill with Intimate Confessions of a Chinese Courtesan (it was The Last Days of Man on Earth in the US). Trailers and a welcome new interview with Runacre, who had the great time her performance exudes, complete the Extras on this waywardly intriguing Seventies curio.