DVD/Blu-ray: Beat the Devil |

reviews, news & interviews
DVD/Blu-ray: Beat the Devil
DVD/Blu-ray: Beat the Devil
John Huston's indulgent curio returns, replete with starry cast
All at sea: Humphrey Bogart looking confused in 'Beat the Devil'
Humphrey Bogart. John Huston. Gina Lollobrigida. Peter Lorre. Truman Capote! What could possibly go wrong? There's the screenplay for starters: Capote gets top billing, and I'd long understood that he and Huston together wrote 1953's Beat the Devil on the hoof, script pages being typed up only minutes before they were handed to the cast. Huston adapted a novel by journalist Claude Cockburn, whose late son Alexander later complained that fans of the film "professed to find evidence of Capote's mastery in every interstice of the dialogue… but his contribution was limited to some concluding scenes…" Who's telling the truth? The source novel was a straight thriller about colonial exploitation. Peter Tonguette's booklet essay asserts that the original screenplay was "deadly dull", the young Capote deciding "to kid the story as we went along".
Set mostly on Italy's Amalfi coast, Beat the Devil is a shaggy tale concerning Bogart's Billy Dannreuther and his efforts to acquire a patch of Kenyan land rich in uranium. He's in league with a shady quartet including Peter Lorre and Robert Morley, whose pompous Peterson has many of the best lines. Lorre's peroxide blonde O'Hara is devoid of menace, a baffled figure of fun. Only Ivor Barnard's Major Ross seems capable of murder, a scarred bundle of incoherent fury. Complications ensue when Billy encounters the Chelms, an unhappily married upper-class British couple also due to travel to Kenya. Jennifer Jones is perfectly cast as bored fantasist Gwendolen, as is the superbly named Edward Underdown as hoity-toity husband Harry. He flirts with Billy's wife Maria (Lollobrigida) while Billy enjoys a liaison with Gwendolen.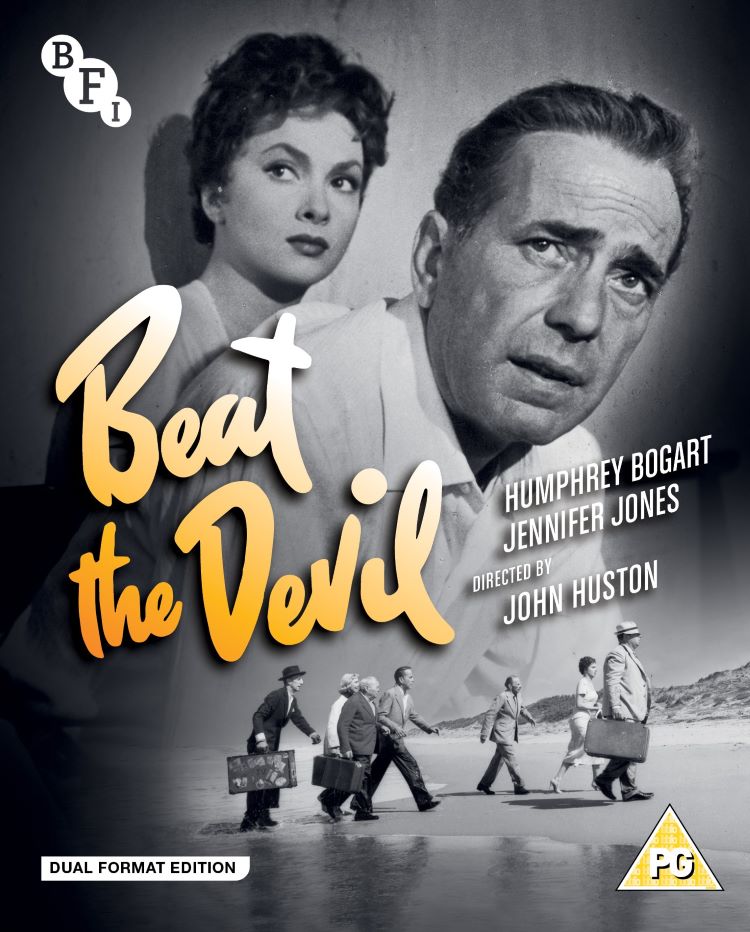 Huston and Capote never seem to decide which genre they're tackling. Beat the Devil lacks the tension (and darkness) to be a decent noir, and the wittier moments are counterbalanced by long stretches where there's not a lot going on. It's fun to hear Lollobrigida outlining a love for tea and crumpets, and there's a good moment near the close where Billy, captured by Manuel Serano's Ahmed, secures his release by recounting details of his supposed friendship with Rita Hayworth. Lorre gets to parody Orson Welles' cuckoo clock speech from The Third Man. Cast and crew clearly had a ball: this should, by rights, be much funnier and more exciting than it actually is. "We're all at sea!" harrumphs Morley at one point. Indeed.
Still, the BFI's extras are superb. We get two commentaries, the best of which reunites three of the film's creative team, and there's Atomic Achievement, an upbeat 1956 short in vibrant colour celebrating Britain's fledgling civilian nuclear industry, heavily dependent on the supply of uranium ore from former colonies.