DVD: The Woman in the Fifth |

reviews, news & interviews
DVD: The Woman in the Fifth
DVD: The Woman in the Fifth
Boundaries between real and imaginary blur in Paris-set study of mental breakdown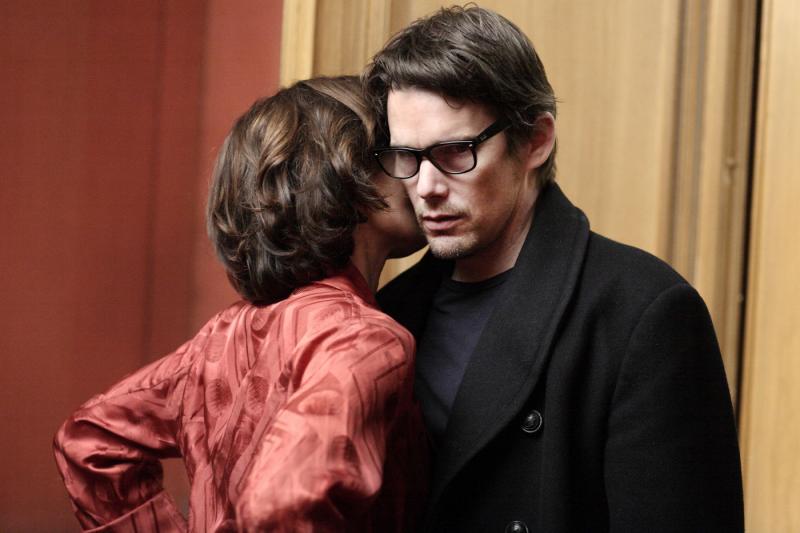 The Woman in the Fifth: Kristin Scott Thomas whispers her admiration for Ethan Hawke's haircut
The press release for The Woman in the Fifth says it's "a twisted and intense love story" that's about a "passionate and intense relationship". It is, to a degree. But that undersells the film. As an oblique examination of mental breakdown, director Pawel Pawlikowski's film shares a lineage with Polanski's Repulsion.
The Woman in the Fifth adapts Douglas Kennedy's novel. American author Tom Ricks (Ethan Hawke, sporting an excellent haircut) arrives in Paris to seek out his estranged wife and their daughter. Whatever barriers there are between them are insurmountable – she has a restraining order out on him – and he ends up as a kind of daughter stalker, peering at her through playground fences. Immediately after arriving in Paris he'd fallen asleep on a bus. With his luggage stolen and his passport as collateral, he ends up in a shady hotel run by a shady Algerian (Samir Guesmi, Spiral's nefarious Farrouk Larbi) that's staffed by a sympathetic young Polish woman. On his wanderings he gravitates towards a literary set and meets and pursues a relationship with Margit (a frostily mannered Kristin Scott Thomas). She says she's the widow of an author. What's real or not - including the utterly bizzare job he takes on - is never defined.
Although Pawlikowski's best-known film before The Woman in the Fifth was 2004's My Summer of Love (also a literary adaptation), he arrived at fiction after making a string of documentaries (the director is interviewed in the DVD's extras). This explains the almost journalistic detachment brought to representing Ricks' perception problems, his interaction with his strange new world and his breakdown. It's a distance echoed by Hawke's depiction of this damaged man and his path. Which is another reason the striking The Woman in the Fifth is more than the love story it's been pigeonholed as.
Watch Ethan Hawke discussing The Woman in the Fifth
This striking film is more than the love story it's been pigeonholed as
rating
Share this article