DVD: True Grit |

reviews, news & interviews
DVD: True Grit
DVD: True Grit
Classic western gets a feminist makeover courtesy of the Coen brothers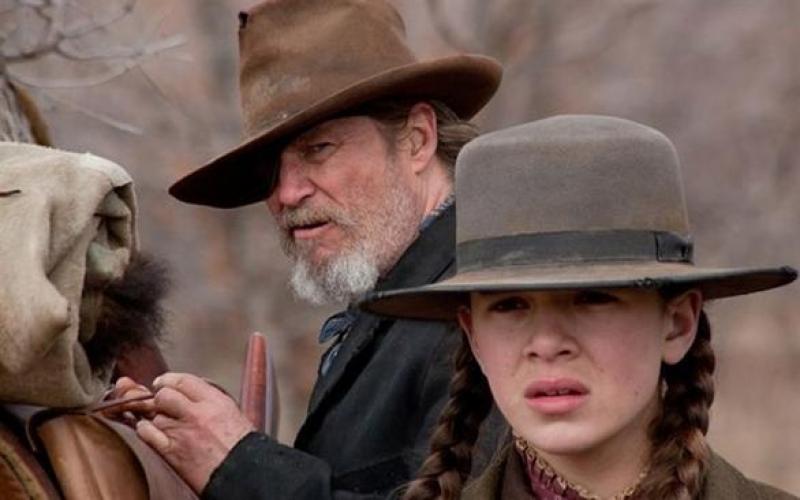 The odd couple: Rooster Cogburn (Jeff Bridges) and Mattie Ross (Hailee Steinfeld)
As shoes to fill go, John Wayne's dusty cowboy boots are about as big as it gets.
So when the Coen brothers decided to take their shot at
True Grit
– the Charles Portis novel that finally won Wayne his Oscar – the world sat back with folded arms to see whether
Jeff Bridges could grizzle and swagger
his way into the role of one-eyed Rooster Cogburn that Wayne made so completely his own.
He does, but that's rather beside the point; it's 14-year-old Hailee Steinfeld as sternly pigtailed Mattie Ross ("a harpy in trousers") who carries the film, reinstated to the rightful place of heroine in this rather more faithful adaptation. A straight genre piece, the quirky Coen touches find newly muted shades, bringing matte humour to the glossy period dialogue, and peopling the bit-parts with a menagerie of quirky characters.
As the marshall with "one foot on either side of the law", Bridges is all unkempt whiskers and drawling tones, swaggering uncertainly about, like the threadbare rooster his name suggests. Almost unrecognisable under a luxuriant moustache, Matt Damon gets a rare and welcome opportunity to exercise his comedic muscles as Texas ranger LaBoeuf, the marshall's city-slick rival.
The success of True Grit all comes back to Steinfeld however, the typewriter rattle of her precise period delivery balanced by her steady gaze and calm repartee. It is she who spices some of the western's oldest conventions; the final shoot-out between cowboy and nemesis – Tom Chaney (a pleasingly feral Josh Brolin), murderer of Mattie's father – takes new significance when it sees a young girl come face to face with a bearded psychopath, and the natural bathos it generates in no way undercuts the intensity of the scene.
The fairly basic extras include an extended interview with the articulate and enchanting Steinfeld, as well as input from Damon and Bridges. A featurette strips away the peeling facades of the Coens' Fort Worth and explains the process of recreating the frontier town, complete with stripping trees of their leaves by hand, and covering telegraph poles in faux bark.
Watch the trailer for True Grit