DVD: Les Enfants du paradis |

reviews, news & interviews
DVD: Les Enfants du paradis
DVD: Les Enfants du paradis
Marcel Carné's newly restored classic about four men pursuing an elusive beauty in the 1820s Paris theatre world
Friday, 21 September 2012
A passing phase: the affair between Pierre Brasseur's actor and Arletty's courtesan doesn't last
Begun in 1943 and released in 1945, Les Enfants du paradis, which unfolds in two acts – the first frantic, the second slow – in Paris's theatre quarter in the 1820s and '30s, is regarded as the crowning glory of director Marcel Carné and screenwriter Jacques Prévert's fertile partnership.
It has traditionally topped French polls of the country's greatest films, but it cannot be said to match Jean Renoir's La Grande illusion and La Règle de jeu or Jean Vigo's L'Atalante for the depth of their humanism. Le Quai des brumes and Le Jour se lève, Carné and Prévert's gloomy, existential poetic realist dramas starring Jean Gabin, meanwhile emphasise Les Enfants' baroque gaudiness.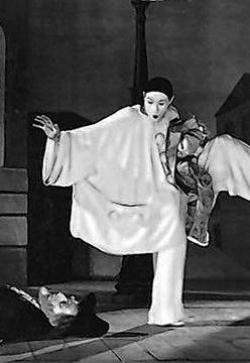 The three main male characters were based on real celebrities. A shy mime played by the exquisite Jean-Louis Barrault (pictured right), a flamboyant actor (Pierre Brasseur) and a misanthropic criminal-playwright (Marcel Herrand) are in love with Garance (Arletty), a courtesan with a Mona Lisa smile who owes something to Marlene Dietrich in her Josef von Sternberg films.
She is also coveted by a count who operates on the principle that everyone can be bought; an avatar of truth, she sells him only her body and companionship, not her loyalty. She loves the mime – who doesn't know – as does an actress (Maria Casarès). Only two of the six have a shot at happiness. Given the constant references to the role of fate, that's two too many.
As a celebratory backstage comedy that grows into a melancholy disquisition on the impossibility of romantic love, Carné's film remains timeless. It also succeeds as an allegory of life as theatrical melodrama and as an allegory of the Occupation (Garance symboliaes non-Vichy France, the count the Nazis, Pierre Renoir's rag collector-cum-snitch the collaborationists). That it didn't make the list of top 10 greatest French films culled from the recent Sight and Sound poll doesn't invalidate it as an illustrious classic.
Arletty's courtesan with a Mona Lisa smile owes something to Marlene Dietrich
rating
Explore topics
Share this article