DVD: Hanna |

reviews, news & interviews
DVD: Hanna
DVD: Hanna
Bonkers fairy-tale-inspired thriller that's left reality behind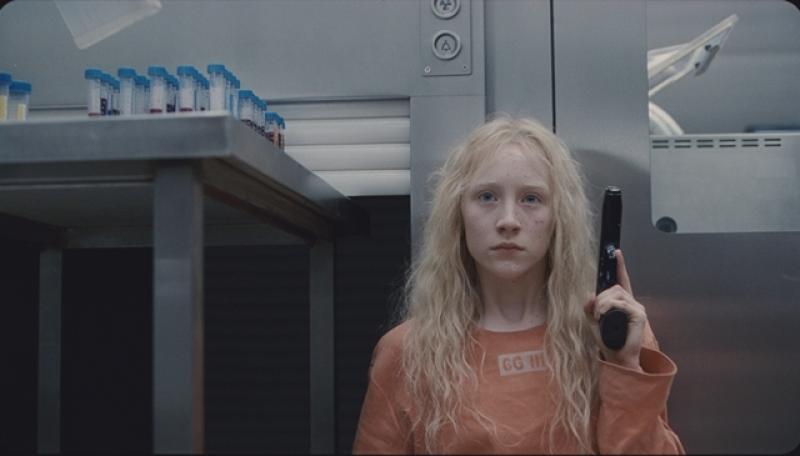 Saoirse Ronan as Hanna: dead-eyed, with parchment skin
It's pretty damn cold inside the Arctic Circle, but Eric Bana's former CIA agent Erik Heller doesn't notice. Striding out of his wilderness cabin into metres-deep snow, he's fine in a business suit. Demanding a catering-sized suspension of disbelief, Hanna is - as ludicrous thrillers go - pretty special.
Director Joe Wright was behind Pride and Prejudice and Atonement – Saoirse Ronan's subsequently Oscar-nominated introduction to the world. Although it doesn't seem so at first, Ronan's Hanna echoes her Briony Tallis in Atonement. Both cause chaos and tragedy. More recently, Wright helmed the quasi-Pygmalion drama The Soloist. Hanna, his first actioner, is a Bizarro-world La femme Nikita via Léon with dashes of The Bourne Supremacy. Next up, he's taking on Anna Karenina. Who knows what his next left turn will be?
Heller has retreated to the north of Finland to bring up a girl, now 16, who is apparently his daughter. Schooling her, he reads chunks of an encyclopaedia aloud and trains her in weaponry and hunting. With no distracting technology, the parchment-skinned Hanna reads Grimm's Fairy Tales. Ready for the outside world, Hanna switches on the homing device Heller's placed on a table. Helicopters soon swoop down, depositing gun-wielding agents on the snow. Heller had already naffed off and Hanna is nabbed. The queen of the nabbers is bad-egg CIA lady Marissa, a hammy Cate Blanchett, obviously having a blast in the role. Whisked off to a secret base under the Moroccan desert, Hanna begins learning who she is. After escaping, she leads everyone a merry – usually violence-punctuated - dance.
The characterisations are surface level. The wilderness Bana looks like a member of Fleet Foxes but, once de-haired, becomes the chiselled CIA agent of yore. Dead eyes and speaking in a monotone are enough to telegraph Hanna's otherness. These, along with Blanchett's helmet hair and ebbing and flowing Dolly Parton accent, are akin to using a false moustache to become someone else.
Hanna attempts to conjure the dark, retributive spirit of Grimm's Fairy Tales – Wright's still nodding to literature – but the lack of depth and abruptness are those of a strip cartoon. An insight into just how cartoony Hanna is comes from one of the DVD extras (others include an alternate ending, deleted scenes and Wright's commentary) which shows how the film rigidly stuck to its storyboard. Viewed as a live-action cartoon – as opposed to a sophisticated Manga adaptation – Hanna works fine though.
Watch the trailer for Hanna
rating
Explore topics
Share this article