DVD: Goodbye, First Love |

reviews, news & interviews
DVD: Goodbye, First Love
DVD: Goodbye, First Love
Mia Hansen-Løve's calm, intelligent drama tells of the lacerating experience of a heartbroken young woman
Saturday, 08 September 2012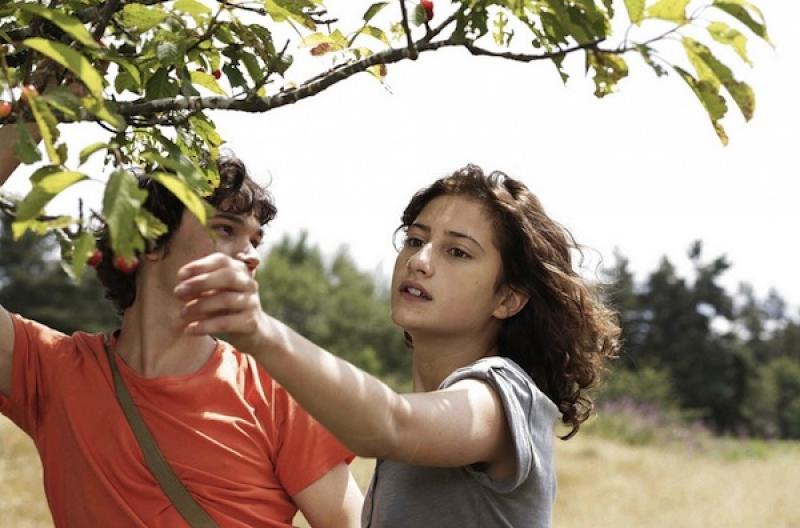 Before the fall: Lola Créton and Sebastian Urzendowsky in 'Goodbye, First Love.'
The third sensitive feature written and directed by Mia Hansen-Løve is a semi-autobiographical realist drama about a young woman making the agonising emotional transition many endure after their initial romance. It gives little away to disclose that at the start of Goodbye, First Love, 15-year-old Camille (Lola Créton) is in the process of being devirginised by her boyfriend Sullivan (Sebastian Urzendowsky) and that at the end she is in a settled relationship with another man.
It's how she gets there, via heartbreak, self-pity, and a spell in which she allows herself to become a liar and a betrayer, that fascinates the assured, accomplished French filmmaker.
Hansen-Løve's 2009 The Father of My Children traced how a family overcame the suicide of its patriarch (based on the producer Humbert Balsan, who had encouraged her). There are echoes of the grief experienced by the teenage daughter in that film in the loss felt by Camille when Sullivan, writing to her from a South American jaunt, casually mentions he is sleeping around, though Camille's grief proves less manageable than that of the daughter. Death is a fait accompli; unresolved love is a perpetual torture.
When she reconnects with Sullivan – she can't help herself – it's apparent she has emotionally and intellectually outgrown him. But Hansen-Løve carefully avoids deciphering the mysterious, kinetic sexual allure of the formative post-adolescent attachment: the gift that gives on taking. For what seems like years, the puppyish, feckless Sullivan simply rings her bell. Enlightment is hard won.
The filmmaking is a treat. Showing not telling, Hansen-Løve depicts Camille's upheavals non-melodramatically, moving seamlessly from nightclub to seminar room, from sunlit archeological field trip to Paris streets at night. And no matter that Camille wanders around in skimpy bikinis for swathes of the movie, she is more unselfconsciously demure than selfconsciously sexy. Director and actress were clearly in perfect sync.
Watch the trailer for 'Goodbye, First Love'
Camille wanders around in skimpy bikinis for swathes of the movie
rating
Explore topics
Share this article