DVD: August: Osage County |

reviews, news & interviews
DVD: August: Osage County
DVD: August: Osage County
Meryl Streep leads a strong cast in this intriguing dissection of a fractured family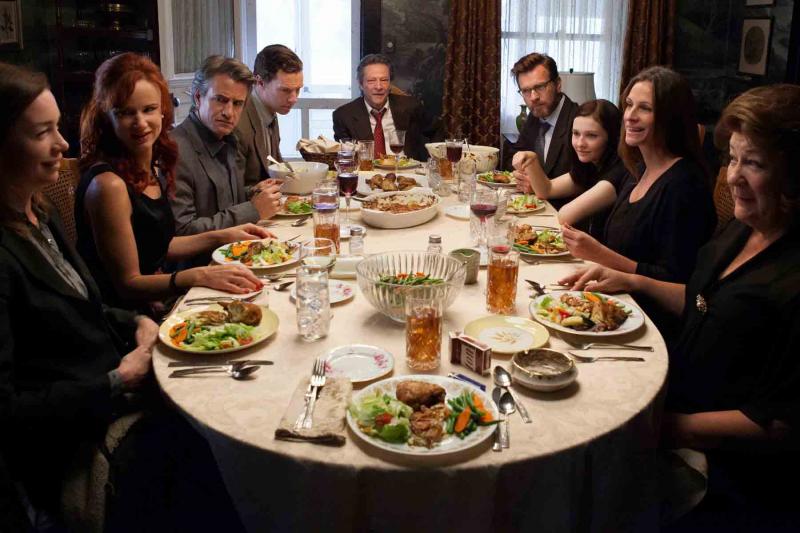 August: Osage County, out now on DVD
Blood is thicker than water. Or is it? For anyone who's struggled with this proverb, August: Osage County is a fascinating exploration of the ties that bind us.
Examining an extended, quintessentially American family in the sticky summer heat of small town Oklahoma,
Meryl Streep
leads the film as Violet, a volatile matriarch addicted to pills, suffering from "a touch of" mouth cancer and awaiting news of her alcoholic husband's disappearance.
The aftermath of this dysfunctional family's crisis allows deep insight into their darkest secrets and biggest fears. The cast, which includes Juliette Lewis, Ewan McGregor, Benedict Cumberbatch and Abigail Breslin and Chris Cooper gel together well – Julia Roberts as the eldest child Barbara flashes brilliance as she struggles with responsibility and sinks under the fear that she may be turning into her own mother.
All suffer their fare share of harsh reality, honesty, apology, realisation and acceptance while on the bland plains of Mid-Western America, in a setting of windmills, endless prairies, wind chimes and dilapidated porches. Within the perspiration, sultriness and shadows, nothing is held back.
Puffing away on cigarettes, consternating, emotionally blackmailing and gurning from the fire in her mouth, Violet is thoroughly un-likable. Yet glimpses of compassion and sympathy surface so that, despite her vicious mood swings and cruel behaviour she may be worthy of forgiveness after all. These ideas are further explored in the DVD extras which include director's commentary; a feature on the making of the film, deleted scenes and On Writing With Tracy Letts, telling of his autobiographical connection with the film.
The screenplay – based on the Pulitzer Prize-winning play by Letts – is excessively wordy. On a small screen some elements gets lost without the grand theatrics needed as accompaniment. But it is darkly funny and freeing in places – no more so than in a bellicose post-funeral dinner. The welcome breeze after the storm is well visualised utilising pathetic fallacy to full effect - we relate to and feel for the characters running over empty plains realising there's actually no place to go.
It's a fascinating choice of subject matter if you can relate, although if you have nothing in common with this family there could be a lot of closed doors.
Examining an extended, quintessentially American family in the sticky summer heat of small town Oklahoma
rating
Share this article