Diego Maradona review - entertaining but skin-deep |

reviews, news & interviews
Diego Maradona review - entertaining but skin-deep
Diego Maradona review - entertaining but skin-deep
Asif Kapadia concludes his trilogy of tragic idols with mixed results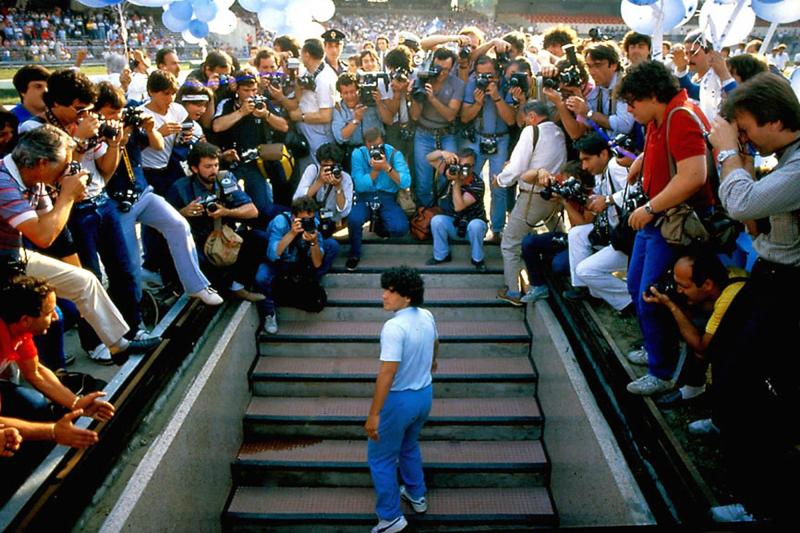 There's something unsatisfying about the fact that Asif Kapadia's new documentary on the controversial 1980s sporting legend Diego Maradona has a two-word title.
It would have created a neat synchronicity with his previous two films (Amy and Senna), but we soon learn why this is the case.
Kapadia's central thrust is the dichotomy of the public and private lives of a superstar, whose legend even the uninitiated are familiar with. The private figure is Diego – a sweet (self-described) mummy's boy from the slums of Argentina who rose through the sporting ranks to become the greatest football player of his day. Then there is Maradona, a man corrupted by egotism and plagued by addictions. With a flight trajectory worthy of Icarus, he came plummeting down to earth when he crossed the wrong people – namely the population of Naples.
Even if you have no interest in football or the life of Maradona, Kapadia makes you care. Stitching together hundreds of hours of unseen footage from the footballer's personal archives, together with match and news material, we are immersed in the player's life from multiple angles. Avoiding the clichés of a talking-head documentary we hear disembodied voices from those closest to him, while the images wash over us.
Football is obviously central to the film, but that doesn't stop us detouring into the world of Italian crime families and the Falklands war. It was a conflict that led Maradona to retaliate in the Mexico quarter-final match between England and Argentina, with the infamous 'Hand of God goal' that saw them defeat England 2:1.
As he did with his documentaries concerning the tragic, drug-addled life of Amy Winehouse (which won him an Academy Award) and F1 champion Ayrton Senna, Kapadia shows why success at this level comes at a high price.
Maradona's career, from his earliest years at Argentinos Juniors to his glory days at Napoli, is infectious to watch. The way in which his acquisition transformed the southern Italian team is conveyed in a series of frenzied, kinetic montages. His downfall, which includes affairs, cocaine addiction and allegations of links to the mob, is shown in a more pensive but no less compelling manner.
This documentary might be highly entertaining, but you don't feel that Kapadia has gotten under the skin of Maradona to the extent he did with Amy and Senna. It's missing the psychological richness of the two previous films and, for a man whose life resembles a modern Promethean fable, this is a missed opportunity. His fans saw him as a living god, a myth he was happy to buy into. It might be the theme of Kapadia's film, but it's never wrestled with on a satisfying level.