The Decoy Bride |

reviews, news & interviews
The Decoy Bride
The Decoy Bride
Lame romcom is a disappointing introduction to David Tennant as a cinematic leading man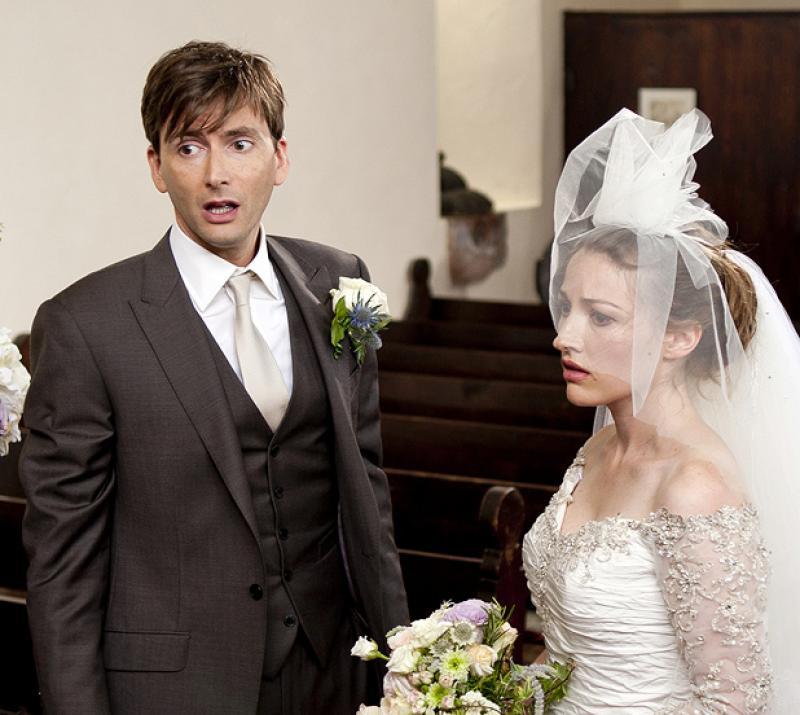 They've just read the reviews: David Tennant and Kelly Macdonald in 'The Decoy Bride'
With its near-simultaneous cinema and DVD release ringing alarm bells to rival Big Ben, The Decoy Bride takes talent and stuffs it into a GM turkey of a film. This insincere romantic comedy from director Sheree Folkson is replete with wobbly accents, head-slapping clichés, cardboard characters, preposterous plot developments, all flanked by a distractingly dire TV movie score.
That it's such a shambles will be a particular disappointment to (the innumerable) fans of David Tennant, for whom this represents his first filmic foray as romantic lead.
Writers Sally Phillips and Neil Jaworski give us a Paltrow-thin plot which sees besieged American film star and bride-to-be Lara Tyler (Alice Eve) desperate to marry her writer fiancé, James Arber (Tennant), away from the gaze of the merciless media. Failed attempts to evade the paparazzi lead her to conclude: "We're going to have to go somewhere crazy and remote." Crazy and remote turns out to be the tiny Scottish island of Hegg. It's there that we meet the attractive but romantically desperate Katie NicAoidh (Kelly Macdonald), who has returned home to live with her disabled and terminally ill mother (Maureen Beattie). Katie has just left a "fancy Edinburgh job at a trouser catalogue" (her explanation: "I ran out of ways to describe pockets"). She is quickly coerced into becoming the decoy bride of the title, in a staged wedding designed to fool the pesky press, but - and I suspect you can guess the answer to this one - will she end up falling for the groom?
As you may well be able to glean from that synopsis, The Decoy Bride isn't exactly rammed with new and exciting ideas and there are too many issues to address in a review of a manageable length. However, just for starters: there's the horrible waste of comic dynamo Dylan Moran, appearing as a ruthless editor; the foolhardy inclusion of a gorgonzola-cheesy paparazzo (Federico Castelluccio), who evolves implausibly into a love interest; a cringing CGI castle makeover; and a sequence where Katie and James get awkwardly changed on either side of a sheet (a clunky reference to the magnificent It Happened One Night), even though they're in a house with more than one room.
Tennant is an actor of considerable charisma but with this material he looks completely at sea
The cast for the most part have the sense to seem embarrassed. In a piece of spectacularly unimaginative casting, Ugly Betty's Michael Urie (pictured above) plays Lara's bitchy PA, but with only a semblance of the energy he brought to that show. Sally Phillips shoos herself in as his colleague and, suffice to say, it's far from her finest hour as a comic or writer. As Lara, Alice Eve takes is all ever so seriously, in a way that is vaguely admirable but also very odd.
David Tennant is an actor of considerable charisma but with this material he looks completely at sea. More experienced screen star Kelly Macdonald, on the other hand, rises far above the mire of the material (and it's her presence alone which saves the film from one-star ignominy). There's no chemistry at all between the leads, though - that would be too much to ask.
A number of fine films have been made about weddings, or feature them in a significant way, but this is emphatically not one of them. If you're in the mood for a bit of matrimonial mirth - or indeed misery - then I'd suggest opting for one of the following: the original Father of the Bride (1950), The Philadelphia Story (1940), The Graduate (1967), Four Weddings and a Funeral (1994), Muriel's Wedding (1994), Bridesmaids (2011) or even The Wedding Singer (1998). The Decoy Bride joins the less auspicious ranks of Bride Wars (2009) and The Wedding Planner (2001) in wedding film hell. After suffering a near-death experience, Katie comments, "My life flashed in front of my eyes and halfway through I was bored." To avoid a similar sensation you might want to give this one a miss. Occasionally awful and rarely more than mediocre, it turns out that – unsurprisingly - four or five good jokes and one effortlessly decent performance do not a good film make.
Watch the trailer for The Decoy Bride
The cast for the most part have the sense to seem embarrassed
rating
Share this article