Causeway review - megastar Jennifer Lawrence's passion project |

reviews, news & interviews
Causeway review - megastar Jennifer Lawrence's passion project
Causeway review - megastar Jennifer Lawrence's passion project
Beautifully calibrated American indie portrait of the long-term effects of trauma
Ticket to ride: Lynsey (Jennifer Lawrence) on the coach back home
Causeway is being heralded as Jennifer Lawrence's return to the kind of low-budget, low-key films that first brought her to critics' attention, before the megastardom of The Hunger Games franchise. It's also the first film that Lawrence has produced, with theatre director Lila Neugebauer taking the helm.
The actor-producer has talked in interviews about the evolution of Causeway; filming started in the summer of 2019 but stopped by covid, it didn't resume until two years later. In the interim, Lawrence had married and become pregnant. It's mildly intriguing to watch the movie and try and work out what scenes were shot when.
Lawrence plays Lynsey, a military engineer who suffers a brain injury in an explosion while serving in Afghanistan. The movie opens with her going through the painful humiliations of rehab with her chatty carer, Sharon (a superb Jayne Houdyshell). There are excellent observational scenes of Lynsey struggling with using the toilet and brushing her teeth but also with her lack of filter in her conversations with Sharon. It's a wholly convincing portrayal of the effects of brain injury, even if Lynsey's physical recovery does seem a little fast.
What remains though is psychological trauma, and rather than going down the route of dramatic flashbacks to its origin in Afghanistan, Neugebauer focuses on Lynsey's return to her home town, New Orleans. It takes a while to realise that's where Causeway is set because we only see the sad suburbs of the city rather than the French quarter of tourist fame.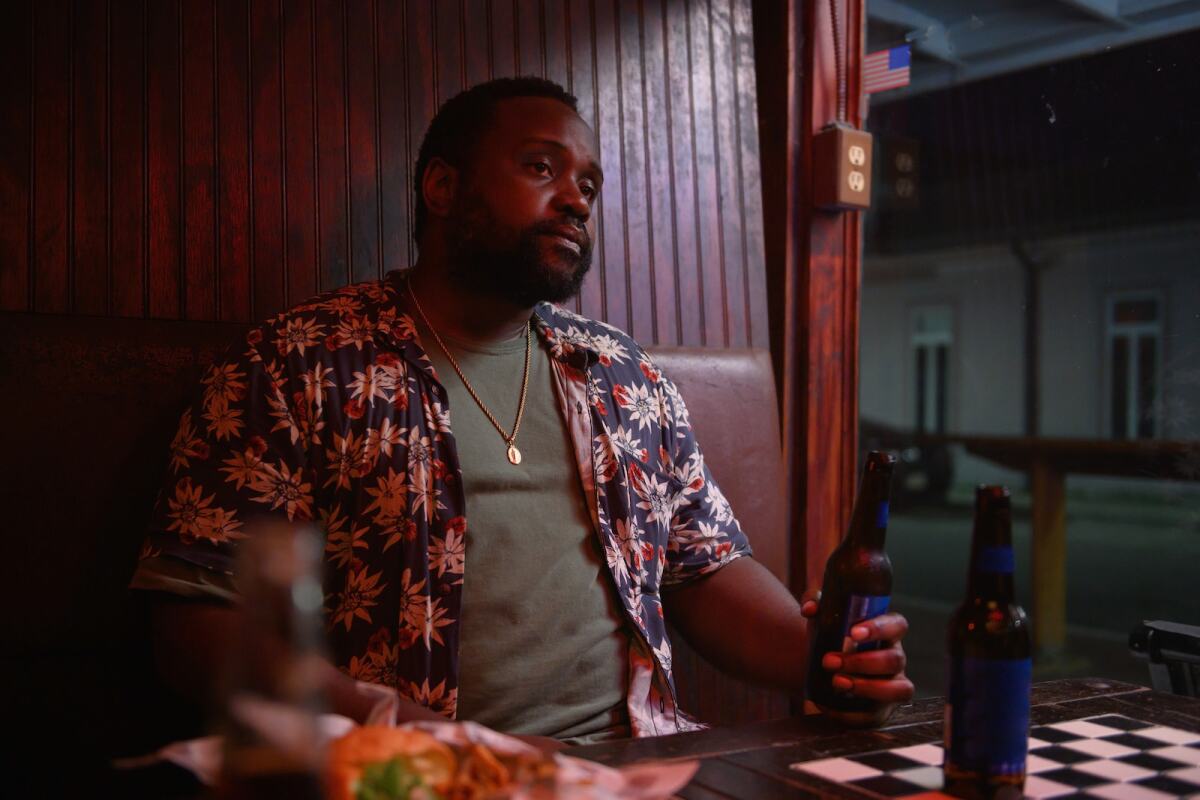 We come to learn why Lynsey chose military service rather than staying home. Forced by circumstance to move back in with her mother, their fractious relationship speaks volumes about their past. The reasons behind her brother's absence are only revealed towards the end. At one point, a character observes, "families are to be escaped from before they let you down".
Instead of blood relatives, a close friendship slowly evolves between Lynsey and James (Brian Tyree Henry, pictured above) a local car mechanic who fixed her truck. Henry, best known as the rapper Paperboi in Donald Glover's Atlanta, is superb here as an initially diffident observer, all too aware that race and sexuality complicates their developing friendship.
Henry is the master of the thoughtful half-laugh while Lawrence's ability to convey complex emotions just through her eyes, while her face and voice give little away, is impressive. James has his own past traumas to work around and it's to the great credit of all involved – in front of the camera and behind – that the relationship becomes the central focus of Causeway in subtle, un-preachy ways.
Compliments should also be paid to a sensitive, unobtrusive score, some excellent sound design and the superb work of veteran art director Jack Fisk. The choice of particular locations and interior dressing in Causeway add greatly to the film's quietly melancholic atmosphere, without ever being ostentatiously stylised. It'll be interesting to see what Lawrence as producer and Neugebauer as director do after this very impressive debut.