Brooklyn |

reviews, news & interviews
Brooklyn
Brooklyn
If only this mild Irish immigrant tale was as compelling as its luminous star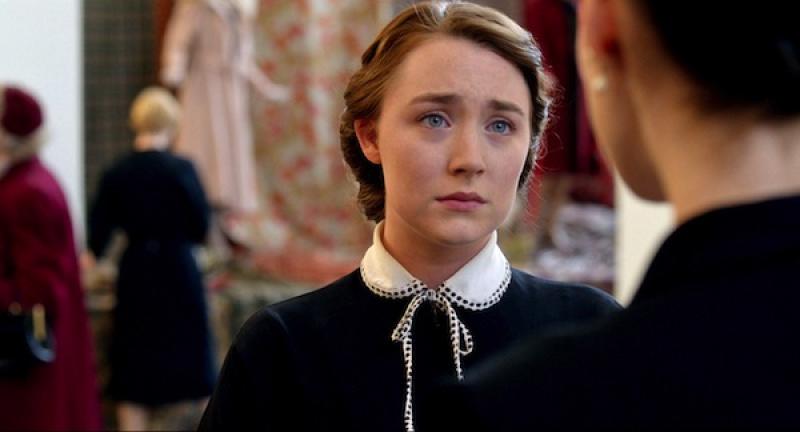 Brooklyn blues: Eilis (Saoirse Ronan) from Enniscorthy misses the ould sod.
Saoirse Ronan, emerging decorously into womanliness in Brooklyn, deserves a stack of awards nominations for her portrayal of a brave young woman torn between her old life in Ireland and her new existence in 1952 New York's most vibrant borough.
Restraining her character's flickers of doubt, culpability, satisfaction, and pleasure, Ronan shows how the maturation of Eilis Lacey – from seasick voyager and homesick immigrant to serene resident – is attributable to her hard-won stoicism and quiet determination.
Ronan's performance is not enough to make John Crowley's movie great. Short on conflict until the last twenty minutes, it's blighted by its lack of emotional incandescence. The steady hand Eilis keeps on her tiller is too steady: she's the least neurotic of protagonists. Where does she get off being so nice and sensible? What is it about her that automatically elicits support? No one succeeds in America by being passive, so Nick Hornby's screenplay makes Eilis more pro-active than she is in Colm Tóibín's novel, but her passage is smoothed by the ordinary people who help her; the kindness of strangers, which rubs off on her, is a key theme.
She works piecemeal for the snobbish grocer Miss Kelly (Brid Brennan) in Enniscorthy, Co. Wexford – Tóibin's birthplace – but there's no real employment to be had. Urging Eilis to leave for Brooklyn, where a salesgirl job awaits her, her older sister Rose (Fiona Glascott) sacrifices herself to caring alone for their widowed mother (Jane Brennan). A raffish veteran of Atlantic crossings (Eva Birthistle) teaches Eilis how to survive the journey. On her arrival, an avuncular Irish priest (Jim Broadbent) watches over her and stokes her ambition by enrolling her in a bookkeeping class. Her tart-tongued landlady (Julie Walters) privileges her over her flightier tenants, and her stern department-store supervisor (Jessica Paré) proves a mensch ready with feminine advice. She has a family right there.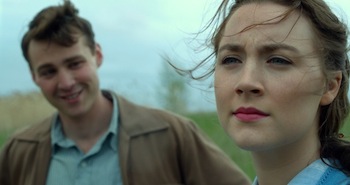 Eilis is that girl-in-a-million whose first admirer is the one she decides to keep. Tony (Emory Cohen, pictured right with Ronan), the puppyish but good-looking Italian-American plumber who diffidently approaches her at a church dance, takes her on a date or two, brings her home to meet his parents and brothers, and tells her he loves her. He is neither as educated nor as articulate as Eilis and he talks too much about sewage, but he impresses her with his American Dream of developing a family business and a home on a piece of land in Long Island. No chase or sexual taming is necessary; his simple devotion will suffice.
She meanwhile impresses him at Coney Island with her pale emerald swimsuit and they subsequently go to bed (less complicatedly than in the novel). Except for a shot of them kissing in the sea, their passion is barely intimated. Lovers were passionate in 1952 – see Todd Haynes's Carol – but the muted handling of Eilis and Tony's romance emphasizes that the filmmakers were intent on exploring the rigors of assimilation, not the commonplaces (or shockwaves) of falling in love. This is bold in its way, but it robs Brooklyn of adultness and won't endear it to sophisticated audiences.
(Spoiler alert.) The crisis comes when Eilis is summoned home to Ireland following a tragedy and given enough reasons to remain. She's offered meaningful work in Enniscorthy for the first time, made to feel guilty by her needy ma about her plan to go back to America, recalls how much she loves the south-east coast, and is wooed sensitively by a local bar owner (Domnhall Gleeson, pictured below with Ronan), who's about to come into property. He is more Ailis's social and intellectual equal than Tony, and though that's not always the priority when one is 20 and choosing a mate, she returns his tender feelings.
What prompts Ailis's next move is an encounter with Miss Kelly that reignites her spirit of self-determination. Late in the film, Brid Brennan's lacerating turn injects it with venom, the product of witchy self-loathing and festering parochialism, as Walters had earlier injected it with humour. Tóibin's favourite novelist is Henry James, but Ailis's stand against "Nettles" Kelly recalls Elizabeth Bennet's trouncing of Lady Catherine in Jane Austen's Pride and Prejudice. The accusation made at the New York Film Festival press conference that Brooklyn is sentimental reckoned without Ailis's tough-mindedness.
Crowley isn't a stylist and Brooklyn isn't as rich in period detail as Woody Allen's Radio Days, but it makes an unlikely virtue of its nostalgic clichés, bringing alive the mealtime badinage of a female-only boarding houses; the good-times vibe of the packed, racially mixed beach at Coney Island; the appreciation of an Italian family for an irlandese who eats spaghetti correctly; and, though only mentioned, the fervour surroundng the Dodgers (whose re-enfranchisment as a Los Angeles baseball club in 1957 depleted the borough's morale). The atmosphere's charming to be sure, but the drama sags from the weight of its mildness. Still, Ronan is unforgettable.
Eilis is that girl-in-a-million whose first admirer is the one she decides to keep
rating
Explore topics
Share this article