Blue Jasmine |

reviews, news & interviews
Blue Jasmine
Blue Jasmine
Not like Woody Allen's early funny ones, but one of his later best
Monday, 23 September 2013
Never sharper: Cate Blanchett in 'Blue Jasmine'
An update on Tennessee Williams' A Streetcare Named Desire, it isn't essential to have seen that work on stage to enjoy this pithy homage from Woody Allen. However, revisiting the iconic 1951 film version starring Marlon Brando, Vivien Leigh and Kim Hunter could very well make Blue Jasmine even funnier. This is because Allen treats the audience as equals to the tragic in-joke of familial impact and the damage left in its wake.
The pivot is a beautiful woman's perpetually occurring emotional meltdown. Former wealthy Manhattan socialite Jasmine (Cate Blanchett) is the Blanche character, a tall, blonde, Hermès bag-carrying emotional steamroller who flattens everything of which she doesn't approve and who only submits to lower the eschelon when must needs. Showing up at her estranged adopted sister Ginger's cramped San Francisco apartment, Jasmine criticises everything she sees – from her sister's fat children, to her loud boyfriend. Ginger (Sally Hawkins, with a respectable American accent) may be impressionable but she's no pushover. Having had Jasmine ruin her previous marriage by bankrupting her and her then-husband Augie (Andrew Dice Clay, pictured below with Hawkins) with a bad property deal, Ginger is ready to forgive if not forget. Her current beau Chili (Bobby Cannavale) is the working-class Cassandra, warning Ginger of the damaging ideas of her sister.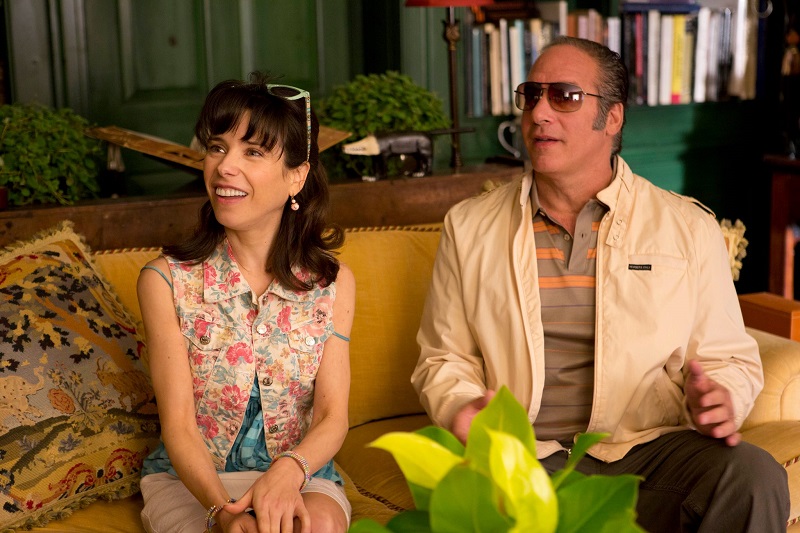 In typical Allen style, Woody keeps the story tight and the pace brisk. Questionable decisions are made and we grit our teeth for both Jasmine and Ginger. While we're not surprised at the fallout, we are surprised at the final result: Allen may have pitched this tale with a predictable arc but he uses both the narrative and the actors like surgical tools to show us something familiar and tragically funny. Cate Blanchett has never been sharper, both as a solo performer and in ensemble. Her skill at being awkward, crazy and credible allows her to reveal Jasmine's painful past with surgical precision. This is a film that doesn't mince words or waste time, much as Jasmine relies on the kindness of men with money.
Although Blanchett steals the show, supporting performances are equally indelible – and it must be said this is one of Woody's best-cast works of his entire filmography. Peter Sarsgaard fills the shoes of the too perfect East Coast diplomat and political aspirant. Hal, Jasmine's wealthy ex-husband, gives Alec Baldwin a character he can fully inhabit, while comedians Dice Clay and Louis C.K. get to show their incredible skill with drama – after all, comedy is harder.
A story of the 1 percent vs the 99 percent in the same family, even if sans DNA (both sisters were adopted), Blue Jasmine is a heartbreakingly funny take on aspirations gone wrong at a level where it shouldn't happen but does. It also illustrates the moral of following your own advice – and in that way, leaves us leaving the cinema with a good taste in our mouths if a fissure in our hearts. Ultimately, Blue Jasmine is not Woody Allen at his early funniest, but it is Woody Allen at his later best.
Overleaf: watch the trailer to Blue Jasmine
This is one of Woody's best-cast works of his entire filmography
rating
Explore topics
Share this article