Blu-ray: The War Trilogy - Three Films by Andrzej Wajda |

reviews, news & interviews
Blu-ray: The War Trilogy - Three Films by Andrzej Wajda
Blu-ray: The War Trilogy - Three Films by Andrzej Wajda
Three bleak but spectacular post-war classics, in gleaming new transfers
Zbigniew Cybulski seeks refreshment in 'Ashes and Diamonds'
Watching these harrowing films in rapid succession allows us to watch a great director's confidence develop at close hand; though 1955's A Generation (Pokolenie) is an impressive debut for a 27-year old director, both Kanał (1957) and 1958's Ashes and Diamonds (Popiół i diament) really show Wajda's technique taking flight.
The three films are thematically linked but don't share any characters, tracing life in Nazi-occupied Poland from 1942 until the end of the European conflict in 1945. The opening sequence of A Generation shows a bombed-out Warsaw slum. Tadeusz Łomnicki's teenage anti-hero Stach is living by his wits, an attempt to steal coal from a German supply train ending with the brutal shooting of one of his friends. It makes for horrific but compelling viewing; we know that things will end badly but Wajda won't let us turn away. Stach subsequently finds employment in a furniture factory and joins the communist resistance. Location shooting gives the film a uniquely chilly, grimy atmosphere, Wajda and his crew happy to film outdoors in poor light and bad weather. He secures wonderfully naturalistic performances from his cast, Łomnicki's Stach a winning blend of weariness and naivety, Tadeusz Janczar (Jasio Krone) the spitting image of a young Dirk Bogarde.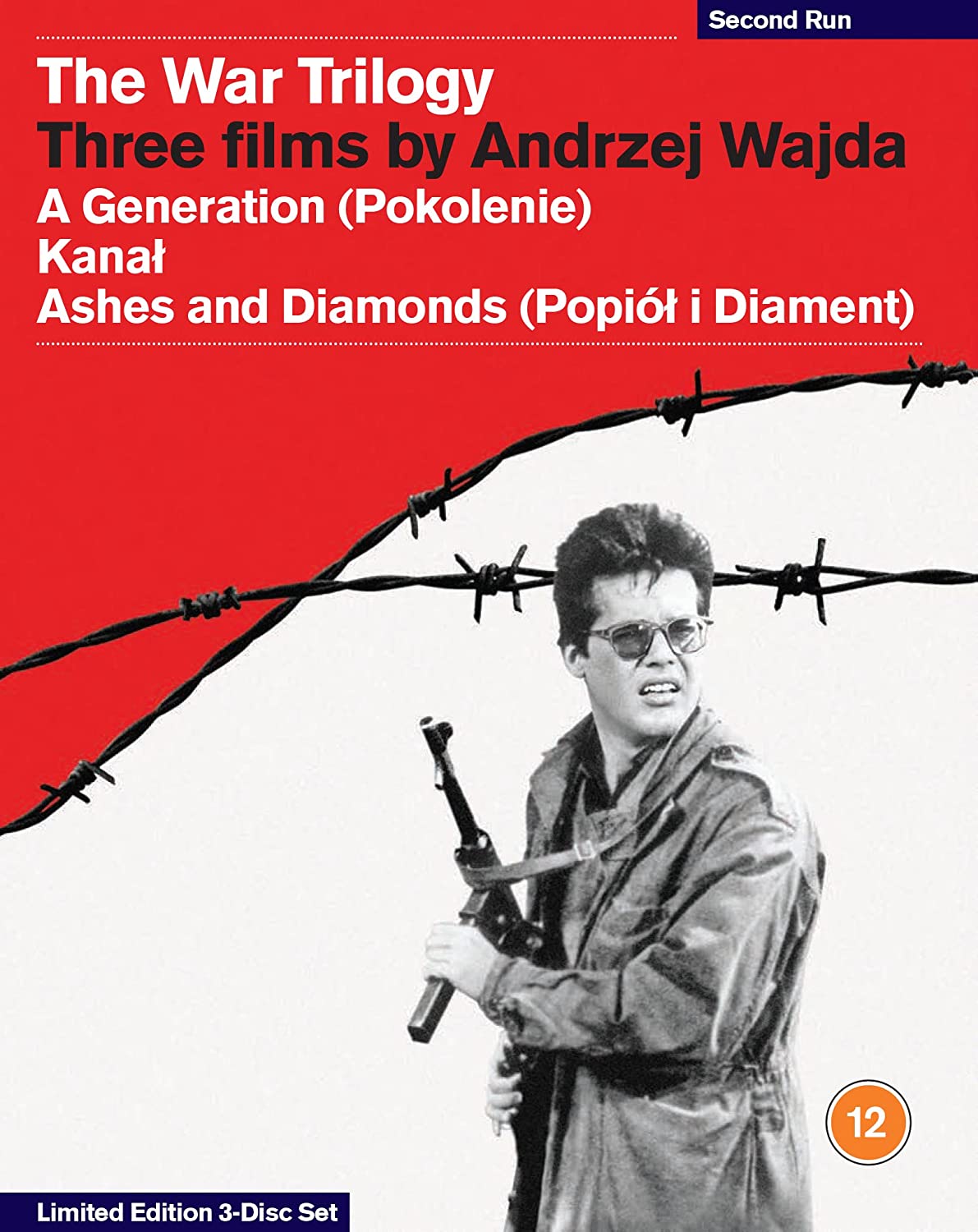 Kanał, to my mind the best of the trilogy, is a step up. As with A Generation, the opening sequence is dazzling, a four-minute tracking shot introducing the disparate members of a resistance unit led by Wieńczysław Gliński's Zadra during the 1944 Warsaw Uprising. Each is introduced wryly by an unnamed narrator who tells us that "these are their last hours." Wajda's convincing depiction of a ruined cityscape under bombardment is scarily pertinent, and he's unafraid to show both sides behaving brutally, a German officer pulled off a wall and casually dispatched with a blow.
Composer Michał (Vladek Sheybal) is instructed by his companions to "play something nice" in a wrecked hotel lounge but singularly fails to do so, then finds out that his wife and daughter are minutes away from capture. A wounded girl on a stretcher turns out to have a leg missing in a shocking reveal. Surrounded, Zadra orders his depleted team into the city sewers so as to find their way to the city centre, his troops up to their necks in shit and piss. The feeling of claustrophobia is overwhelming, the fighters' psychological collapse accelerating as the waters rise. A possible exit turns out to be nothing of the sort, and the close is unbearably bleak. Jan Krenz's jagged, dissonant score fits perfectly.
Ashes and Diamonds is set in the final hours of WW2, the tale of Zbigniew Cybulski's cocksure resistance fighter Maciek Chełmicki being instructed to assassinate a Soviet official. Longer and wordier than its predecessors, Wajda's bleak portrayal of a nation on the brink is almost undermined by Cybulski's appearance.
Yes, he's charismatic, a Polish James Dean, and we can't take our eyes off him, but the sunglasses, hairstyle and tight jacket are disconcerting, more late-1950s than mid-1940s and all the more distracting set against Wajda's beautifully recreated interiors. There are blackly funny moments, particularly a scene where a drunken comrade wrecks a celebratory banquet with a fire extinguisher, and Chelmicki's inevitable demise is shocking if unsurprising. Second Run's transfers, taken from new HD restorations, look and sound superb and there's an abundance of extras. Archival interviews with Wajda are insightful (he died in 2016) and the booklet essays are lucid and insightful.
Wajda secures wonderfully naturalistic performances from his cast
rating
Explore topics
Share this article