Blu-ray: Out of the Blue |

reviews, news & interviews
Blu-ray: Out of the Blue
Blu-ray: Out of the Blue
Beautiful restoration of Dennis Hopper's dark portrait of a family mired in abuse
Tuesday, 30 November 2021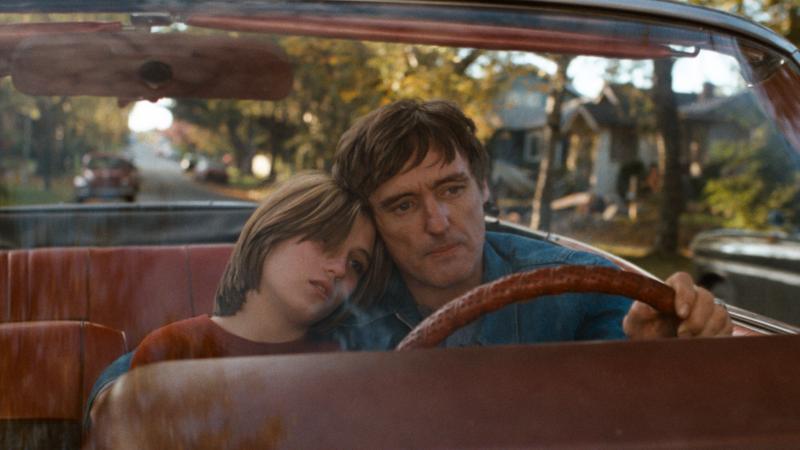 Daddy's little girl: Linda Manz as Cebe with Dennis Hopper as Don
In an era when toxic masculinity has become a clichéd accusation to throw at any portrait of men behaving macho, it's fascinating to revisit Dennis Hopper's 1980 movie Out of the Blue.
Years before his performance as the sinister Frank Booth in Blue Velvet, Hopper created Don Barnes, a truck driver with an extremely unhealthy relationship with his daughter and wife. After ploughing his rig into the school bus, Don does five years in jail. Daughter Cebe (Linda Manz) is left in the same small town and goes to the same school as the victims while her waitress mother Kathy (Sharon Farrell) hooks up with unsuitable men and takes drugs. When Don returns to the family, the narrative plays out like a modern Greek tragedy.
Cebe is the archetypal troubled teen, obsessed with Elvis and punk rock. Linda Manz gave an extraordinary performance. Eighteen at the time of filming, she appears simultaneously far younger (barely pubescent) and far older with her scarred face, husky voice, and swagger. It was only Manz's second time in a leading role, after Terrence Mallick's Days of Heaven, and you can see the reason she inspired a generation of actors, including Chloe Sevigny and Natasha Lyonne, who helped fund the restoration of Out of the Blue for its 40th anniversary. It's a shame Manz didn't continue as an actor, preferring to raise a family than hustle for work. Harmony Korine put her back on screen in 1997's Gummo, his homage to the nihilism of Out of the Blue, which remained Manz's favourite film.
This new 4K version from the BFI does full justice to Hopper's skills as a director and artist – there's a touch of William Eggleston in the colour-saturated images of the diner where Kathy works and the bars and bowling alleys that both Cebe and her father frequent. The Neil Young soundtrack meshes perfectly with the images.
Originally intended as a mainstream troubled-teen movie with Raymond Burr prominent on screen as a wise psychiatrist advising Cebe, the film was transformed completely when Dennis Hopper took over as director from its inexperienced screenwriter Leonard Yukir. Burr is relegated to two awkward scenes and far more screen time is given to Hopper himself and a cast of broken and predatory men, including Don Gordon (Bullitt) as the best friend who is invited to share both Cebe and her mother.
Hopper hadn't directed since the disaster of The Last Movie and critics saw Out of the Blue as a return to form and a riff on the self-destructive outlaw image that had made him a star (and cult director) with Easy Rider. According to Sharon Farrell (who is one of the few surviving cast members and was interviewed for the blu-ray extras), Hopper encouraged alcohol and drug use on the set, rewrote the script as he went along, and fostered improvisation. The distributors didn't know what to make of the film and it was only released three years after it bowed at Cannes in 1980.
There's a great double-bill to be programmed: Out of the Blue and Taxi Driver. It would pay homage to two great teen performers from the late '70s and display the queasy fascination that era had for underage flesh. For this release we get new audio commentary by critics, archive interviews with Hopper, and new Zoom interviews with producers, crew members, and such admirers as Alex Cox, Richard Linklater and Ethan Hawke.
The BFI has also included a bizarre drink-driving safety message short and a Morecambe and Wise sketch. Far more appropriate (and valuable as an extra) is Jane Campion's extraordinary graduation film, A Girl's Own Story (1984), which explores similar territory (girls crushing on musicians, incestuous families) and is well worth a revisit in the light of The Power of the Dog's release.
You can see why Linda Manz inspired a generation of actors
rating
Explore topics
Share this article