Blu-ray: Liberté |

reviews, news & interviews
Blu-ray: Liberté
Blu-ray: Liberté
On 'libertinage': Albert Serra's improvisaton of 18th century debauchery is painful in every sense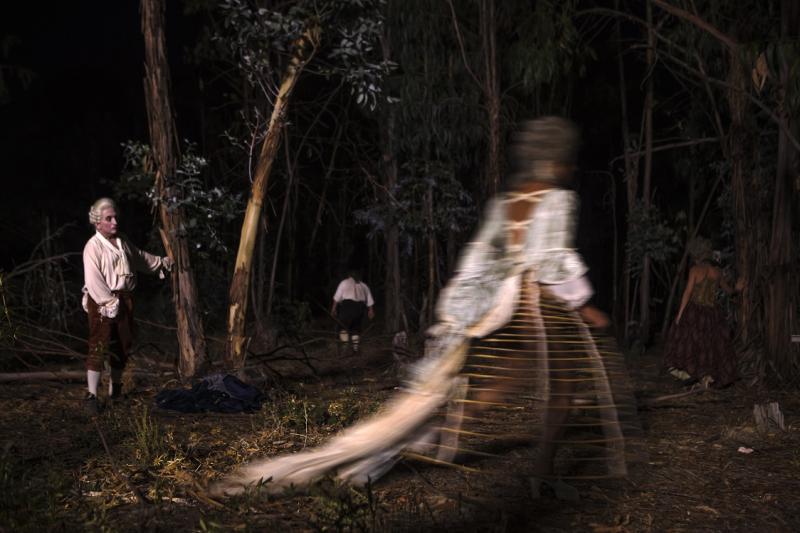 'Into the woods' will never feel the same again
Catalan director Albert Serra's interest in late 18th century France is well established – his previous film was The Death of Louis XIV – but the title of his new one has precious little to do with the triadic
revolutionary slogan that swept away the French monarchy at the end of it. If
Liberté
celebrates freedom in any sense, it's that of
libertinage
,
libertinism
, the rejection of moral and especially sexual restraints that was being celebrated at the time by the Marquis de Sade, whose philosophical presence is a commanding one here (alongside, cinematically, Pier Paolo Pasolini, whose final work
Salò: The 120 Days of Sodom
borrowed the title of de Sade's eponymous novel, which was itself subtitled "The School of Libertinage").
That's the theory – the pedigree, if you like – behind a film which, with its unfettered depictions of sexual activity in every form, of pleasure sought through pain and perversity has more than divided viewers, though it's hard to say whether the multiple walk-outs from the relatively few public screenings since its premiere in the Un Certain Regard strand at Cannes 2019 (where it won the Special Jury Prize) have been driven by revulsion or by boredom. For Serra is a director whose uncompromising approach to story (lack thereof) and pacing (slow to funereal) has set him apart as one of the world cinema scene's quintessential auteurs, one for whom willing engagement with the audience, it is fair to say, does not rank as a priority. In arthouse traditions, he is ready to extend the traditional boundaries of cinema: Serra's script for Liberté first surfaced in Autumn 2018 as a stage production at Berlin's Volksbühne Theatre (from that cast, which included Fassbinder muse Ingrid Caven, Helmut Berger is the principal player to make the screen transfer). In addition, the director later created a two-screen installation for Madrid's Reina Sofia Museum from the 300 or so hours of material that he shot.
Berger plays the role of the Prussian Duke of Walchen, "a seducer and free thinker from Germany", as the film's production notes have it (there's no other grounding at all with regards to character or context in the film itself, so they probably deserve a mention). A group of libertines from the French nobility have come to seek protection from him as well as a new location to practice their philosophy ("the vision we are defending"). It is 1774, apparently, and they have been expelled from the Puritan court of Louis XVI, but we are left to guess whether they are a fictional bunch; however, the opening monologue, delivered by one Duc du Wand (Baptiste Pinteaux, distinguished, like all characters by their physical properties, in his case facial – most of the rest are bodily), is a gruesome description of the real-life story of the execution, by protracted quartering, of a would-be assassin of Louis XVI. (The story also famously appeared in the Memoirs of Casanova, who was the subject of Serra's 2013 film Story of My Death and is clearly another kindred spirit for the director, alongside de Sade.)
Just what these itinerant aristos, male and female alike – and their retainers – get up to in the 2'15'' that Liberté lasts comes close to defying description. Through its dusk-to-dawn duration the film's forest setting becomes a cruising ground where every form of sexual debauchery is played out, with varying degrees of cruelty and fetishism attached, and voyeurism abounds. Given the prolific S&M on display, we might adapt Bergman and call it "Tears of a Summer Night" – or equally (following Woody Allen straight) "A Midsummer Night's Sex Comedy", given how narrow the boundary between the lurid and the ludicrous can be (the acutest sadism comes at the culmination of one whipping scene when the perpetrators walk away from their recipient of their favours, even as she begs for more). It hovers around the edges of the pornographic, but somehow Liberté is not driven by arousal, the sheer limits of performance becoming apparent as the night goes on (male flaccidity duly hits in, making "resurrect your virile member" one of the more memorable retorts in a script that otherwise veers towards pas des mots).
Serra has described it as "an utopia of sexual liberation", with equality between the sexes and across class, but such an attempt to suggest that the action is spontaneously participatory seems to be stretching it (can there be some invisible major domo at work behind the scenes, we wonder?) Liberté achieves, if anything, a degree of real resonance when set against more familiar environments where power (usually political) rubs up closely with sexual license, bringing to mind orgiastic shenanigans as varied as those of the Vatican Borghias and of a recent French presidential hopeful (in time a Depardieu role) who would not have looked physically out of place in this cast.
But that's slight consolation for a cinematic experience that becomes increasingly empty and exasperating as it goes on, though paradoxically the anticipation of cruising maintains a (slight) degree of tension (which felt even more lacking in The Death of Louis XIV). Nor is Liberté, this "poem about the night" lacking in aesthetic pleasures, starting from a soundscape in which night-long crickets are interrupted by period offstage cries of ecstasy or pain. Artur Tort's cinematography, shot simultaneously from three cameras, roams voyeuristically through these wanly lit forest greens, bringing occasional dabs of colour, like the reds of costumes, to the fore: Serra has spoken of being inspired by the French artists of the period like Fragonard and Boucher (to which the response might be: up to a point, milord Kopper).
The main extra on this Second Run release is a 26-minute interview with Serra that is actually a monologue in which the director reads to camera his responses to a list of prepared questions: it's a somehow fitting form for a figure asserting his uncompromising auteur vision and attitude (Lars von Trier is obviously someone he respects). But when what he calls "intimate expressionism" becomes "exhibitionism" is another matter. His recollections of the largely improvisatory nocturnal shooting in an autumn forest in the south of Portugal are of interest, not least of how the cast – predominantly non-professional, and drawn from friends and crew members alike – stepped up both to some of the actions demanded of them and to the "pressure" that he sees as his role as director being to exert. They had fun in the process, Serra recalls. Sadly, that is more than can be said for the viewer.
Overleaf: watch the trailer for Liberté
Through its dusk-to-dawn duration the film's forest setting becomes a cruising ground where every form of sexual debauchery is played out
rating
Share this article