Bad Luck Banging or Loony Porn review - viral venom in Bucharest |

reviews, news & interviews
Bad Luck Banging or Loony Porn review - viral venom in Bucharest
Bad Luck Banging or Loony Porn review - viral venom in Bucharest
Radu Jude's satire takes the sword to Romania's hideous past and present
Wednesday, 01 December 2021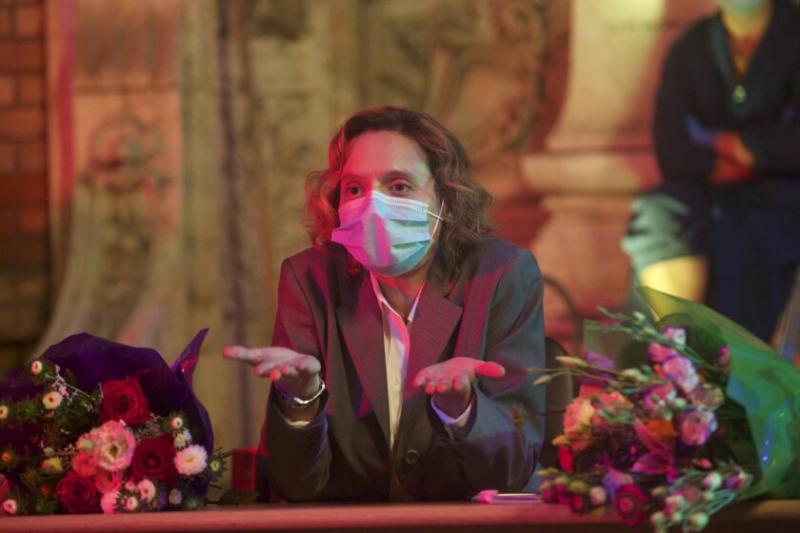 Teacher on trial: Katia Pascariu as Emi in 'Bad Luck Banging or Loony Porn'
Though sexual hypocrisy in modern-day Romania is the ostensible target of Bad Lack Banging or Loony Porn – a satirical drama that enfolds a scattershot polemic – Radu Jude's tenth film is broadly concerned with the nation's all-enveloping post-Communist malaise.
Nationalism, fascism, militarism, anti-Semitism, misogyny, and capitalism are all grist for the mill in this withering provocation.
It begins with a thirtysomething married couple's enthusiastically acted hardcore home-made sex tape. Emi (Katia Pascariu), the wife, wears a leopard-print mask and a pink wig and performs fellatio on her husband Eugen (played by adult film actor-director Stefan Steel), who wields the camera. They talk dirty, practice a little S&M lite, and hubby takes Emi from behind. They thoroughly enjoy themselves, not least as unwitting porn pasticheurs.
A cut introduces the long second sequence in which Emi, attired now in a conservative grey suit and a non-leopard print surgical mask to protect her from Coronavirus, runs errands and makes calls on the brimming streets of Bucharest. She's no longer cheerful but anxious and irritable; at one point she enters a pharmacy to buy a Xanax. Her phone conversations reveal that the sex tape has been leaked – Eugen uploaded it to a porn site. Alas, the high-school kids in progressive teacher Emi's history class have been sharing it on their smart phones.
How viewers respond to the film's graphic opening will likely define if they sympathise with the scandalised parents who want Emi dismissed from her job – if not quite burned at the stake – or approve Jude's liberal invective against Romania's far right-leaning civic society (which fosters widespread antagonism to same-sex marriage and abortion rights). (Pictured above: Katia Pascariu as Emi in a Bucharest department store)
As Jude and cinematographer Marius Pandaru follow Emi's perambulation, the camera often holds the frame after she's left it, sweeps to the left or right, or lingers on a shop window she's passed. The dominant imagery it captures is of garish billboards and the worthless junk people think they need to buy, such as the backpacks printed with TV cartoon characters that are plied at kids. Sound reflects this, too: "I love you, mall," one little girl is overheard saying to her mother as they leave the shopping centre. The picture that emerges is of a citizenry anaesthetised by mindless consumerism. But not so anaesthetized that strangers don't bawl vicious insults at each other, the Covid-19 era doing nothing to elicit fellow-feeling. Anti-viral masks protect no one from ubiquitous seething hatred in a country where corruption is the norm.
Jude is careful to implicate children – the Romania of tomorrow – in the decline in values. And not only Emi's pupils' offscreen gawking at tiny images of her copulating. When Emi visits the chaotic flat of her supportive head teacher (Claudia Ieremia), she finds relatives have gathered there to attend the imminent death of her mother. The head's young daughter bursts from the sick room more offended by her incontinent grandmother's smell than upset by her demise.
Breaking from Emi's problems, Bad Luck Banging catalogues Romania's appalling moral deficits in a midsection titled "A Short Dictionary of Anecdotes, Signs and Wonders". It presents a frenetic flurry of found film, TV, and social media clips depicting historical and more recent atrocities, outrages, or indignities perpetrated against Jews, Roma, women, and LGBTQ+ people. A single porn clip suggests even Emi's voluntary mediated pleasuring of her husband is unwholesome. (Pictured above: parents react to Emi's sex tape)
Other clips log Romanian occupying forces' collaboration with German death squads in the massacre of up to 34,000 Jews in Odessa in 1941, the subject of Jude's I Do Not Care If We Go Down in History as Barbarians (2018), and Romanian persecution of Roma, the subject of Jude's Aferim! (2015). In this context, Emi's porn video equates to the US airmen's harmless graffiti that Marlon Brando's Kurtz mentions in Apocalypse Now (1979); "We train young men to drop fire on people, but their commanders won't allow them to write 'fuck' on their airplanes because it's obscene".
In Bad Luck Banging's final act, Emi faces a socially distanced parents' tribunal monitored by the head teacher. It visits further humiliation on her since the video is played in its entirety before this quasi-kangaroo court. Women convey disgust; men make lewd comments that indicate they approve rather than deplore Emi's porn persona and lustiness. One woman who rails persistently at Emi is stopped short when Emi reminds her she attempted to bribe the teacher to give her child an unfair advantage. An old man, spellbound by the raunchy images on the head's laptop, makes a Jacques Tati-like spectacle of himself.
The sequence splits into three imaginary resolutions to Emi's plight. The one that recasts her as a vengeful Medusa is in keeping with the film's zany satire and offers concluding uplift, but it's no salve for the pustulent social and political sores that Jude displays – not to degrade Romania further but to demand radical humanistic advances.