Armageddon Time review - James Gray goes back to skool |

reviews, news & interviews
Armageddon Time review - James Gray goes back to skool
Armageddon Time review - James Gray goes back to skool
The director's wistful memoir of his New York City boyhood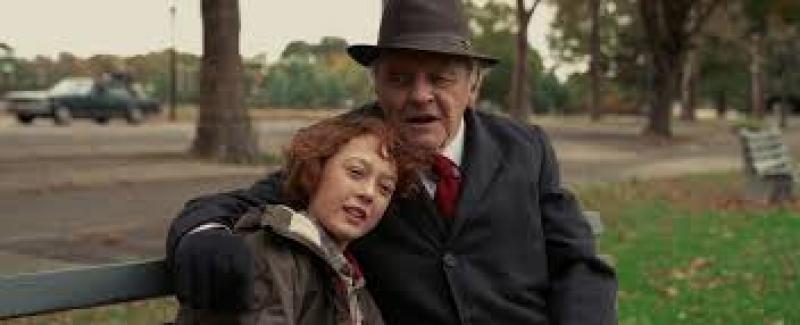 Old pals: Michael Banks Repeta as Paul with his beloved grandpa Rabinowitz (Anthony Hopkins)
Was it lockdown that did it? Forcing filmmakers to sit at home, contemplate their lives, and conclude that just as soon as the masks came off, it was time to shine a light on their youth?
Since Covid struck, we've seen Kenneth Branagh's growing-up-in-the-Troubles memoir Belfast, Richard Linklater's nostalgic animation Apollo 10 1/2 : A Space Age Childhood, and The Souvenir Part II, in which Joanna Hogg mines her film student days yet again.
There's also Charlotte Wells's superb debut Aftersun that looks back from a grown daughter's perspective on a Turkish package holiday she took with her father in the late Nineties, complete with camcorder. When The Fabelmans, Steven Spielberg's tale of a movie-crazy schoolboy, opens in the UK next year, it'll doubtless have his biographers ticking off the overlaps.
The 12-year-old hero of James Gray's Armageddon Time isn't obsessed with making movies, but he does want to be an artist, despite his family insisting he enter a profession. And just like Spielberg's stand-in Sammy Fabelman, Gray's Paul Graff (Michael Banks Repeta) has to deal not only with family conflicts, but also the legacy of Jewish persecution that brought his grandparents to America.
Early in the film, there's a beautifully choreographed Altman-esque dinner scene – with everyone talking at once – that gives vital clues about the family dynamics, Beloved grandpa Rabinowitz (Anthony Hopkins) ended up in the US because his mother fled Ukraine after witnessing her parents being murdered. Paul's sad-sack dad Irving (Jeremy Strong) monologues about the engineering of bridges. Older brother Ted (Ryan Sell) can't resist tormenting Paul.
Trying to feed the family – and not just at mealtimes – is Esther (Anne Hathaway), Paul's long-suffering mother. She's trying to hold down her job teaching home economics while nursing ambitions in local educational bureaucracy that are about to be thwarted by Paul's bad behaviour at school.
Gray uses TV news to convey 1980s America as a country sunk in the worst recession since the Great Depression; the Reagan presidency looms. The family argue about keeping Paul in the public school system with its badly funded, overcrowded class rooms. He's happy where he is, having made friends with Johnny (Jaylin Webb), a black boy in his class. Together they act as clowning irritants to their dispirited teacher.
When their misdemeanours escalate and land them in serious trouble, Gray shows that racism leads to Johnny being far more severely punished than Paul. The latter is moved to the stuffy private school his cleverer big brother already attends. To Irving's humiliation, Rabinowitz picks up the school fees.
It's a failing in an otherwise vivid script that Johnny fades from the film. The young actor Jaylin Webb (pictured above left, with Michael Banks Repeta) is a charismatic presence – Johnny's contemplative stare when confronted with injustice speaks volumes. Gray focuses on the guilt that Paul feels when he abandons his black friend more than he fleshes out Johnny's life. There's one brief scene in the rundown apartment where he lives with his bedbound grandmother. His future is left frustratingly vague.
Gray is more interested in depicting chilling encounters Paul experiences at his new private school, the patrons of which are the Trump family. Its patriarch, German businessman Fred Trump (John Diehl), spots Paul in a corridor on his first day and interrogates him about his anglicised surname. Later the pupils listen raptly to an "inspirational" speech by the future president's older sister, Maryanne Trump (Jessica Chastain). Though the director revels in putting these anecdotes about his encounters with the Trumps on the big screen, one suspects he's told them many times before.
There's a lot to enjoy in Armageddon Time, from its subtle sound design and evocative score (the Sugar Hill Gang and the Clash feature) to cinematographer Darius Khondji's ingenious rendering of the way New York looked in 1980. Some of the casting however is off, and there's a sense of too much nostalgic generosity being extended to Paul and not enough focus on the fate of Johnny for this to be a great film.