69th Berlin Film Festival round-up - what a banal Berlinale |

reviews, news & interviews
69th Berlin Film Festival round-up - what a banal Berlinale
69th Berlin Film Festival round-up - what a banal Berlinale
Usually thoughtful festival has a distinctly off year with a programme of shoulder-shrugging cinema
Tuesday, 19 February 2019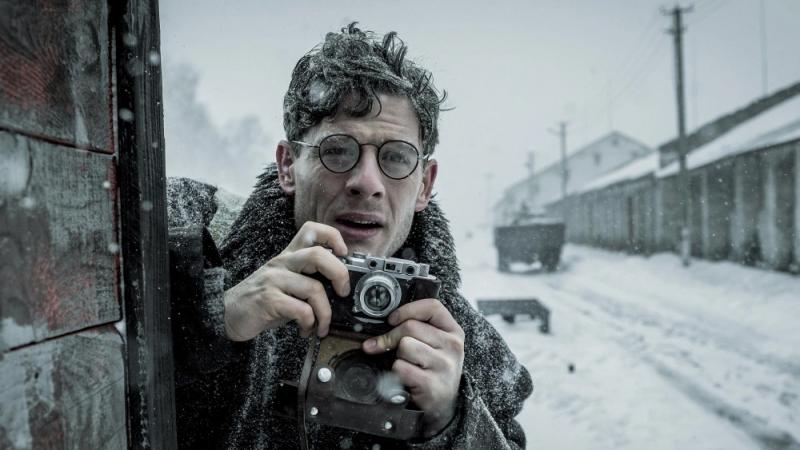 James Norton stars in festival highlight 'Mr Jones'
As journalists and critics were enjoying the unseasonably balmy weather in Berlin at the 69th Film Festival, all were wondering – where are all the good films?
Surely outgoing festival director Dieter Kosslick would want to conclude his 18-year tenure by going out on a bang? Apparently not.
Berlin has never had the glitzy attraction of Cannes or the Oscar-hungry titles of Venice and Toronto. Still, journalists and critics have flocked to the German capital each year. This is because Berlin is a festival where you expect to find challenging, demanding, and revitalising cinema. Cinema that gets you thinking, that riles and stimulates you.
This year wasn't full of bad cinema. No, it was something worse. This was shoulder-shrugging cinema, where the most common (and damning) phrase was "it was okay."
Lone Scherfig's The Kindness of Strangers opened the festival. It took more than one critical bullet and is the sort of soft festival opener you might expect. Set in New York, Zoe Kazan is a mum-on-the-run with two kids, who crosses paths with a doe-eyed ex-con, Tahar Rahim. He's been employed in a Russian restaurant by a comic and kindly Bill Nighy. Meanwhile, Andrea Riseborough plays an over-worked nurse who dedicates her spare time to a rehab group where she crosses paths with Rahim. The themes in Strangers are writ-large across the screen – be kinder to one another. And that's it really.
The shocker of the competition line-up was Fatih Akin's repugnant horror, The Golden Glove. Jonas Dassler is transformed beyond recognition into serial killer Fritz Honka, who bears more than a slight resemblance to Charles Laughton's Quasimodo. Fritz grotesquely murdered several women in 1970s Hamburg, and Akin seems to have a leering contempt for the onscreen victims, letting the camera linger until your stomach starts to churn. Be warned, after watching this, schnapps and frankfurters will be off the menu for life. Comparisons to The House that Jack Built are inevitable but, however morally bankrupt Von Trier's film was, at least it was attempting to say something.
Fortunately, Agnieszka Holland's moving biopic Mr Jones was a highlight of the competition line-up. James Norton plays Welsh journalist Gareth Jones, the man whose real-life story purportedly inspired George Orwell to write Animal Farm. Before the outbreak of the Second World War, Jones travels to the USSR with the intent of reporting on the man-made famine in Ukraine. With a magnificent performance by Norton and a deliciously ripe turn from Peter Sarsgaard as Walter Duranty, Holland has unearthed a too-little-known story and presents it beautifully.
Then there's Francois Ozon's modern drama By the Grace of God, which is also based on real-life events. A change of tone for the prolific French director (who's better known for his masterful melodramas) it concerns a group of men joining forces to bring down a priest who abused them as children. As a study in modern masculinity it is moving, but there's a nagging sense that Ozon was not the best director for the subject matter.
LGBTQ tale, Elisa y Marcelia from Spanish director Isabel Coixet will leave audiences underwhelmed. With its monochrome cinematography, it felt like a wannabe Roma (it's also being released by Netflix). Another true story, Coixet's film focuses on two lesbians in fin-de-siècle Spain, one of whom pretends to be a man so they can marry. There are some bizarre sex scenes involving squids, some Eurocentric humour, and that's about it. In the end credits, it states that it was only in 2005 that Spain legalised gay marriage, and that the pair were never pardoned.
Possibly the final film from the solo voice of the French New Wave, Agnes by Varda is a swansong of a movie that charts the entirety of the director's career. It's comprehensive and mildly entertaining; recent converts to her work will no doubt enjoy it.
Playing out-of-competition was The Operative from Israeli filmmaker Yuval Adler. Starring Diane Kruger, who was in Adler's previous film In the Fade, and Martin Freeman, it's a mind-numbingly dull and witless spy-thriller. Kruger is an undercover Mossad agent trying to infiltrate the Iranian nuclear programme with the help of her handler Freeman. Things go wrong when she falls in love with her mark, played by Cas Anvar. You'd be better off watching an old Le Carré flick.
Outside competition, there were a few gems to be discovered in the Panorama strand. Joanna Hogg's autobiographical drama set in 80s Knightsbridge, The Souvenir (pictured above), was the main highlight. Starring Tom Burke and Tilda Swinton, and featuring the debut performance of her daughter, Honor Swinton Byrne, it is a story of addiction, passion, and privilege. Understated and reserved, the film sits with you long after the credits roll. Speaking of credits, Hogg also (rather peevishly) revealed there will be a sequel – The Souvenir: Part II.
A special screening of Who You Think I Am, starring Juliette Binoche (who was the head of this year's jury) was a pleasant surprise. Catfish meets Fatal Attraction in a gently humorous, thriller-come-melodrama about a middle-aged divorcee who pretends to be twentysomething to ensnare a new lover. Binoche owns her character and manages to pull off the most laughable of plot twists.
Lastly, there was a slight, but enjoyable documentary from Rob Garver, What She Said: The Art of Pauline Kael. It's rightly said that the only people interested in films about critics are critics and those who want to be critics. It's a niche audience, but it's no bad thing. Garver captures the punchy, populist power of Kael's prose. He also hits all the right notes, including a brief segment on when Renata Adler wrote a scathing attack on Kael's writing. Extracts written by Kael are read by Sarah Jessica Parker, conflating Kael with Carrie Bradshaw. I'm not sure what Pauline Kael would have made of that.
Next year, the Berlinale is shifting towards the end of February, a move that was dictated by the Academy Awards moving earlier in the year. It will also be the first year of the new director, Carlo Chatrian. Hopefully, he will offer up a more promising selection.
Be warned, after watching 'The Golden Glove', schnapps and frankfurters will be off the menu for life
Explore topics
Share this article