52 Tuesdays |

reviews, news & interviews
52 Tuesdays
52 Tuesdays
Sensitive handling of complex subject in impressive Australian debut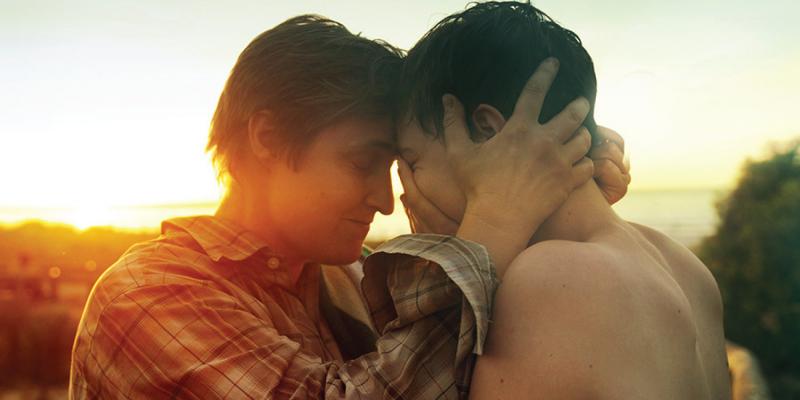 Love and changing gender: Del Herbert-Jane as James (left) with daughter Billie (Tilda Cobham-Hervey)
An affectingly restrained Australian drama of adolescent development coloured by the repercussions of a parent undergoing gender transition, 52 Tuesdays may initially seem understated in its exploration of the balances (and imbalances) of family relationships under stress, but finally achieves something rather deeper than its innovative broken-up narrative style at first suggests.
The film's title is explained by first-time feature director Sophie Hyde's decision to divide her story into weekly sections (filmed just that way, once a week over the course of a year, with cast only given notes for one episode at a time) charting the changing relationship between 16-year-old Billie (Tilda Cobham-Hervey) and her mother, Jane (Del Herbert-Jane). We don't ever really think of the latter by that name though, since on the film's opening day she reveals to Billie that she's beginning the gender transition journey into James.
The theme of confiding and keeping secrets, or breaking them, and the repercussion for trust runs throughout
For Billie, who has told us in the very first words of the film that she had a mum "who told me everything", this is a shock, one which rocks the comfortable and close universe that has surrounded her to date. Not least because she's the last to hear of it: her laidback father Tom (Beau Travis Williams) who parted company with Jane, obviously amicably, years before as the latter discovered her lesbianism, and an uncle, Harry (Mario Spate), who shares his sibling's home, have long known Jane-James's plans. Billie is presented with a stark ultimatum: she's to live with her dad for a year, meeting with James only once a week after school for the evening. Not that she's excluded totally – Billie still comes along to meetings with medical professionals and the like – just told to give James his own space to adjust to what he's going through, mentally as much as physically.
The way we perceive the shock is mediated by the fact that 52 Tuesdays opens with a (somewhat) more mature Billie retelling snatches of her story to (her own) camera; she's already cut the longer hair with which she started to give herself a livelier gamin look that suggests a greater degree of confident insouciance than she really has. The idea of filming as a way to make sense of experience runs throughout, whether as Billie's periodic reprises to camera, the accounts of the weekly meetings which themselves have an almost docu-drama vérité, or the way that both parent and daughter record their own experiences as vehicles for communication across the gap of separation. Hyde also bridges each new weekly episode with a few seconds of television news footage, aligning the film's interior calendar to the events of the wider world: we see recurring snatches of global violence like the Arab Spring, the Syrian conflict and Occupy Wall Street as well as, in greater detail and with more symbolical relevance, the split of a glacier in the Antarctic, nature's own colossal image of separation.
A new contact in Billie's life, with schoolmates Josh (Sam Althuizen) and Jasmin (Imogen Archer), will become important. They're slightly older (a factor that proves significant), and readily accept Billie into what becomes a close, complicated relationship, also explored through her camera. Initially she's an observer-questioner, later becoming something of the voyeur, and finally a participant in this exploration of close companionship that nudges iinto the sexual (the three pictured above, Cobham-Hervey centre). The trio become as intimate as seems possible (though Billie hides her wider family drama from them – the theme of confiding and keeping secrets, or breaking them, and the repercussion for trust runs throughout 52 Tuesdays), and it's at the emotional rather than the physical level that complications precipitate crisis.
Hyde and her screenwriter Matthew Cormack tackle all this with persuasive confidence, conveying subtly, and with periodic comedy, the varied complications of their story in an unspecified South Australian urban world, mainly modest town locations along with a Christmas excursion to the beach (main picture): the Adelaide Film Festival appears in producer credits, so we assume that city is the film's base. The ups and downs of life as the year unfolds mixes very nicely the everyday, like teenage stroppiness about being told how to use chopsticks, with the much more fundamental, as when James's testosterone treatment has to be halted and major upset follows.
In this environment of obviously frugal budgets the non-professional cast works outstandingly, the chemistry between the excellent Cobham-Hervey and Herbert-Jane entirely natural. The latter started out as the film's psychology consultant, and though we see less of her character's inner world – an allusion to the importance of the gender transition comes only at the midway point – she has a face which conveys minute reserves of sadness. Director Hyde won last year's Sundance World Directing award (the same festival programme included Richard Linklater's Boyhood with its similarly innovative approach to narrative time) and her ability in this debut to handle weighty material looks impressive. We'll surely be hearing more of her.
Overleaf: watch the trailer for 52 Tuesdays
Both parent and daughter record their experiences as vehicles for communication across the gap of separation
rating
Explore topics
Share this article