theartsdesk in Australia: The oldest civilisation on show |

reviews, news & interviews
theartsdesk in Australia: The oldest civilisation on show
theartsdesk in Australia: The oldest civilisation on show
A brief introduction as the Royal Academy prepares to showcase art from Down Under
Sunday, 08 September 2013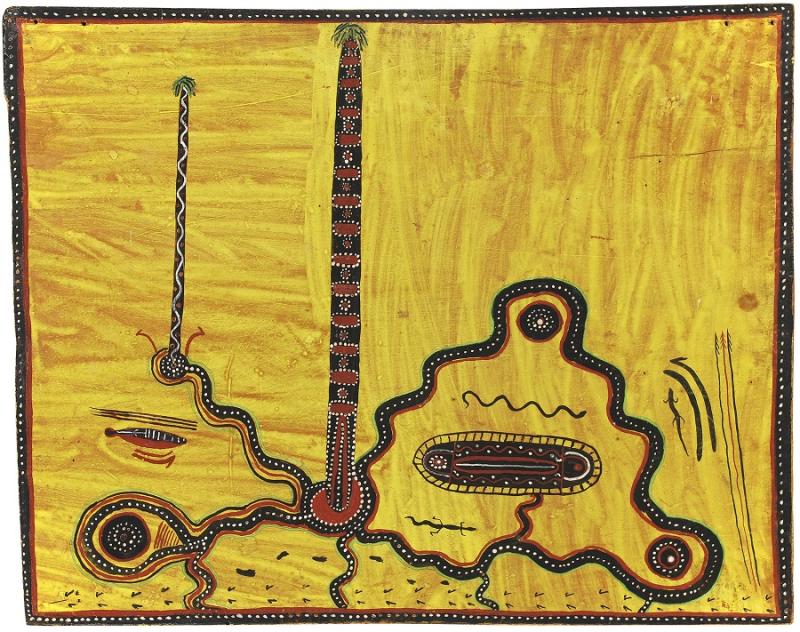 'Revealed to save the race': Kaapa Mbitjana's 'Ceremony'
London is by now festooned with images showing the back-end of a horse surmounted by a black figure holding a gun across his chest. The man's head is a square black mask – a rectangular slit in it fails to reveal the expected eyes, instead taking us straight through to the clouds and sky.
Sid Nolan was creating an iconic image, especially for his fellow Irish-Australians, which would go on to become shorthand for the rebel, the larrikin spirit of the Aussie outfacing both the land-owning squattocracy and the land, which stretches out, deserted into the flat and boring distance.
Ned Kelly – for it is he on the horse – was of course both a fellow Irish-Australian who'd been hanged for leading a gang of horse-thieves, bank robbers and police killers in the late 19th century and a bosom companion for Nolan's soul in the 1940s after he'd deserted from the army in order to avoid both a dull job in the dusty Wimmera and a possible posting to fight in the mountain mud of Papua New Guinea. But "cracking the coconut", as he once described conceiving that iconic mask to me, was also not unrelated to "the black square that had been hanging around in modern art for quite some years, after Malevich, Max Ernst......". Deep research has also linked the horseman to an 1838 Corot painting.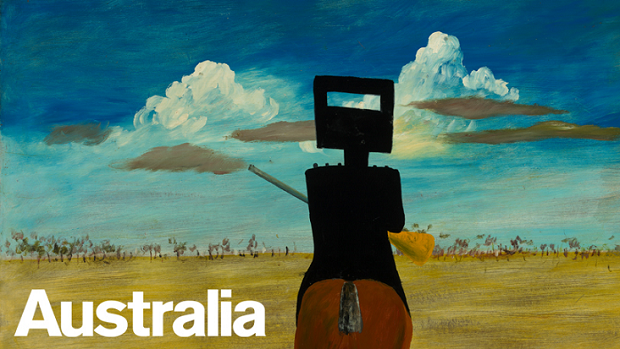 Ned's image (pictured right), therefore, helps to explain why the Royal Academy's head of exhibitions Kathleen Soriano chose the land and landscape as the core of her 209 artwork selection of works to sum up 200 years of Australian art. The landscape and the light upon it are different; the stories occurring in that landscape are unique; but the origins of much of this different art are firmly in the Western tradition.
In her catalogue introduction, Soriano says: "As the defining figure of Australian art in the twentieth century, the artist who inserted human drama into the Australian landscape, Nolan claimed: 'We all took the policy of Paris on, there was nothing else to do; but always there was the thought that we would learn to tell our own story.' And in 1948 Nolan commented on his Ned Kelly series (four will be in the show) that 'the desire to paint the landscape involves a wish to hear more of the stories that take place in the landscape'."
Of course, those stories change over time – unless they're Aboriginal.
In the beginning, the need to "sell" the convict colony of New South Wales required both exotica and evidence of the beginnings of "civilisation". Then, later that century, established emigrant landscape artist John Glover appeared to plonk English parkland down in the middle of Tasmania, peopled by happy Aborigines. Two misconceptions. Recent research (in Bill Gammage's The Biggest Estate on Earth) suggests that the Indigenous system of fire-farming did actually produce open country designed to facilitate hunting; but the happy Aborigines were a fiction – they'd already been driven out of the Tassie mainland.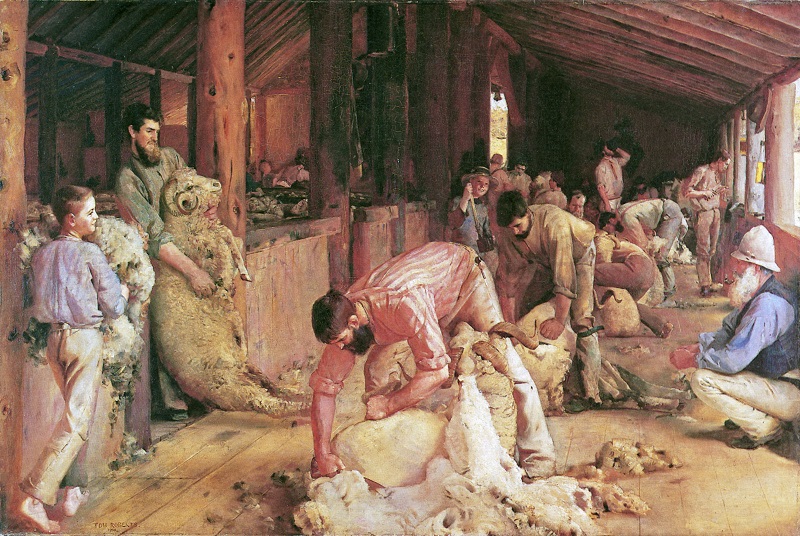 By the turn of the 20th century, the so-called Australian Impressionists like Arthur Streeton and Tom Roberts weren't following in French footsteps – though it was nice to think they were as good as that. Instead they were capturing the much harder edges of leaves in the Aussie sunlight, painting au plein air on the fringes of the burgeoning cities in blue and gold to bolster the pioneering farmer mythology in huge canvases like A Break Away! and Shearing the Rams (pictured above). And then painters started to picture our dynamic cities and our demotic beaches – people of all sorts (as long as they were white) sharing sun and surf together.
So far, we haven't got too far from the edges of the Australian continent – where 85 percent of the population still lives. So, in the late Thirties, a time before widespread colour photography, it was the Aranda man Albert Namatjira who actually introduced his fellow countrymen – though not fellow citizens, for he was Aboriginal - to his colourful appreciation in inappropriate water-colours of the Red Heart, so recently a dark, dangerous, desert heart for so many unlucky explorers.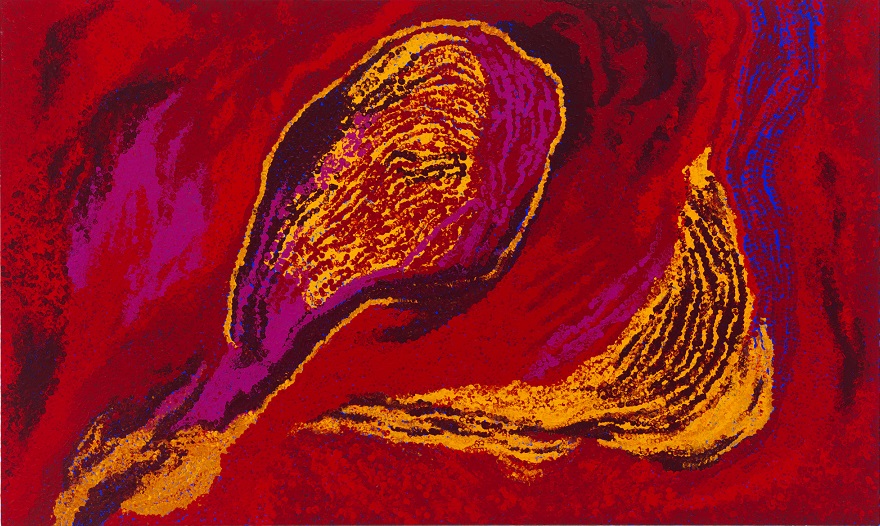 Pictured above: Wipu by Tommy Watson
It was not until the 1950s that a Western artist would take this further. Fred Williams was determined to find a new aesthetic language with which to represent this very un-European landscape. According to Kathleen Soriano, "he established a pictorial equivalent to the overwhelmingly vast, primarily flat terrain in which the traditional European relationship of foreground to background breaks down, necessitating a complete reassessment of compositional space. He tilts the landscape up against the picture plane, so that often the only indicator of distance is the presence of a horizon line, or clumps of trees huddling closer together, suggesting recession."
But it would take Namatjira's Aboriginal successors to reveal that 50,000 years' familiarity with the land had given it songs and dances, myths and lore, and legends of people and animals that gave them a fourth dimension of understanding and relationship with the land. As anyone who has been bitten by a mangy dog (as I was) in a remote community can attest, Aborigines are an inclusive people unlike us. The wound had to be sucked by women healers, a skin name was awarded, and suddenly I had defined relations with almost everyone in the community.
All of these wonders were under threat, though, in the early 1970s. Tribes had been wooed in from the deserts to settlements from which they were expected to assimilate into the superior white society. Under this doom, the elders who'd denied Namatjira the right to use the secret/sacred patterns of their rites in his art now accepted that something of the complexity of their culture had to be revealed to save the race. At Papunya, 100 kms west of Alice Springs, a painting on the school wall took traditional form, and the flood-gates were open. Any piece of building board not nailed down was appropriated by men like Kaapa Mbitjana, Long Jack Phillipus, Mick Namarari, Johnny Warangkula and Clifford Possum to be covered in the patterns that came from their body and ground paintings for ceremony, decorated objects like bull-roarers and shields, stories like the Budgerigar Dreaming or Water Dreaming at Kalipinypa which were how the laws were passed on from generation to generation, and maps that showed where to find water or significant locations.
These Foundation Documents of the "school" which expat Aussie Robert Hughes in Time magazine would come to recognise as "the last great art movement of the 20th century" took a decade to be appreciated as art rather than ethnography. And it was 30 years before an auction price of $440,000 was achieved for an ailing Warangkula's Water Dreaming. But, even as the secret/sacred detail in those early boards has become hidden and detailed "story" has been replaced by Untitled as some in the market seek for recognition of this work as "contemporary", so genuine artists have emerged from the shadow of different community styles.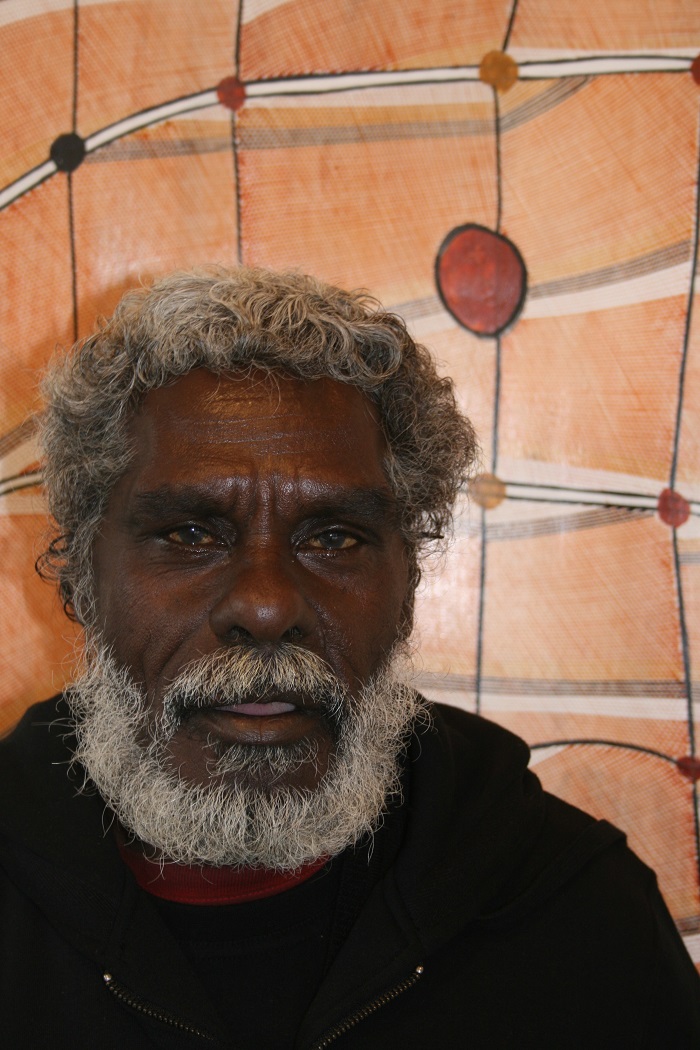 Rover Thomas was the first in the late Seventies, having a dream that required painted dance boards to illustrate it in ceremony. Emily Kngwarreye (pictured above right) followed a decade later with constantly varied acrylic paintings all called My Country, which was on the ironically named cattle station of Utopia. Both went to the Venice Biennale, both have had major solos. Up North, the bark painting of Arnhemland, is a tradition that may be timeless. But it became art after Papunya took off, and representations of the Rainbow Serpents that shaped the land or Mimi Spirits that lead people astray have become finely rarrked abstraction in the hands of John Mawurndjul (pictured above left) and Djambawa Marawili that still tells its deeper meaning to initiates.
Twenty-six percent of Soriano's selection for Australia is Indigenous. Rightly she's separated the work that comes from non-Western traditions from the Blak art made by urban-based artists with Aboriginal identity, often a tart political riff based on European art traditions.
As a result, Australia the exhibition has every chance of revealing a hell of lot more about how people - including the world's longest-surviving civilisation - have responded to living so far from everyone else on the world's oldest continent than Baz Luhrmann's unlamented effort, Australia the movie.
Australia at the Royal Academy from 21 September to 8 December
Tribes had been wooed in from the deserts to settlements from which they were expected to assimilate into the superior white society
Explore topics
Share this article