120 BPM review - stirring portrait of French activism in the age of AIDS |

reviews, news & interviews
120 BPM review - stirring portrait of French activism in the age of AIDS
120 BPM review - stirring portrait of French activism in the age of AIDS
Cannes prize-winner deftly mixes the personal and the political
Impassioned: Arnaud Valois (centre) in '120 BPM'
Activism is back with a vengeance in our parlous political age, so what better time to welcome 120 BPM as a reminder of an impulse that has never truly gone away?
Activism is back with a vengeance in our parlous political age, so what better time to welcome 120 BPM as a reminder of an impulse that has never truly gone away? A Grand Prize jury winner at Cannes last May and the recipient of multiple awards in France since then, Robin Campillo's nervy and poignant portrait of a culture in the grip of AIDS may be set in the Paris of nearly 30 years ago, but its anger and passion resonate entirely and fully today.
Folding the tensions within and around the Paris branch of the AIDS activist movement ACT UP, Campillo functions here as both the chronicler of an anxious time and as a romantic who has a love story to tell, albeit one that will come to grief. The unfolding love that develops between the lippy provocateur Sean (Nahuel Pérez Biscayart) and the comparatively indrawn and watchful Nathan (Arnaud Valois) places a sero-discordant couple against the roiling backdrop of a community in crisis. Silence is the most ominous sound of all in this movie's landscape, not least because it suggests that the life-defining "beats per minute" referenced in the title have come to an end.
Against the backdrop of drug trials and pharmaceutical pronouncements, we chart the gathering romance between the reckless, heroically outspoken Sean, who acquired the HIV virus at age 16, and the cautious, HIV-negative Nathan, who says that he has given up sex for five years.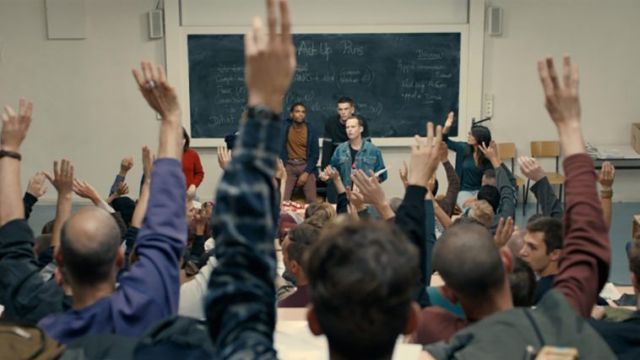 As the two men play beat the clock against Sean's illness, a larger portrait emerges of group dynamics pushed to the limit and sometimes beyond in a community (pictured above) for whom the cause is all. Intriguingly, almost none of the ACT UP participants are glimpsed in the workplace or even at home: their lives, we come to understand, exist on the frontline at a time in history when even the Seine is seen to run red with blood and Bronski Beat is the best defense against the dread that comes with silence.
The movie celebrates its characters' bravado without ever sentimentalising it, and one is keenly aware of the way in which individual responses to the ravages of AIDS threaten to divide an agitated assemblage who don't necessarily speak with one voice. Group leader Thibault (Antoine Reinartz) must reconcile divergent points of view, while others in his ranks seek to up the level of protest-driven mayhem leaving still others to argue for the primacy first and foremost of fun. If such a thing is even still possible.
At 140 minutes, the film feels its length, and Nathan himself remains almost too idealised a figure, notwithstanding the compelling gentleness that Valois brings to the role. A kind of Gallic equivalent of Tony Kushner's Prior Walter, the Franco-Chilean Sean, in turn, is the showiest, most searing part, and the Argentine-born Biscayart finds the complex, self-contradictory facets in an ailing livewire who has to struggle to get beyond his anger (and his smoking). The belated introduction of his mother feels like too little too late, and one yearns sometimes for a broader canvas than Campillo has very deliberately allowed. These are minor cavils, though, given how honestly 120 BPM comes by its title: it sets the pulse racing in what emerges as an adrenaline rush of a requiem.