The Thread, Sadler's Wells Digital Stage review - Greek folk and contemporary unite |

reviews, news & interviews
The Thread, Sadler's Wells Digital Stage review - Greek folk and contemporary unite
The Thread, Sadler's Wells Digital Stage review - Greek folk and contemporary unite
Russell Maliphant breathes fresh life into Hellenic tradition
Greece lightning: Russell Maliphant's dancers in action
The latest Sadler's Wells digital offering is 2019's The Thread, a luminous collaboration between choreographer Russell Maliphant and Oscar-winning composer Vangelis (Chariots of Fire, Blade Runner) for the Athens-based production company Lavris.
It's a striking,
contemporary
take on
Greek
folk
dance
and classical mythology, with a series of abstract episodes forming the 75-minute work. Fragmented, and yet, as the title suggests, subtly woven together – like a collection of disparate beads strung onto one piece of string.
Maliphant's company of 18 young Greek dancers features six performers with a folk background, and 12 trained in contemporary. Throughout, the show zigzags between the movement vocabulary of each, the one colouring the other, while the dancers form the connection between traditional and modern, past and present, individual and group. In theory, Maliphant also takes inspiration from the myth of Ariadne's thread helping Theseus navigate the labyrinth, but this is best enjoyed as an atmospheric, non-narrative piece.
The opening (pictured above) is a signal of intent: the company conjoined in serene Hellenic folk formations, transforming imperceptibly from contracting and expanding circles into a weaving daisy chain. Maliphant returns again and again to this hypnotic human patterning, elevated by Michael Hulls's considered lighting – from picking out sections of the bare stage to form new dance spaces, to matching the mood of the piece via sunnier or cooler hues, or effects like bathing the dancers' bare arms so that they form a shimmering gold wire.
Dressed in vibrantly coloured, ever-changing costumes by Mary Katrantzou, the company sometimes resembles figures on an Ancient Greek vase or temple caryatids brought to vivid life. That's offset by Maliphant's own fusion style: the sinuous, twisting fluidity, the low centre of gravity, the athletic body bends, the nods to t'ai chi and capoeira. Often, the two dance styles intersect, like in the studied rotations and powerfully held lines; elsewhere, they work in conversation, the compact, shuffling steps of the folk juxtaposed with Maliphant's swooping, elastic movement of the whole body.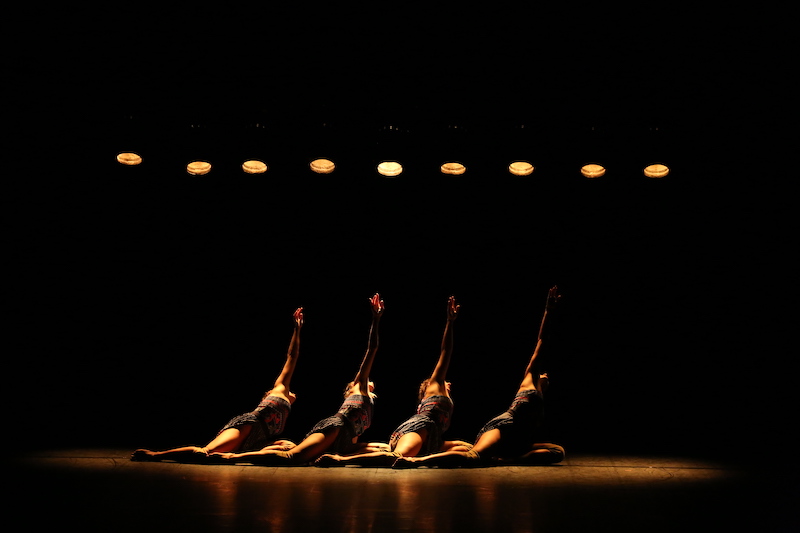 Vangelis's score combines pan pipes and strings with mighty drum beats and synth-based electronica. It fuels the furious sequences, like the manly line dance with shouts, thigh-slapping and stomping, and the aggressive wooing with accompanying cowbells. But while the music certainly adds an epic quality, it's actually the quieter moments that most impress: four women in exquisite sync, spinning, undulating and reaching out as one (pictured above); an intimate duet based on perfect trust and energy exchange; male bodies clambering and folding over one another in sculptured acrobatic beauty.
A thrillingly energetic climax brings everything together with continuous waves of movement, each group embodying a different aspect. It does, however, show up a few flaws; although the company has impressively absorbed both folk and contemporary, some are undeniably more comfortable in their own style, and this kind of synchronised, across-the-floor work (especially in video close-up) highlights every arm slightly out of place, or spin on a different level.
It's also hard to argue that the folk elements – particularly as presented here, with constant repetitions of steps and linked lines – are as creatively exciting as Maliphant's freer, more expressive style. Nevertheless, it's refreshing to see a contemporary choreographer take this folk tradition seriously and demonstrate how it forms the foundation of newer work. It is also, at a time when we feel cut off from one another, a beautiful example of international artistic union. May we meet again soon...
The Thread is on Sadler's Wells' Facebook and YouTube until 24 April
Compact, shuffling steps are juxtaposed with Maliphant's swooping, elastic movement of the whole body
rating
Explore topics
Share this article