Rumpelstiltskin, Sadler's Wells Digital Stage review - spins an engaging yarn for young audiences |

reviews, news & interviews
Rumpelstiltskin, Sadler's Wells Digital Stage review - spins an engaging yarn for young audiences
Rumpelstiltskin, Sadler's Wells Digital Stage review - spins an engaging yarn for young audiences
balletLORENT provides a sunnier take on the the Brothers Grimm
All that glitters: Rumpelstiltskin (Gavin Coward) aids the Shepherd's Daughter (Natalie Trewinnard)
The latest in Sadler's Wells' Digital Stage programme – an impressively assembled online offering to keep audiences entertained during the shutdown – is balletLORENT's family-friendly dance-theatre production Rumpelstiltskin. It was streamed as a "matinee" on Friday afternoon, and is avail
able to watch for free on
Sadler's
Wells'
Facebook and YouTube for a week.
The 90-minute work, first seen in 2018 and filmed for broadcast at Northern Stage, was the third successful collaboration between director Liv Lorent and then poet laureate Carol Ann Duffy – once again translating a Brothers Grimm tale for the stage. BalletLORENT were meant to be bringing their latest show, The Lost Happy Endings, to Sadler's Wells for its Family Weekend this Easter; instead, Rumpelstiltskin plays online, offering entertainment to both restless young viewers and their grateful parents.
While not quite as, well, grim as the original tale, this retelling of the iconic fable still has a certain darkness underlying its bucolic setting. We open with the title character's origin story: the Queen (Maria Vincentelli) longs for a child, but dies giving birth. The grief-stricken King (John Kendall) then casts out his son – who becomes Rumpelstiltskin (Gavin Coward), unloved and increasingly feral, but with a certain talent for magical weaving. Years later, a Shepherd (Toby Fitzgibbons) fatally boasts that his daughter (Natalie Trewinnard, pictured below) can spin straw into gold. The King locks her in a room with a spinning wheel, proclaiming he will slaughter her father's flock if she fails, or marry her if she succeeds. She's saved by Rumpelstiltskin, but his help comes at a terrible price.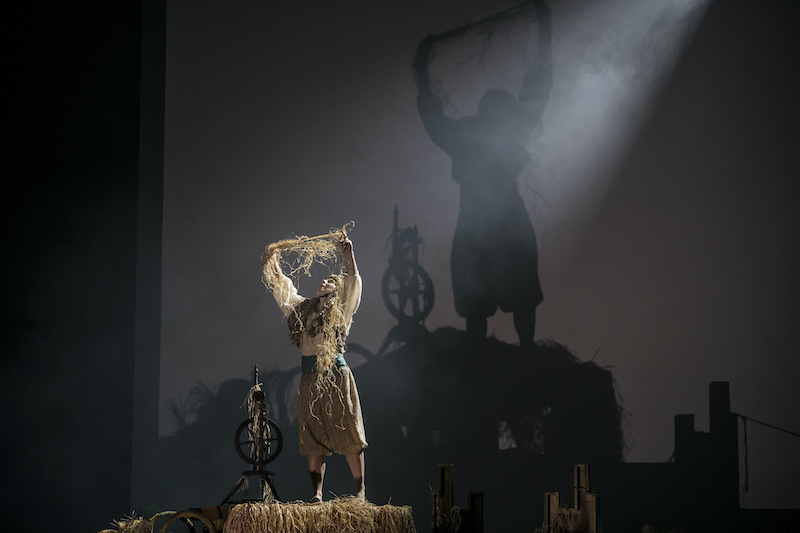 Giving Rumpelstiltskin a painful childhood tilts our sympathies; is he really the 'villain' here, or is it his father – or neither? The story becomes more explicitly about parenting, community, loss, and how we all need love and understanding to thrive. The arresting opening image of the queen writhing in her liquid-gold cloak connects that vivid thread to her, so gold here is not a sign of the King hoarding riches, but once again opening his heart. We see, too, the Queen's spirit haunting Rumpelstiltskin, making his talent part of that traumatic inheritance.
More could be done with the magical elements, which are rather understated; it's a shame Lorent doesn't have more fun exploring this superpower, something young audiences would surely enjoy. Also, by giving the Shepherd's Daughter a romantic bond with Rumpelstiltskin, the show creates a weird semi-incestuous love triangle (and paternity mystery) that might have kids asking awkward questions. Is Dr Freud available for home schooling? Or Jeremy Kyle?
Ben Crompton's warm narration guides the action, and Lorent's contemporary choreography is brimming with character notes. Fitzgibbons' overreaching Shepherd has a wild buoyancy, breaking into tap dancing when particularly excited. The King and Queen's affection is immediately established by their tactile, entwined partnering, while the Queen's longing for parenthood is evident in her sprightly playing with the village children, the luminous Vincentelli almost childlike herself in her unfettered movement.
Contrasting with that joyful spirit is Kendall's aggressive, jagged movement as the King is warped by grief – movement which then shapes his child, with Coward supplying gawky, animalistic physicality that shows Rumpelstiltskin's increasing separation from humanity. He has feathers sticking comically out of his hat, making him an object of fun, but also of pity. The expressive Trewinnard is most compelling when the Shepherd's Daughter despairs at her task: tearing and hurling straw, running in place on the spinning wheel, and even standing on her head. Her relationship with Rumpelstiltskin is interestingly drawn: part loyalty, part calculation, part desire, as childhood friends shift into complex adolescence.
Supporting them are company members and a community cast aged four to 79, who play country folk and the instantly adorable gambolling sheep (pictured above). But, apart from a set-piece in which everyone tries to cheer the King (with tricks ranging from hula hooping and rhythmic gymnastics to a shepherd-sheep pas de deux and cheerleading with straw bundles), there isn't really space for Lorent to let loose choreographically. Though admirable as clear narrative, the dancing, like this version of the tale, is too earthbound, lacking transporting magic.
Nevertheless, it's a delightful world to enter. Phil Eddolls' russet and emerald set features a fairy tale castle and plump hillocks that resemble comfy sofas, while Games of Thrones' Michele Clapton immerses the folk in wool via hippy-meets-medieval costuming, giving the Shepherd's Daughter knitted plaits. Malcolm Rippeth and Michael Morgan's lighting switches between sunny idyll and ominous dark, accentuating the Shepherd's Daughter and her nemesis, the spinning wheel, with giant shadows on the back wall. Likewise, Doctor Who composer Murray Gold provides both cheery folk music and mythic power, and, other than some sluggish pacing, the production translates well to screen – its jaunty visuals, swelling score and emphasis on characterisation all engaging for wide-ranging audiences.
Completing this accessible family offering is an online workshop series from Sadler's Wells, with activities like balancing, jumping and rhythm. It's a lovely way to find a positive in the shutdown: reaching new audiences, and converting their enthusiasm for watching dance into doing it themselves. The programming equivalent of spinning gold from straw.
The story becomes more explicitly about parenting, community, loss, and how we all need love and understanding
rating
Explore topics
Share this article