Shostakovich Trilogy, San Francisco Ballet, Sadler's Wells review - less than the sum of its parts |

reviews, news & interviews
Shostakovich Trilogy, San Francisco Ballet, Sadler's Wells review - less than the sum of its parts
Shostakovich Trilogy, San Francisco Ballet, Sadler's Wells review - less than the sum of its parts
Serene visiting Americans lack the bite for Russian composer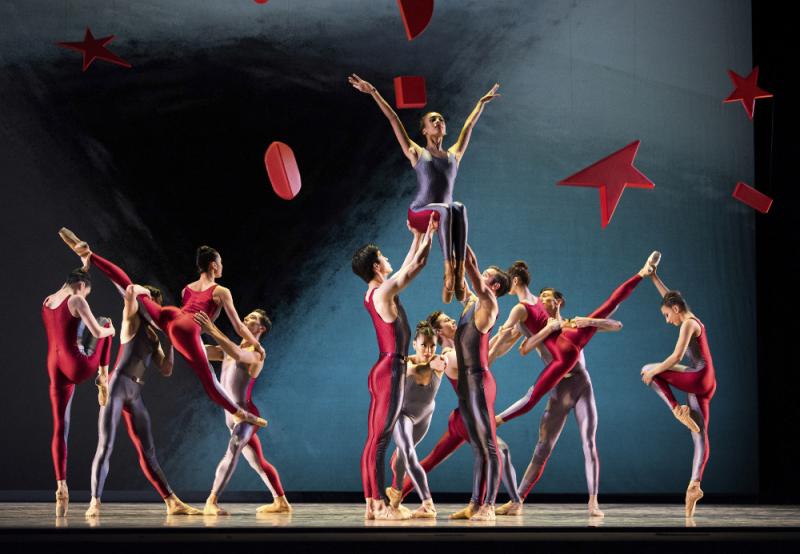 San Francisco Ballet perform Shostakovich's Piano Concerto no.1
Alexei Ratmansky stands out among contemporary choreographers for two reasons: he still creates genuinely classical dance, and he's more conscious than most that art is dependant on the society it's created in.
His Shostakovich Trilogy, which received its UK premiere on Wednesday night at Sadlers Wells, should have been a triumphant opener for San Francisco Ballet's London season, a vehicle for the company to show off its technical proficiency and its artistic seriousness. Both were in evidence last night, but in a package that somehow managed to be less than the sum of its parts.
None of these pieces is a narrative work, but all take inspiration from Shostakovich's life and the pressures of making art in Stalinist Russia. The middle piece of the three, Chamber Symphony, (all pieces are named for the Shostakovich work they're set to) is the most biographical and also the least successful. A hackneyed take on the composer's love life, it presents the 'great man' as a bare-chested hunk in a black velvet suit, unable to decide which of three women he's most in love with. These three dancers (Sasha de Sola, Mathilde Froustey and Yuan Yuan Tan) are clad in extremely similar dresses and frequently appear all together, as if women were like slightly different models of bicycle you need to see lined up next to each other in order to distinguish between them. There is little in the dancing either to distinguish them or establish their characters: an innocent observer would never have realised that these were three of the company's top principals. Supporting dancers in ice-cream colours (women) or silvery velour (men) complete the visual misstep: this dancework is worlds away from its dark and tragic score, considered by the composer a kind of requiem for himself and for the victims of war.
Shostakovich was undeniably the evening's victor, with his glorious and complex music firmly established as fit fare for ballet
Piano Concerto #1 shows Shostkovich's lighter side in its mercurial interplay of irony and sincerity. The music's fizzing variation of dynamics and tonality is more than matched by Ratmansky's inventive choreography, but the dancers too often appeared to be in a dreamy Olympic games: what might have been intended by the choreographer to come across as detachment, or even world-weariness, has a tendency to read instead like airy neutrality. Serenenity, lyricism and beauty are hallmarks of San Francisco Ballet and one reason for the company's high reputation, but this house style is a handicap with a piece like this one, which is crying out for spikiness and subversion. George Tsypin's design is a hit though, with dancers in sleek red and grey catsuits overhung by a canopy made up of exploded fragments of stars, hammers and sickles.
The programme's opening piece, Symphony #9, comes closest to fulfilling its promise. I can't have been the only one to think of Balanchine during its first movement, as soloists popped around the stage like firecrackers, their high-energy, fiendish little jumps and twists marshalled into a classical geometry it feels like we seldom see from living choreographers. Symphony #9 fizzes with invention to match the restless energy of the music and its complicated emotions. Just as Shostakovich satirises Soviet bombast in music, so Ratmansky incorporates light but cutting sideswipes at Soviet ballet: here a hint of folk dancing, there some couples skipping like triumphant proles but with heads and shoulders hung in subjection. The uneasiness of the artist living under a repressive regime is evoked more heavy handedly - but still effectively - in the anxious head-turning of the slow movement, but overall Ratmansky gives us the triumph of the artist and his spirit: the curtain drops on a dancer spinning triumphantly despite the darkness closing in around him.
Shostakovich was undeniably the evening's victor as well, with his glorious and complex music firmly established as fit fare for ballet (and competently played by the Royal Ballet Sinfonia under Martin West). But a different, less sleek and beautiful, company might have given an even better account of it.
The middle piece of the three, Chamber Symphony, is the most biographical and also the least successful
rating
Explore topics
Share this article