Romeo and Juliet, Scottish Ballet |

reviews, news & interviews
Romeo and Juliet, Scottish Ballet
Romeo and Juliet, Scottish Ballet
A production that swings between brilliant characterisation and panicked detail
Scantly clad yet lacking in erotic tension: the titular couple in Scottish Ballet's Romeo and Juliet.
Watching The Royal Ballet's The Winter's Tale a few weeks ago, I was struck by the quasi-absurdity of adapting the Bard for dance - a thought numerous choreographers must have encountered while toying with the idea. The complexity of Shakespeare's plots and characters, and the importance of his linguistic intricacy has meant that relatively few have dared to take on the task and even fewer have succeeded in creating lasting adaptations.
Winter's Tale
premiered to predominantly glowing reviews and Ashton's one-act
The Dream
will be revisited at the end of the month with The Royal Ballet, but it is
Romeo and Juliet
that choreographers have seemed happiest to try their hand at, with versions including those by Cranko, Lavery, MacMillan, Ashton, Schaufuss and this one for Scottish Ballet by Krzysztof Pastor, created in 2008.
Intergenerational themes of young love and warring families reach through dance with ease, yet this production frequently focuses on the intergenerational nature of the themes rather than the themes themselves - providing a bizarre timeline that stretches from 1930s to 1990s Italy via costume changes and distracting video footage of street scenes, political unrest and war zones (though the timeline of the characters still takes place over a few days). It's patronising and unnecessary to reiterate the story's relevance in every scene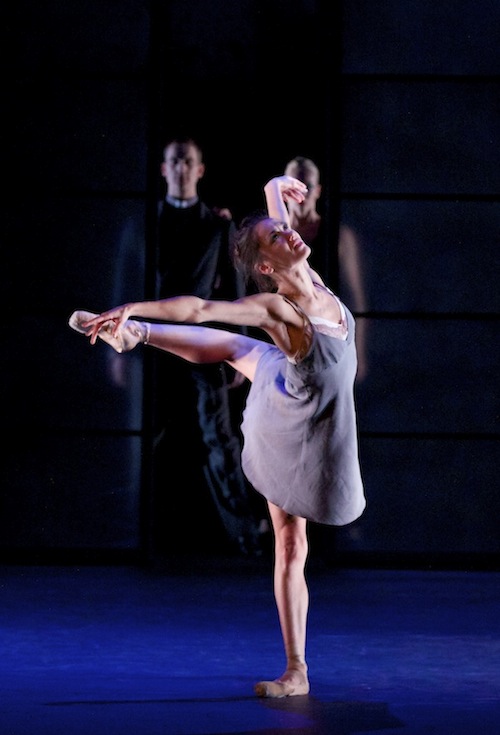 The production is at its best when it shifts its gaze from philosophising to characterisation. Pastor is most successful with Mercutio: more than MacMillan, he captures Mercutio's fiendishly playful wit and dangerous charm, frequently making him the most interesting character on the stage and establishing a fascinating, seemingly long-standing, antagonistic relationship with Tybalt. Daniel Davidson seizes the role with gusto, swaggering with a comedic, effeminate grace like a light-footed Jack Sparrow - all easy stage-presence and a clean technique. Opposing him as Tybalt, Owen Thorne also impresses - his spidery, black-clad limbs stretching out intimidatingly, his leaps targeted and precise like a predatory cat. Pastor infuses their scenes together with a perfect balance of humour and menace - leaving us missing them when left in the company of the titular couple.
In their first meeting, Pastor gives Romeo (Christopher Harrison) and Juliet (Claire Robertson) time to visually drink one another another in. They stop completely in their tracks upon seeing each other across the dance floor, and as the activity continues around them, they move slowly together as though enclosed in their own world - nothing original, but nonetheless effective. As soon as they make contact, however, they lose all tension, partnering with an overly familiar physicalization and a lack of surprise at each other's touch. This over-familiarity continues in the balcony pas de deux. It must seem impossibly daunting to tackle this iconic scene, especially in the wake of MacMillan's (arguably) definitive version, but though it is wise to avoid mimicry I can't help wishing that Pastor had taken note of the value of stillness, and of MacMillan's crescendoing erotic tension.
Like their first encounter, the balcony scene works best before they make contact. Juliet, trapped in a claustrophobically narrow turret, gesticulates using the same sequence of arm and hand movements as Romeo. It is a moment of quiet simplicity before a storm of fussiness, and encapsulates perfectly the lovers inhabiting the same dreamy mental space. Pastor crams some gorgeous ideas into the choreography, but few are given the space to breathe or fully register amid all the harried clutter. There is barely a second for the lovers to actually lock eyes, their limbs are too busy falling over themselves - a confused haze of shapes spilling out relentlessly like a rambling stream of consciousness. Nothing sticks. While this may be an intentional nod towards the hyper-physical enthusiasm of teenage lovers, the steps are too calculated and overly confident. They dance as though they have been in a relationship for five years not five minutes.
Ironically, the couple are at their most expressive and emotional when separated. Claire Robertson comes to life as Juliet when dancing with Kara McLaughlin's hauntingly complex Lady Capulet, while Christopher Harrison's energy as Romeo lifts dramatically in his interactions with Mercutio and Benvolio (Andrew Peasgood).
If you fail to care about the central couple in Romeo and Juliet, you might assume that the production has failed as a whole, yet there is ample compensation in the supporting performances here, and much to admire on the technical and musical side. Tatyana van Walsum's set, for example, is a masterclass of minimalism and the Scottish Ballet Orchestra, under Richard Honner, handle Prokofiev's heart-swelling score with sublime sensitivity, smoothing over Pastor's pruning with an admirable lightness of hand.
It is an unbalanced production and, strangely, one in which the poetry is missed most when it should be needed least.
A confused haze of shapes spilling out relentlessly like a rambling stream of consciousness. Nothing sticks
rating
Explore topics
Share this article