Natalia Osipova, Sadler's Wells |

reviews, news & interviews
Natalia Osipova, Sadler's Wells
Natalia Osipova, Sadler's Wells
Superstar ballerina and new partner Sergei Polunin lack lustre in self-commissioned contemporary triple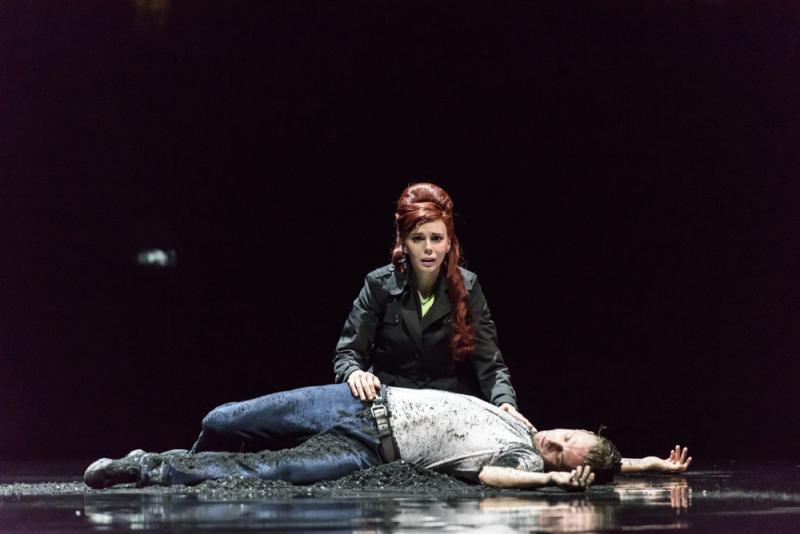 A grave situation: Natalia Osipova and Sergei Polunin in 'Run Mary Run' by Arthur Pita
Why does Natalia Osipova, one of the world's best classical, dramatic ballerinas, want to start a sideline in contemporary dance in the middle of her career?
Two years ago, when she mounted her first self-commissioned contemporary triple bill with her then newly-ex-fiancée Ivan Vasiliev, I was willing to believe that it was for the love of trying new things, pushing her own boundaries, and taking all aspects of her artform seriously.
Though that show delivered two utterly forgettable pieces alongside the memorably black Facada by Arthur Pita, Osipova herself admitted that she had underestimated the commitment needed for contemporary dance. It seemed eminently possible that her next assault on the genre - which opened last night at Sadler's Wells - would be significantly better, not least because the inclusion of her new romantic partner, former Royal Ballet star Sergei Polunin, offered a more than interesting foil: how would these two gifted dancers look together? And what would their vision for contemporary dance be, given that Polunin in particular is constantly seeking alternatives to the rigid ballet tradition he was trained in?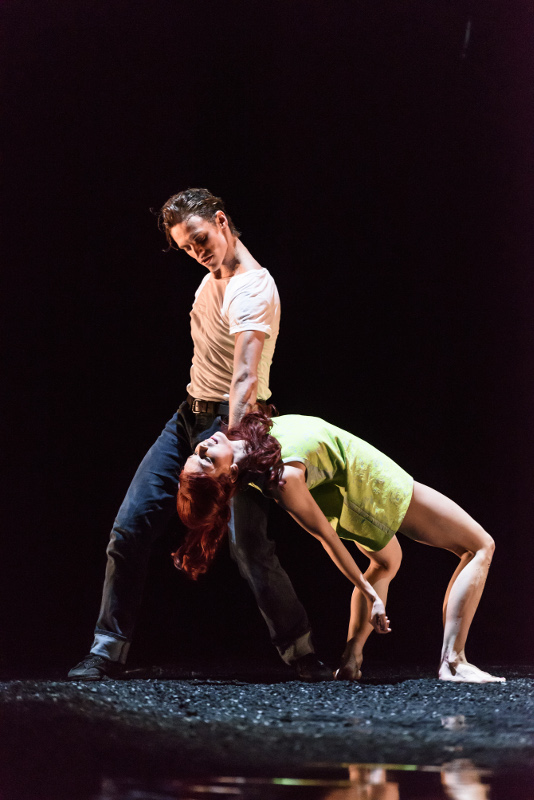 Two of the choreographers Osipova and Vasiliev worked with in 2014, Sidi Larbi Cherkaoui and Arthur Pita, were invited back, while the third spot was filled by Russell Maliphant, doubtless in the hope that he would work the same magic with Osipova as he did with Sylvie Guillem. He didn't, but it's hard to blame him or the other choreographers for the evening's nearly total lack of originality, taste or quality, since Osipova and Polunin must have had significant creative input, and both deliver underwhelming performances.

Maliphant's piece, Silent Echo, opened with the dimly glowing light effects and slow, mesmeric whirling seen in many of his other pieces, but Osipova and Polunin could have been anyone; these two world-class ballet stars couldn't - or didn't bother to - project any personality beyond the proscenium. In individual solos they were better, with Osipova managing to funk up her extreme flexibility, and Polunin given balletic turns and jumps that brought out the danseur noble in him, despite the lack of care with which they were executed. Wobbly arabesques and penchés from a dancer of Polunin's calibre can only suggest that he was ill-prepared, or his heart wasn't in it; it looked like both, to me.

However ill-prepared, at least Solo Echo featured actual dancing, which is more than can be said for Arthur Pita's piece, Run Mary Run (pictured above right). Pita's Facada was a black comedy in which Osipova as a demented jilted bride eventually murdered the hapless Vasiliev; if that brought their relationship troubles a little too close to the surface, at least it showed the relationship to have substance. Run Mary Run features substance abuse (Polunin childishly performing the bad boy by drinking, smoking, and shooting up) but very little emotional or intellectual integrity.
Set to the music of 60s girl band The Shangri-Las, it contrasts the jejune romantic dreams of Osipova's character, in which her handsome partner is all affection and kindness, with a sordid reality in which he drinks and drugs himself to death and she is left an old lady, mourning the good-for-nothing at the graveside. There's some interesting narrative material there, but the execution is execrable; apart from a little off-colour Sixties wiggling, it's mostly running around, posing, and acting of pantomimic crudeness. One couldn't help feeling sorry for Osipova at the end: trotting around in an acid-green minidress, a nasty red wig, and (intermittently) ugly black heels is a pretty serious come-down for a woman who is glorious as ballet's tragic heroines Giselle and Odette/Odile.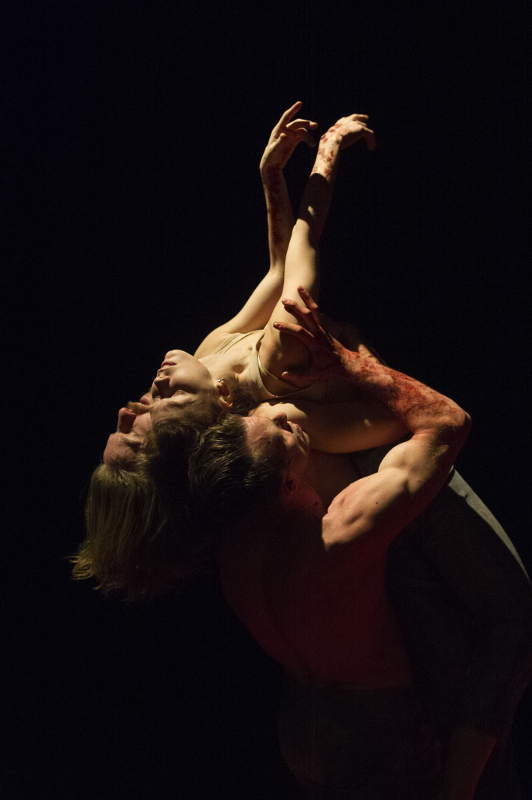 After Sidi Larbi Cherkaoui's piece Qutb (pictured left), which came first in the programme, I expected it to be the weakest of the three. In retrospect, it seems the least offensive. Evocative set and lighting design centred on bruised red, planetary circles, echoed on a red-painted floor that rubbed off on the dancers; it was all mildly Martian, though Sufi vocal music also suggested walking in the desert, and perhaps a connection with the divine. Though Osipova obviously still finds the dynamics of contemporary dance challenging, having often to pause or prepare rather than flowing seamlessly through movements, her interactions with two strong male dancers, Jason Kittelberger and James O'Hara, were at least sustained and focused, if marred by rather too much interlocking of limbs into alien or space-robot shapes.

When mediocre space-robot shapes are the highlight of an evening with two of the best ballet dancers in the world, something is very wrong indeed. This is a show that wastes and undersells the talents of nearly everyone involved, and offers only tedium - frequently tasteless tedium, at that - to audiences. On this evidence, Osipova and Polunin should stick to classical.
One couldn't help feeling sorry for Osipova
rating
Share this article