Giselle, Royal Ballet/ Swan Lake, Russian State Ballet of Siberia |

Dance reviews, news & interviews
Giselle, Royal Ballet/ Swan Lake, Russian State Ballet of Siberia
Two companies far apart in values and standards - pity the audience
Wednesday, 12 January 2011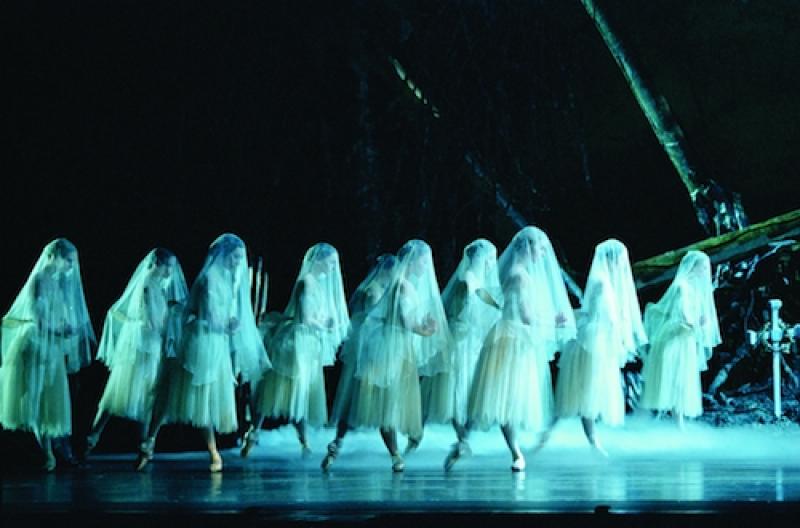 The Royal Ballet's 'Giselle': 'One of the finest classical productions there is'
The chasm between the top-class ballet available to London-area ballet-goers and the low-grade stuff peddled in the regions is the field where the battle to save ballet's soul is nightly won or lost. Nothing could be more dispiriting than to see the Russian State Ballet of Siberia's Swan Lake in Oxford one night, and the Royal Ballet's Giselle in London the next, knowing that for many unaware Brits without easy access to the capital, Birmingham or Edinburgh the phrase "Russian ballet" implies some shamanic edict of unchallenged natural superiority. Far from it.
One can start with the productions: after all, with various casts on offer, of different levels of skill and art, it's the production that for most people will dictate whether they go home impressed. A good production survives a poor cast: the Royal Ballet's Giselle is one of the finest classical productions there is, its settings by John Macfarlane of marvellous autumnal outdoors spookiness and quaintness, Jennifer Tipton's lighting as dappled and mysterious as could be desired in any tale of the supernatural, and its performers, from top to bottom of the cast, know what they're doing and are coached to do it damn well so as to lure the audience into Giselle's rustic, haunted world.
Both stories are tales of a single fatal day. Giselle takes place on the day of the vine harvest, when peasants celebrate with a day off, their masters take a festive day's hunting, and the young Duke dresses himself as a peasant to amuse himself by seducing one of the village girls. But he picks the wrong girl: Giselle is blameless, sheltered and enchantingly sweet, and when his cover is blown by a forester, she breaks under his betrayal, and suddenly he feels conscience. The formerly carefree young lord sleeplessly ranges into the forest to find her grave, where he is seized by the ghosts of all the other, less forgiving Giselles in the world and forced to dance himself to death. His Giselle challenges the rules to help him beat off her vengeful sisters, and disappears while he survives to live in a new consciousness of his actions.
Odette/Odile's duality is an endless mirror into female wishes as well as a mode to search the differences between spirituality and fantasy
Swan Lake is also the tale of one day in a young aristocrat's life, but this time he is dead by the end of it. Trapped in dull court routine, with a dynastic marriage threatened, he escapes to the wild outdoors (or possibly his inner world) and encounters swans just as they are magically turning back into girls, briefly permitted release from their evil slavemaster's daytime tyranny. The Prince and the swans' Queen are two fugitives, attracted to each other. But the evil genius makes the young man forget his new love by fashioning a doppelganger to seduce him into betrayal. In this story deception costs the life of the young man, his attempt to re-avow his broken love to the Swan Queen not working to set evil to rights.
Arguably both sexes get the thick end of the moral accusations in both these stories: men are deceivers led by their desires, women let themselves too easily be seduced into their fantasies. However, there are far deeper complexities and truths too: Albrecht, while he may be too worldly to kill himself in remorse as Siegfried does in Swan Lake, is undoubtedly a wiser and sorrier man at dawn, and Giselle's forgiveness of him once she so painfully reaches the other world is a beautiful reflection of the wholesale absorbency of utmost love. Siegfried's deception has much to do with the oppression of material imperatives and the urge to seek interior imaginative places to go into, however dark. Odette/Odile's duality, like the role of the Queen of the Wilis in Giselle, is an endless mirror into female wishes as well as a mode to search the differences between spirituality and fantasy.
These are so endlessly fascinating as themes of exploring human nature, one's own and those other options that are offered by fine performers and productions, that they do explain at least in part why the New Theatre, Oxford was filled on Tuesday for the Siberian Ballet's Swan Lake. But it was mortifying to hear from the very first notes such incompetent playing by the skeletal company orchestra (only 29 players in total), and to see from curtain-up performers of such half-baked technical and theatrical standards.
There are moral accusations in both these stories: men are deceivers led by their desires, women let themselves too easily be seduced
Share this article
Subscribe to theartsdesk.com
Thank you for continuing to read our work on theartsdesk.com. For unlimited access to every article in its entirety, including our archive of more than 7,000 pieces, we're asking for £2.95 per month or £25 per year. We feel it's a very good deal, and hope you do too.
To take an annual subscription now simply click here.
And if you're looking for that extra gift for a friend or family member, why not treat them to a theartsdesk.com gift subscription?