Matthew Bourne's Early Adventures, Richmond Theatre |

reviews, news & interviews
Matthew Bourne's Early Adventures, Richmond Theatre
Matthew Bourne's Early Adventures, Richmond Theatre
The choreographer's first works make an evening of gay, charming entertainment
Spitfire: haughty, naughty posing that's a cheeky throwback to 19th-century ballerinas
Matthew Bourne's charm is a rare and cheering thing in the world of dance - a night out with three of his earliest works, Spitfire, Town & Country and The Infernal Galop, is akin to sitting down to watch Father Ted or Dad's Army. It's clever, often witty, always gay, and kind.
It's only because I feel the richer pathos and ambiguity that Bourne later went on to tap in Swan Lake and Play Without Words, that I find the substantial evening a bit too much dessert by the time we reach The Infernal Galop. Still, this programme is just the ticket for a delicious little theatre on its touring circuit like Richmond Theatre, and its content on Jubilee weekend serendipitous, judging by last night's audience reaction. If any choreographer has the English sensibility down pat, it's Bourne.
The three pieces inhabit a favourite Bourne era, nostalgic post-war fantasy, a world of movies, radio and magazine adverts, of 'Allo 'Allo, Blitz spirit and ITMA, with white long johns under stiff upper lips. There's a sense of a young choreographer casting about in a series of sketches, but the finest ones are truly memorable: in Town & Country the two club gents trying to hide their feelings for each other and the hilariously speeded-up Brief Encounter, in The Infernal Galop the man in the dressing gown mooning on the floor like a stranded seal while beset by fantasy matelots.
Spitfire is the underwear advert that made Bourne's name for naughtiness in 1988, soon after he launched his idiosyncratic little dance-theatre troupe, Adventures in Motion Pictures. Its aplomb shows a natural showman already in full fig. By contrast, his cast are not in full fig, stripped to white Y-fronts and vests, posing carefully with clenched fists and knitting themselves into finely purled combinations, all with a sophisticated echo of an iconic Pas de Quatre of 1841 that fielded the four greatest ballerinas of the day on stage together.
The killer punch in this is that the music is from one of the great bravura classical pas de deux, Don Quixote, a competition stopper the world over, giving the grandest of expectations as these men make their appearance. The steps may not be bravura, but the deadly looks are nuclear, and the tiny flecks of classical references in the struttings are a joy to recognise (rather as Les Ballets Trockadero de Monte Carlo give joy to habitués).
Above, the video trailer for the Early Adventures programme

The Infernal Galop, the programme's closer, was the next in Bourne's canon, in 1989, a French revue ("with English subtitles", it says ironically) staged by the already brilliant designer Lez Brotherston with maximum bang from very small bucks: a tilted Paris newspaper kiosk, a pissoir encircled by an onomatopoeic choice of advert, "Byrrh" (an apéritif of red wine and quinine). The programme is equally a reminder of Brotherston's inspired mastery as the wizard of Britain's dance stage the past quarter-century.
The galop does swing about infernally - if the man in the dressing gown, yearning for sailors to the seductive strains of "La Mer" is the highlight, the opposite is a lavatorial sequence in the pissoir, but Bourne works as hard on his material as fine TV comedy-writers, so you can't be bored. He lands with deliciously languid (and English) irony on Offenbach's can-can, a line of supremely reluctant and worldlywise people, refusing to do more than very slightly lift a leg.
The most work that throws most balls forward to Bourne's later work is the middle one, Town & Country, a two-part romp around a Miss Marple world of English identity. The emotional unbuttoning of club gents and horsey society folks in Town is done most amusingly, without being satirical (Bourne's a student of human nature, rather than of human behaviour). A speed-of-light skit on Brief Encounter is wonderful, with the pair of lovers and their waiter doubled (a device he used to powerful effect later in Play Without Words - to be seen later this summer at Sadler's Wells). Christopher Marney, Dominic North and Tom Jackson Greaves are stand-outs in an outstanding little company of nine, so adept in timing that they can evoke both laughter and sympathy.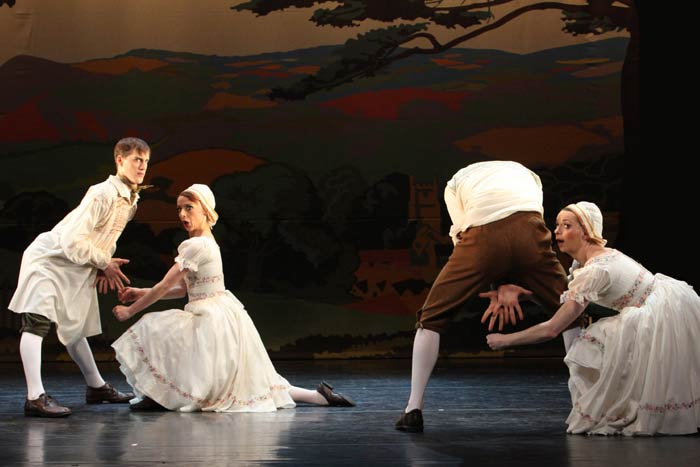 And almost as rewarding, Bourne's schoolboy games of homage to Frederick Ashton, Britain's great ballet choreographer to whom in spirit he is so akin - four yokels in Country jocularly milk imaginary cows (see Façade), persist in clog-dancing (see La fille mal gardée), and mug and gurn ferociously at each other in their smocks (ok, see Benny Hill). I was trying to think of the visual equivalent of double-entendre - double-voir? Whatever it is, Bourne's doing it.
Deep down, is anything serious going on? One of his musical choices is Percy Grainger's "In a Nutshell Suite: Gay but Wistful". I think Bourne's hugely interested in sex, in secret sex above all - and he contrives to disguise, expose and celebrate something frightfully English about it in all number of theatrical ways. This year's retrospective provided by Sadler's Wells gives us an interesting timeline to view. In the early adventures with dance-theatre, he was polishing his arts of concealment. Later on, in Swan Lake and Play Without Words (and - let's hope - in his forthcoming Sleeping Beauty next winter too? It's ripe material) he would use his concealing arts to make bittersweet points about pain too.
Bourne works as hard on his material as fine TV comedy-writers, so you can't be bored
Explore topics
Share this article