Hansel and Gretel, Royal Ballet |

reviews, news & interviews
Hansel and Gretel, Royal Ballet
Hansel and Gretel, Royal Ballet
Deeply disturbing dance drama is a powerful piece of theatre
Saturday, 25 January 2014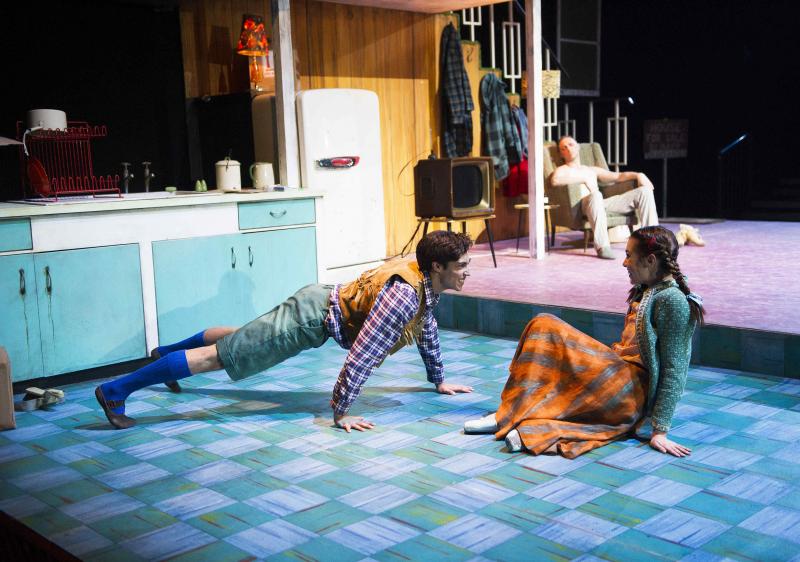 Young dance actors to watch: James Hay and Leanne Cope in rising choreographer Liam Scarlett's dark Hansel and Gretel
"Be careful what you wish for," fairy tales teach us. After I wished in December for more bite in Scottish Ballet's saccharine Hansel and Gretel, along comes this revival of Liam Scarlett's 2013 version of the same story for the Royal Ballet. Depicting as it does child neglect, domestic violence, paedophilia, murder, psychosis and suicide, Scarlett's Hansel and Gretel has bite all right.
Dark is an understatement here, in the black cavernous underground space of the Linbury Studio Theatre. Jon Bausor's highly effective set bisects the stalls, bringing the audience right into Hansel and Gretel's world – or rather, suggesting that their world is our world. The recorded score by Dan Jones is effective too, but less memorable. Mostly just sound-painting, it uses vaguely melodic strings and piano when the mood is gentle, clanging discordant percussion when things get scary, and occasional silences to showcase the dancers' ragged panting.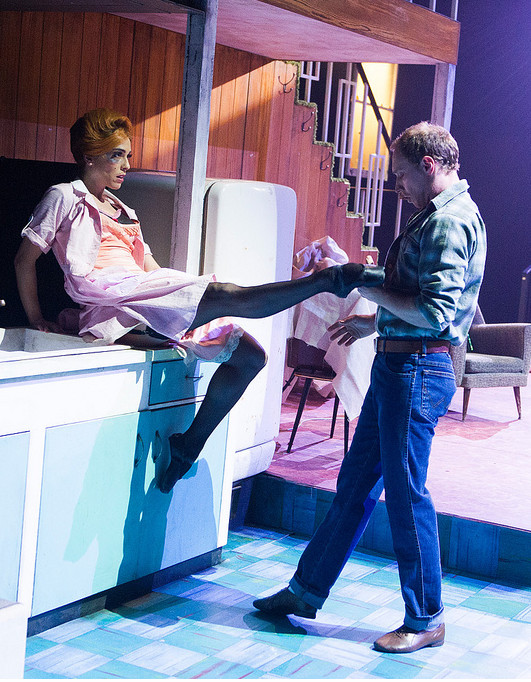 In a beat-up house in 1950s America, a worn, dead-eyed father – Bennet Gartside, gutsily raw – ignores his children, drinks, and fights with their vicious, louche, vulgar stepmother, danced by the utterly fabulous Laura Morera with electric venom (both pictured right). No surprise that wide-eyed Gretel (Leanne Cope), and naïf Hansel (James Hay) are not thriving in such a home environment – but their utter lack of security is revealed in chilling fashion (literally) when evil, in the shape of Donald Thom's red-eyed Sandman, slithers right out of the refrigerator.
This hideously creepy character (pictured below left), with the plastic face, dirty white "combinations", and slouching hips of a soft-bodied rag doll, fascinates Hansel with his suggestive dancing. The children follow him into a twee, pink-curtained Wendy house, which in a fantastic coup de théâtre rises to reveal the utterly hellish dungeon beneath (I don't think I have ever seen a set so immediately disturbing) into which Hansel and Gretel must descend. Here the Witch (Ryoichi Hirano), has twisted his tall frame into a child-sized plastic chair to hold a dolls' tea party, while behind him a female body (his mother, it's implied) lies head-first in an open oven, her bright red shoes mocking the idea that there's no place like home. The pale-faced Witch is at first rigid and hesitant, then dangerously volatile; he is abetted in his sexual predation of Hansel by the Sandman, who we take to be some manifestation of his deranged mind.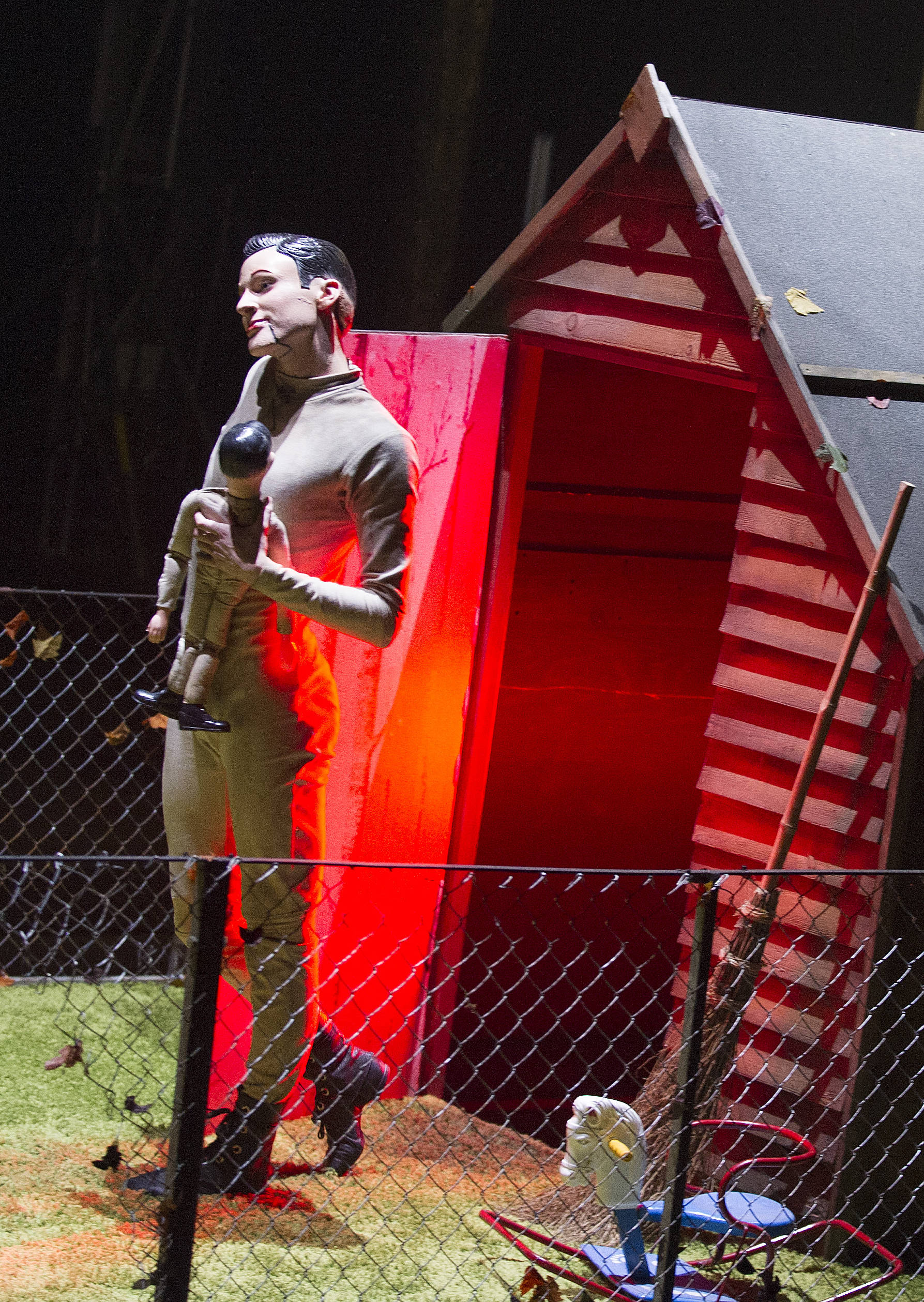 When – after escalating violence and sexual-emotional manipulation on all sides – Hansel and Gretel finally escape (leaving the Witch to a ragged, needy duet with the Sandman and a final encounter with his own gas oven), they find, in every child's worst nightmare, that home is no longer there: their parents have sold up and left town. In the deserted house, Leanne Cope, whose honest, perceptive Gretel has hitherto been the most likeable character and the main candidate for any redemption going, suddenly channels her stepmother, casting off her coat in a carbon copy of Morera's provocative contempt. With dawning horror, we realise that this really is no fairytale and no happy ending: these children are hideously damaged. As if it couldn't get any darker, in the last moments they hang the Witch's picture on the wall in place of their mother's, and the Sandman creeps out of the Witch's house, perhaps not a creature of the Witch's mind after all but an independent agent of evil, off to make the world even worse.
Though marrow-chilling, this ending rather weakens the story, hinting as it does that evil is a force separable from the human beings who perpetrate it. I suspect it's a weak point of Scarlett's approach more generally that, despite his obsession with darkness, he hasn't got inside its mind yet. Evil is still a force external to his characters, who for all their emotional intensity are far from psychologically complex (in fact this lack of complexity probably explains their intensity, since it is much easier for dancers to project a few strong emotions than the turning wheels of troubled minds).
But these are minor reservations. I actually can't help but recommend this wrenching piece of theatre enthusiastically to anyone with the guts for it. Scarlett has an undeniable gift for choreography in an elegant, flexible modern ballet idiom, and for inspiring tremendous peformances from his dancers. All six are physically superb in their roles, and all six hold nothing back; sweat flies, chairs are hurled, bottles smash over heads, and Donald Thom actually crawls over broken glass. All mere inches from the front row of the audience – seriously, the only way to get any closer to a Royal Ballet principal dancer is to be one yourself. If I hadn't learned my lesson about wishing, I'd wish to see more new work, and lots of it, from everyone involved in this production.
Hansel and Gretel is at the Linbury Studio Theatre, Royal Opera House, until 28 January

The only way to get any closer to a Royal Ballet principal dancer is to be one yourself
rating
Explore topics
Share this article