Fallen/Serpent, BalletBoyz, Roundhouse |

reviews, news & interviews
Fallen/Serpent, BalletBoyz, Roundhouse
Fallen/Serpent, BalletBoyz, Roundhouse
Visual treats from Liam Scarlett and Russell Maliphant but the music's a drag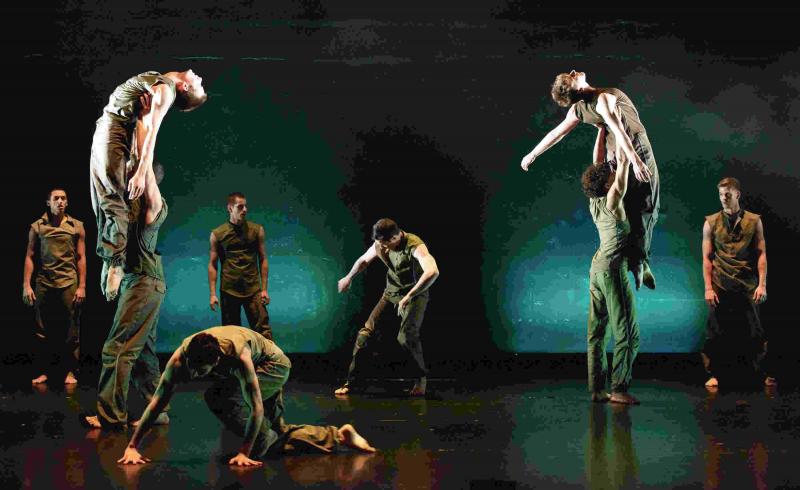 BalletBoyz The Talent in Russell Maliphant's Fallen
School's out for summer, even Parliament is on recess, and the streets around my house are suddenly devoid of children, as families make for the hills (or at least the beach).
It should be dead season for all but prommers (and the suffering residents of Edinburgh) but ballet in London has had the most extraordinary week of first-class acts, with the Mariinsky at the Royal Opera House, Sylvie Guillem and Russell Maliphant at the Coliseum, and now the BalletBoyz' 10-strong troupe The Talent at the Roundhouse in Camden.
The programme is a double bill that premiered to huge acclaim 18 months ago, Liam Scarlett's Serpent and Russell Maliphant's Fallen, with a bonus excerpt from Iván Pérez's new work Young Men sandwiched in the middle.
Serpent (pictured below right) is a visual stunner. Michael Hulls's low side lighting picks the dancers out like classical sculptures in a torchlit pleasure garden, and bathes them in a warm glow as they slither and slide and interweave with one another, scantily clad in revealing flesh-coloured leggings. It's a modern dance rather than a ballet aesthetic – weighted on the ground and frequently returning there. It's fascinating to watch Scarlett, such a fine exponent of the athletic ballet pas de deux, deal with the formal challenge of bodies which, for partnering purposes, are all the same. Without the easy drama of physical difference, he creates drama instead with opposing forces, weight and counterweight, and the surprise factor of giving these incredibly masculine bodies such a fluid movement language. One repeated motif has a man lean back and extend his arms up behind him to make a shape with all the wild grace of a bull's curved horns.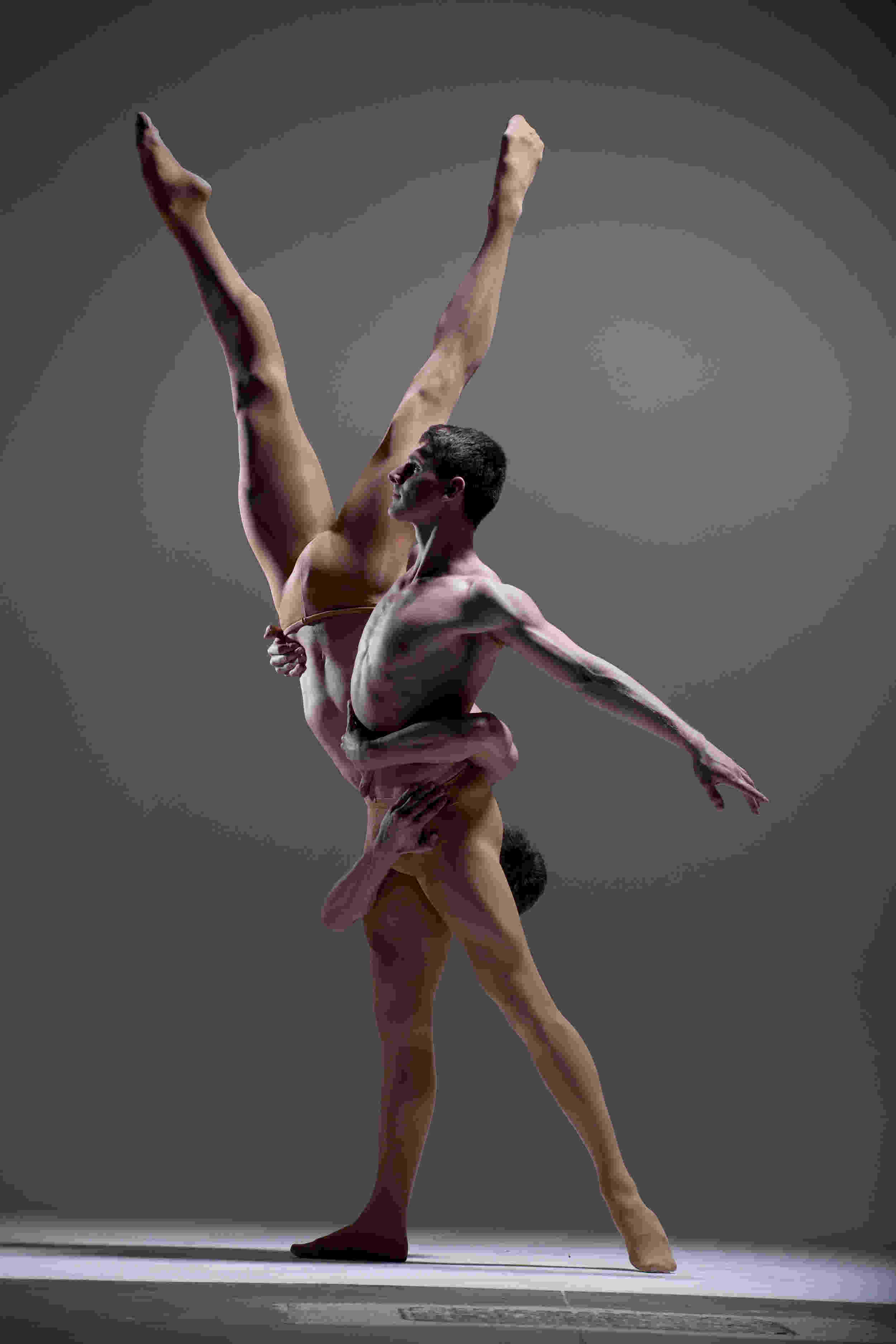 The most strikingly pliant dancer is Andrea Carrucciu, whose neck and back can make curves as effortless and elegant as a Chinese calligrapher's brush strokes. His arresting physical qualities become a focal point for a long sequence in Pérez's Young Men, a full-length work about the First World War which will première at Sadler's Wells in January 2015. There's an "over the top" section (set against video projections of blasted tree trunks) in which Pérez sets the running and falling of the other men, "dying" over and over, with a near-naked Carrucciu, who quivering and vulnerable, struggles to walk: an effective juxtaposition of mass, mechanical carnage with the damage wrought on individuals by its horrors. Having only men to work with has enabled Pérez to take a different tack to the other WWI commemorative ballets I've seen this year and focus on male experience. An earlier section, for example, cleverly portrays basic training by having men progress in pairs from the corner doing B-boy moves of pulsing machismo that also reference the rolling and crawling of infantry exercises. It's not easy watching, but I suspect the full piece will be very interesting.
Seeing Russell Maliphant's Fallen after the extract from Young Men brought out the military aesthetic of the former as well: the men wear combat trousers and vests, and the opening minutes feature a striking double circle formation, in which the central and peripheral groups of men rotate in opposite directions, like the firing cylinders of a Gatling gun (Michael Hulls's lighting even puts six round spots on the floor like the bullet chambers). After that, the central episodes of slow-motion falling and rising are less visually striking, but the last section provides a kinetic feast, in which the men "run" up each other like free runners and twist around exuberantly to land on their feet.
Fallen and Serpent make an excellent visual pairing; Young Men is fascinating but its addition makes the evening rather long overall. Or at least, so it felt to me, and in part because of a factor you'll notice I haven't mentioned yet: the music.
In the film Galaxy Quest, Alan Rickman plays an actor who, despite an honourable stage background, is chiefly famous for his role as an alien in a long-running TV space opera (shades of Patrick Stewart and Alec Guiness intended). As he prepares to trot onstage, facemask and all, for yet another fan convention, he drawls at the mirror, in accents dripping with nihilistic despair, "I played Othello, you know." After last night's show, I can't help imagining the members of the BBC Concert Orchestra in a similar mood.
Yes, it's always great to have live music, and huge credit must go to the BalletBoyz for hiring the orchestra. But I pitied the players because, let's face it, the love affair of contemporary dance with the kinds of pieces we heard last night – by Max Richter, Keaton Henson and Armand Amar - is not on the level of Diaghilev and Balanchine's with Stravinsky. These pieces rarely have much tonal variation, or indeed variation of any kind beyond the odd crescendo, or change of patterning in the upper strings: they get all their structure and momentum from a stongly pulsing ground bass, often underlined with percussion to really ram the beat home. At best, this can have the hypnotic, immersive effect of Baroque minimalism; at worst it is maddeningly monotonous. Despite the accompanying visual pleasures, last night's ninety minutes of relentless, indistinguishable aural hammering fell, for me, all too strongly on the latter side.
BalletBoyz The Talent are performing the same programme again tonight, Friday 1 August, at the Roundhouse as part of the Summer Sessions season.
This article has been corrected: Andrea Carrucciu was the dancer in the Young Men solo, not Edward Pearce. HW
Hulls's lighting picks the dancers out like classical sculptures in a torchlit pleasure garden
rating
Share this article