BalletBoyz, The Talent 2013, Sadler's Wells Theatre |

reviews, news & interviews
BalletBoyz, The Talent 2013, Sadler's Wells Theatre
BalletBoyz, The Talent 2013, Sadler's Wells Theatre
Stunning double bill of Maliphant and Scarlett creations for dance's finest boy band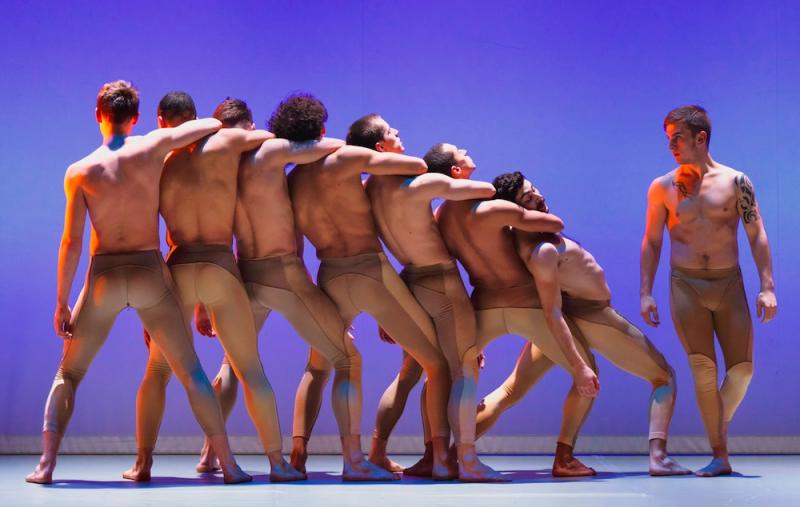 Liam Scarlett's Serpent: the men dance in an abstract heaven, a moving frieze of youth
Fifteen years ago two male ballet dancers took the awesome risk of leaving the Royal Ballet with an idea in their head about independence. Their first venture was a new Japanese ballet company, which quickly lost their interest as it hit a conventional showbizzy trail. Then they took their second perilous risk: Michael Nunn and William Trevitt boldly declared that they intended to make a point about the possibilities of male dancing in today's Britain. Enter the Ballet Boyz.
They've weathered some exceptionally adverse conditions, running several professional lives in parallel, making TV films, learning to transfer ballet skills into contemporary choreography, and - as their 40th birthdays approached - preparing new ballet boyz with dauntless energy and generous good humour.
Their dancing has always been elite, their communication of it never
All the while the shows they've put on have been exceptionally enterprising, new choreography innovatively and amusingly put across to the audience, using their deft filming skills and matey social media to hook in fresh ticket-buyers. Their dancing has always been elite, their communication of it never.
This year's show, performed at Sadler's Wells currently as part of a UK tour, is remarkable in every way. It unites two of the finest British choreographers today, the great Russell Maliphant (long-time Ballet Boyz associate) and the exceptional young Royal Ballet choreographer Liam Scarlett. Just two works are offered - but so rich and involving is the event that I left in a state of complete satisfaction and exhilaration.
There are now 10 ballet boyz - young men from a wide range of backgrounds, which makes a formidable challenge to mould and inspire as a team, and even more to choreographers who can't rely on them all speaking the same physical language. Scarlett talks lucidly in the pleasant introductory film of the challenge of inventing ways for men to partner each other, rather than the male-female conventions and vocab he has grown up with. And he seizes the oblique option: not going for the obvious Chippendale mode, but boldly attempting in Serpent to create an all-male piece that's "beautiful, fluid, subtle - above all subtle".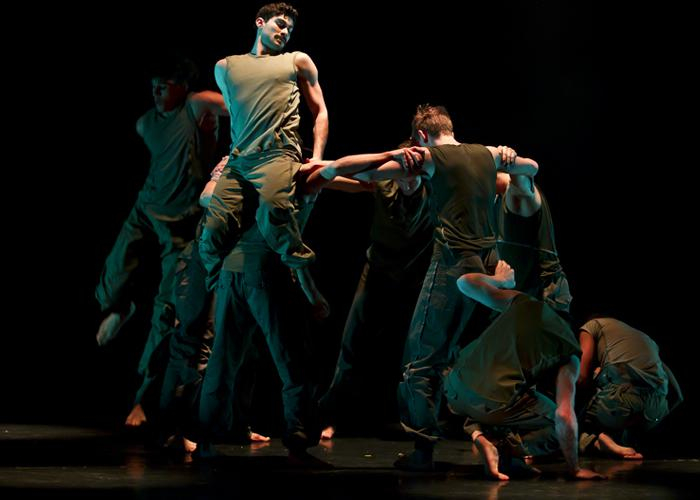 Above, Russell Maliphant's Fallen: a choreographic engine designed to drive you giddy with suspense
All three adjectives hit bang-on. The men, bathed ethereally in Michael Hulls' lighting, wearing only flesh-coloured skin-breeches, dance in an abstract heaven, a moving frieze of youths that could have come from an Etruscan vase. Colour washes over them impersonally, violet, orange, lime, sunlit yellow, and lashings of super-smooth pop-minimalist music by Max Richter make an easy-listening bed for a flow between athletic duets and writhing, indeed serpentine ensembles.
The movement comes from the ground, with strongly planted legs, equal weight for the partners, and none of the illusions of gravity-defiance and lightness that classical ballet language deals with. It's no less interesting than Scarlett's classical ballets, refined and demandingly elegant, the phrases spinning out as you see the choreographer trying to direct all this male weight into balances and flights that will have a kinetic point and sculptural intricacy (pictured right). Some of the partnering looks as if it takes some of the guys to their outer limits, and the roughness is appealing - individuality stands out sharply, some of them confident, others shy.
It makes such an engaging first half that Maliphant's Fallen at first seems halting, the men hunched and circling, in accusing lights and combat fatigues. But the slow start is typical of this master of coiled tension, and the prologue is preparation for what becomes an edge-of-seat, breath-stopping event.
The title harks back to Broken Fall, Maliphant's sensational trio for the Ballet Boyz and Sylvie Guillem a decade ago, and with 10 men to play with he has an even more complex game going on. It's a choreographic engine designed to drive you giddy with suspense. The men (they're not boys now) prowl and watch each other, then suddenly explode through the air to be caught, or run up someone's back and perch on his shoulders.
Drums throb, electronics hiss, darkness clouds your vision - sometimes the dancers are pinned down in light before velvety nothingness, then with a sudden switch the stage is a box as green and gloomy as a fish tank, the figures almost imperceptible as your eyes struggle to adjust to the change (pictured left).
There are all the velvety, dagger-dangerous skills that Maliphant has absorbed from ballet, capoeira, street dance, contact improvisation and a host of other influences, emerging in this display of dammed and released power. It moves triumphantly on from his last piece, The Rodin Project, which felt to me like a piece in transition. This one is ambiguous in its opaque flickers of combat and cooperation, but unambiguously so thrilling that you want to yell.
As with Scarlett's piece, its challenges find out the individuals - one who is being whirled upside down in the air lies back into the experience, his arms opening luxuriantly like wings; when he spins the other man in the same move, you see in his stiff arms his apprehensiveness about the danger of it. Each reaction makes the move telling.
The whole thing is marvellously dramatic and serious. Maliphant is a genius, so is Michael Hulls, and so are the Ballet Boyz for having taken risks so rewardingly for all of us.
Watch Sylvie Guillem dance Maliphant's Two (Rise and Fall)
So rich and involving is the event that I left in a state of complete satisfaction and exhilaration
rating
Explore topics
Share this article