English National Ballet 70th Anniversary Gala, Coliseum review - a fine celebration |

reviews, news & interviews
English National Ballet 70th Anniversary Gala, Coliseum review - a fine celebration
English National Ballet 70th Anniversary Gala, Coliseum review - a fine celebration
ENB raises a toast to its past and future in an evening of nostalgia and high style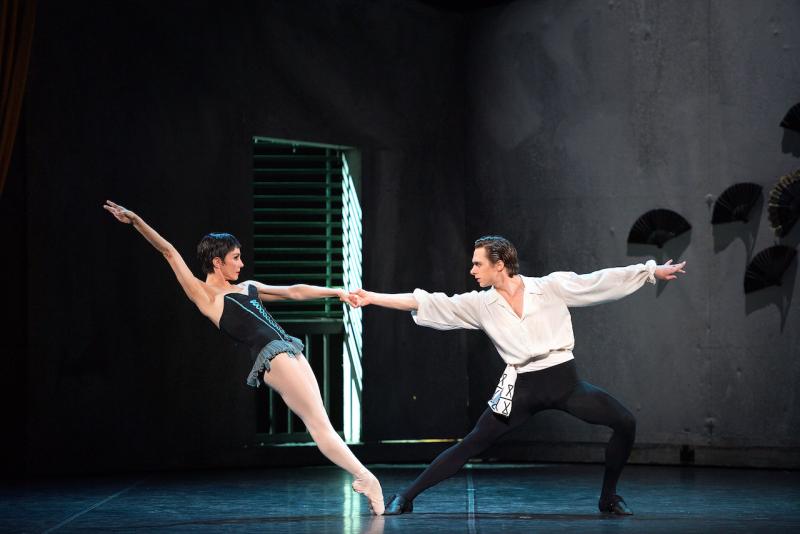 Steel and ice: Tamara Rojo and Francesco Gabriele Frola in Roland Petit's 'Carmen'
Just when you thought Christmas was well and truly over, along comes another box of delights. And there isn't a disappointment in it. If it were nuts, there'd be nothing but cashews; if chocolates, there wouldn't be a single disgusting lime-cream. It would be all Ferrero Rochers, gift-wrapped. English National Ballet's 70th birthday party opened and closed with class, in every sense.
The lights went down and "Good morning, class", we heard, as the regular daily routine at the barre began. There followed a seamless programme of vignettes and titbits, memories and displays of virtuosity, more varied and more beautiful than you could have imagined. The magnificent old Coliseum was packed. And entranced.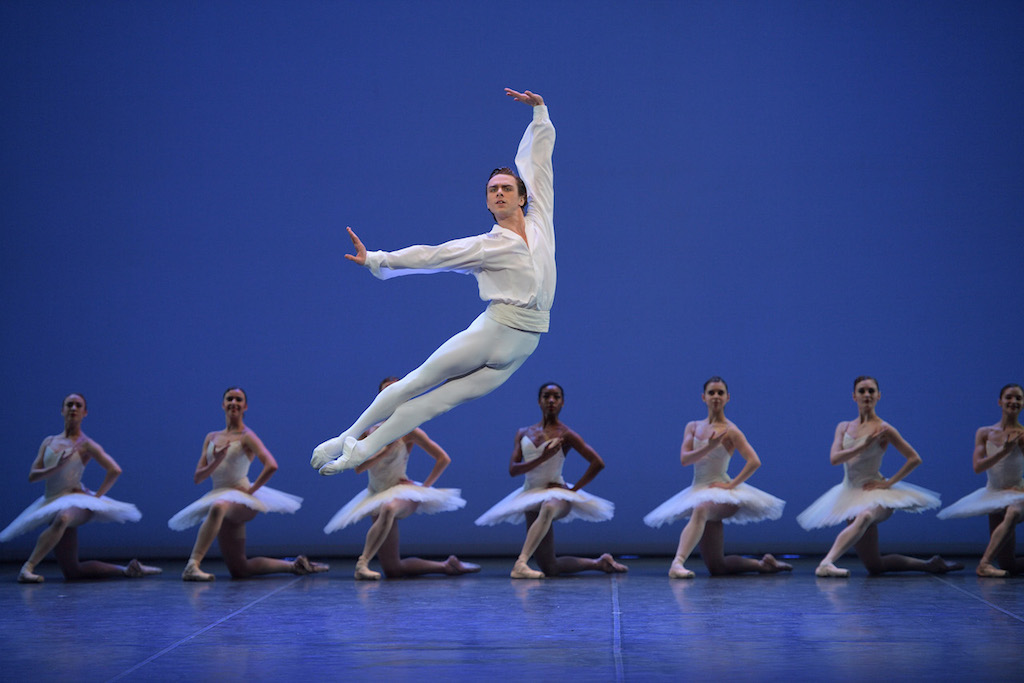 There were some great characters – old friends cheerfully remembering touring days when their digs were dirt cheap and snow piled up in their dressing rooms; Eve Pettinger, at 90 still thrilled to have been one of the 13 girls and two boys in Anton Dolin and Alicia Markova's company (Markova was lovely, "peaceful, quiet and contained", but Dolin was clearly alarming); Dame Beryl Grey who, when she became Director, decided to introduce more classics and invited Rudolf Nureyev to choreograph Romeo and Juliet, little knowing that he would fly into a rage and hurl his "little thermos flask" at a vast mirror, smashing it and costing them a fortune.
Gradually, the company grew in size and reputation. Peter Schaufuss was behind the change of name from London Festival Ballet – in 1950 everything referenced the Festival of Britain. Schaufuss considered it to have a temporary ring: "Let's make it the National" he said. National it already was, and international it soon became, touring with its productions all over the world.
As for the dancing on this celebratory weekend, it was phenomenal. The standard was set by Sergio Bernal, so tall and proud he was almost leaning backwards, fingers snapping and Cuban heels stamping to the hot and furious rhythms of Andalusia, as he whirled his scarlet cape around his beautiful Spanish head in Manuel de Falla's The Three-Cornered Hat. And then came Akram Khan's Dust (pictured above). Technically, this is an East-West fusion of classical ballet with Indian kathak storytelling but the effect was an arrow to the heart. A meditation on the Great War, it offered a gold/gray image of people trapped in an unavoidable destiny, whose bowed heads and interlacing arms form an undulating rope of support for each other. It was just wonderful.
So it went on. In Swansong, savagely percussive music accompanies guards taunting and torturing a prisoner, using explosive tap-dancing (for goodness sake) to powerfully sinister and alarming effect. Then, with the serenity of dawn, the sun-god Apollo demonstrates the pure, simple beauty of Balanchine. There was glorious red and gold stamping and swirling in the Capulets' ballroom just before the meeting of Romeo and Juliet, an exhilarating highland fling of a reel from La Sylphide, and an irresistibly jolly mazurka from Coppélia. There was a pas de deux from Carmen, using the magical entr'acte at the beginning of Act 3 to unflinchingly erotic effect. And there was so much more, before the first half ended, to audience whoops of appreciation, with William Forsythe's joyous, exuberant Playlist, created especially for the men of this terrific company.
In the second half, Harold Lander's witty Études (pictured top) took us back to the barre and the classroom, as the basic positions and steps of the ballet were illustrated and embroidered like a huge Victorian sampler of stitches. It made a fitting conclusion to this exhibition of the strength and potential of ENB, under the inspired direction of Tamara Rojo, as they move to London City Island and their splendid new home.