Swan Lake, English National Ballet, London Coliseum review - a solid, go-to production |

reviews, news & interviews
Swan Lake, English National Ballet, London Coliseum review - a solid, go-to production
Swan Lake, English National Ballet, London Coliseum review - a solid, go-to production
Traditional stagings don't come much more satisfying than Derek Deane's for ENB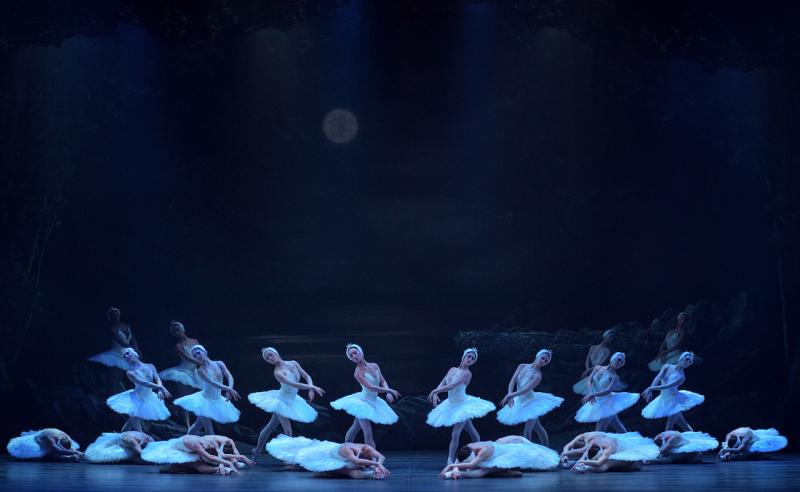 Well met by moonlight: artists of English National Ballet in Derek Deane's production of 'Swan Lake'
Diversity, and the need for more of it, is a hot potato in the theatre arts. Kudos, then, to English National Ballet and its director Tamara Rojo for the 23 nationalities represented within its ranks.
And for the poster advertising the company's current revival of
Swan Lake
which pictures African-American first artist Precious Adams in swan queen pose. But hold the applause for a moment. It turns out that Adams isn't down to dance the lead on any night in the run.
I was not alone in feeling misled by the publicity poster. I and many others had thought: hey, fantastic, ENB is about to give British ballet its first black Swan Queen! Adams is a fine young soloist well placed to step up into meatier roles so it was not unreasonable to think that this was to be her moment. Well, dream on ... Few would doubt ENB's commitment to diversity in the long term, but it needs to mind the gap right now between promise and delivery.
By contrast, the production is a model of lucid thinking. Created by former ENB director Derek Deane on the bones of his in-the-round version which has been seen by half a million people at the Albert Hall, it does exactly what you want a proscenium Swan Lake to do. That is to respect Petipa and Ivanov's 1895 intentions without period fuss or modish intervention.
Peter Farmer's designs are handsome and atmospheric, succeeding even in making Von Rothbart's ragged giant vulture costume look sinister rather than silly. And the ENB Philharmonic under Gavin Sutherland makes Tchaikovsky's overworked score seem new-minted, shining a light on limpid woodwind textures and delivering its brasher excitements with precision and verve.
There isn't much that can be done, in a traditional production, about the over-preponderance of scene-setting in Act I. All that merry skirt-shaking and peasant bonhomie, when what we want is for the story to start. That said, the pas de trois was deliciously well done by the opening night cast, Julia Conway's variation bubbling over with cheeky character, Alison McWhinney's a drift of thistledown, and Daniel McCormick's double turns so triumphantly placed that they could have sent us home happy two hours early.
Isaac Hernandez was the unfortunate Prince – unfortunate not because he has an overbearing mother, but because it's a lemon of a role. For a fine technician, it must be purgatory to have to sit on your bottom for most of Act I, smiling royally at others' dancing. It's worse still for a bad actor, and Hernandez is both. As a personality, this Prince is a blank. There is no sense – even within the restraints of the role – of an emotional journey from boy to man, or even to more interesting boy.
Jurgita Dronina, Russian by birth but trained elsewhere in eastern Europe, operates in quite a different register. Her Odette is indeed sad – she never once smiles – but she is fiercely sad. Her story, her drama, is told in every sinew on every step. No surprise, then, that there is little chemistry between the pair. Their most touching moment turns on a piece of directoral felicity when Siegfried has failed to find Odette among the other swans, and unseen by him she makes her entrance to alight at his side, like a falcon returning to the trusted falconer's arm.
Hernandez comes into his own in the technical fireworks of Act III, but it's too late for us to care about his fate. Dronina's Odile, her Black Swan persona (pictured above, with Hernandez), is less physically lethal than some you might see, but minxy as hell. How foolish of the Prince not to realise that the Swan girl he loved would rather be presented as Sunday roast than spread her thighs in full-frontal splits when lifted up! But without foolish men where would tragedy be?
Correctly, the true stars of the evening are the swan maidens, and it's the corps de ballet's united discipline, stamina and focus that creates the greatest poetry on stage. There is excellence, too, in the national dances, unstinting in their heel-clicking energy and crazy posturings. With some Swan Lakes, you remember this bit for the costumes but here it's all about the dancing.
Of course it should always be about the dancing. Which is why I'm confident that English National Ballet's inclusive policy will one day soon make British ballet history.
The evening's true stars are the swan maidens. It's their united discipline and focus that creates the greatest poetry
rating
Share this article