Como El Musguito , Tanztheater Wuppertal Pina Bausch, Sadler's Wells |

reviews, news & interviews
...Como El Musguito..., Tanztheater Wuppertal Pina Bausch, Sadler's Wells
...Como El Musguito..., Tanztheater Wuppertal Pina Bausch, Sadler's Wells
Bittersweet tribute to Santiago de Chile was Bausch's last piece before her death
'Like moss on a stone': Inspired by youth and a song about being 17 again
If you are tired of life, tired of London, or even tired of love, muster the remaining fibres of your frazzled being and do whatever it takes to get tickets for ...como el musguito en la piedra, ay si, si, si... or any of the other performances in the Pina Bausch "World Cities" retrospective on at Sadler's Wells and the Barbican over the next four weeks.
Inspired by the sights and sounds of Santiago de Chile, which commissioned it, and also surely by youth, ...como el musguito... is a bittersweet exploration of longing and desire, frustration and futility. It features the youngest dancers in the company and is guaranteed to restore your faith in the human spirit. The title, all the more poignant since it was Bausch's last piece before her sudden death in 2009, comes from a love-song, "To be 17 Again" (Volver a los 17): "Love entangles itself like ivy on a wall, and it spreads like moss on a stone, ah yes, yes, yes."
It may be a cliché to associate passion with Latin American rhythms, but the theme is so universal and the visceral neediness evoked by the cast so compelling that any qualms you may have seem dead in the water.
From the first image, I was hooked. A woman in a white shift kneels on all fours, her long hair curtaining her face from view. Two men pick her up and, as they carry her round the stage, she yelps like a whipped dog. One threads a pole under her arms, lifts her to her feet and propels her in a circle around him. A group of men then take it in turns to lift her inert body and pass her like a rag doll from one to another.
In more than two hours of intense engagement, many similar indignities are heaped on the women; but the ambiguity of their responses creates an uneasy tension in which they appear more like collaborators than victims. And the mood is lightened by moments of pure slapstick. A man fills a woman's glass with water, then tips her up to drink it. Another pours water over a seated woman (pictured above right) but, unperturbed, she touches up her make-up.
Flamboyantly dressed in gorgeous gowns, the women are the peacocks of the piece. Sumptuous in red satin, salmon pink velvet or printed silk, they make the men look drab in their dark suits and grey shirts. And they know how to tease and torment – to use flirtation and coquetry to exact small triumphs and inflict minor cruelties. A 6ft-tall siren repeatedly circles her arm to be kissed by a fawning admirer. A bombshell in bright green lies across the legs of two young bloods while she counts the requisite number of sit-ups.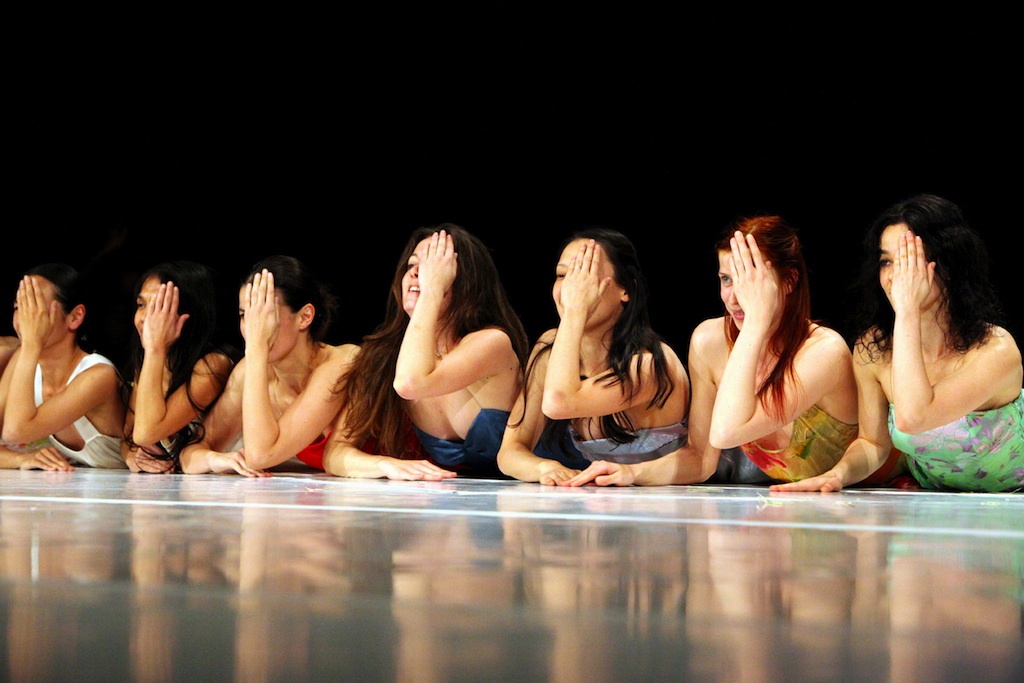 And there are moments of tenderness. The dancers – nine women and seven men – sit on the floor in a diagonal chain lovingly caressing the hair of the person in front. And lying in a row on their stomachs like a deranged chorus line (pictured above), they repeat a beautifully choreographed sequence of comic gestures.
These light-hearted interludes provide relief from the depth of feeling conveyed in the many solos, which make the piece so moving. With its ability to flick, whip, caress, slither, and encircle, the women's loose hair becomes like a fifth limb frequently leading movements that evoke rage or inner turmoil while, engaging every inch of their bodies, the men are equally convincing as souls in despair.
By the final curtain call one dress was ripped, the dancers were weeping and the audience was ecstatic. We had all been on a long journey.
The Pina Bausch World Cities season continues until 9 July
Listen to Chilean singer-songwriter Violeta Parra sing her famous song "Volver en los 17"
With its ability to flick, whip, caress, slither, and encircle, the women's loose hair becomes like a fifth limb
Share this article