British Ballet Charity Gala, Royal Albert Hall review - a celebration of sorts |

reviews, news & interviews
British Ballet Charity Gala, Royal Albert Hall review - a celebration of sorts
British Ballet Charity Gala, Royal Albert Hall review - a celebration of sorts
Darcey Bussell rallies all eight UK major dance companies to fete their survival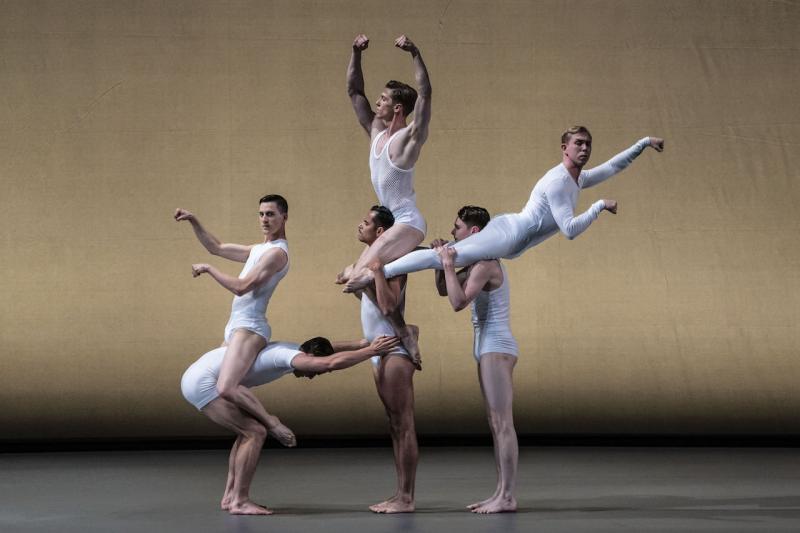 Too sexy for my pants: dancers from Matthew Bourne's company New Adventures in his 1988 ballet 'Spitfire'
The Royal Albert Hall – 150 years old this year and with a commemorative £5 coin to prove it – is a great space for many kinds of spectacle but has done few favours for ballet. I make an exception for Derek Deane's in-the-round Swan Lake, if only on the grounds of its having been seen by 750,000 people many of whom might never have set foot in an actual theatre.
Many more ballet productions – even those carefully refigured for that giant O – have lost the fight with the capacious auditorium.
So it was bold of Dame Darcey Bussell to book the venue for her big ballet charity gig. The aim was to raise money for community dance projects – not the big glossy ballet companies with a public profile and income streams from, well, streaming, but local inner-city outfits that throw a lifeline to the less photogenic – refugees, the learning-disabled, ex-cons. The idea was also to celebrate the survival of Britain's eight main ballet companies (yes, eight) over the past 15 months by inviting them to perform on the same platform for the first time ever.
It was a noble vision. The reality was a disembodied affair, with Dame Darcey and her co-presenter, cheeky chappy Ore Oduba, MC-ing remotely from an upstairs bar, and the performers struggling to project their considerable energy from a platform built at the foot of the organ pipes across the great chasm of the arena. This space was where the Royal Ballet Sinfonia and its conductor Paul Murphy sat, suitably distanced. In fact their services were only called on for half the items on the programme. The music I was really looking forward to hearing live – Shostakovich's Piano Trio No.1 – was recorded.
True, there was some lovely Mozart in the opening number, but the intended humour in Sophie Laplane's Dextera, made for the recent 50th birthday of Scottish Ballet and a riot of mincing, bum wiggles and silly walks, fell horribly flat. No standup comic would waste their best jokes on an unwarmed-up house and it was a very basic error of the organisers to put this at the top of the bill. Ballet Black's choice wasn't right for this event either. I'd like to see Will Tuckett's Then or Now in an intimate theatre, but its air of philosophical enquiry and its recordings of poetry by Adrienne Rich, again, got lost in space.
The full-on glitter of Birmingham Royal Ballet's offer, the ballroom pas de deux from David Bintley's Cinderella was, well, very glittery, but shorn of its context, looked empty, hardly a match for Prokofiev's brooding music. To my mind, only Matthew Bourne's choreography to this score has ever got the measure of it. And it was Bourne's company, New Adventures, performing Spitfire, a piece of vintage Bourne, that eventually sparked this juggernaut of an evening into life. Spitfire gleefully marries the aesthetics of men's underwear advertising from the 1950s to the heroic display element of mid-19th century ballet, and here the cast of six (pictured top) presented their six-packs and paraded their vanity with such XXL panache that they actually drew belly laughs. Granted, the stream of visual gags does run dry well before the end of the piece, but its transgressive energy and style was as welcome as brushed cotton longjohns on a chilly night.
The remaining gala items benefitted from that warmth. Rambert2's Sama (pictured above), with its Hare Krishna vibe and psychedelic music by Nicolas Jaar, went from strange to mesmerising in a heartbeat; a segment from Yuri Possokhov's sombre quartet for English National Ballet, Senseless Kindness, based on a big Russian novel, made even less narrative sense as a bleeding chunk, but emotionally held its own. And the big closer, Scherzo, by Valentino Zucchetti for the Royal Ballet, did the job with verve, allowing the under-used orchestra at last a chance to get its teeth into some real meat – a movement from Rachmaninov's 2nd symphony. It's salutory, though, that the most affecting element of the evening was the set of short videos which gave a glmpse of the work undertaken by the grassroots dance charities nominated by each company. Witnessing the joy of severely learning disabled dancers as they mastered a simple step was a reminder that excellence isn't only to be found among the excellent.
It was a noble vision. The reality was a disembodied affair
rating
Explore topics
Share this article