The Bright Stream, Bolshoi Ballet review - a gem of a comedy |

reviews, news & interviews
The Bright Stream, Bolshoi Ballet review - a gem of a comedy
The Bright Stream, Bolshoi Ballet review - a gem of a comedy
Ratmansky and Shostakovich offer up old-fashioned fun with an undercurrent of sweetness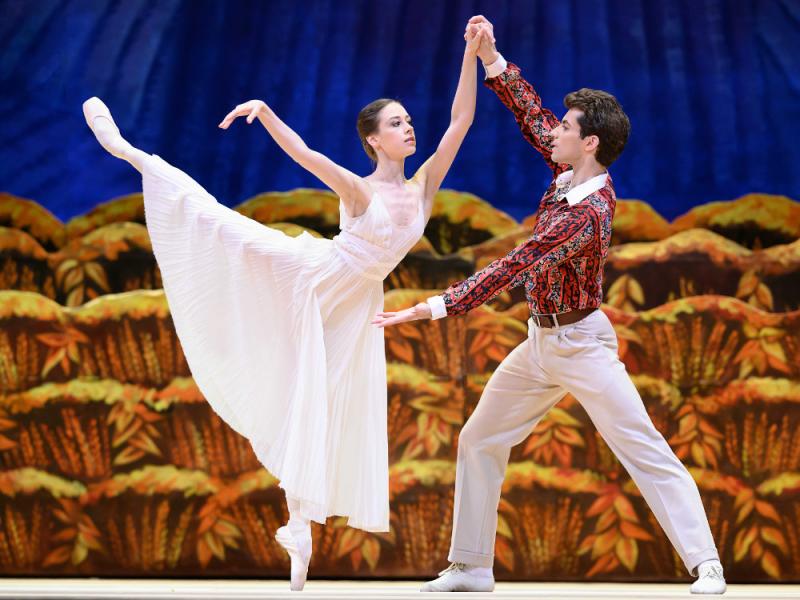 A cornucopia of delights: Daria Kokhlova as Zina and Igor Tsvirko as Pyotr in the Bolshoi Ballet production of The Bright Stream.
Why is Alexei Ratmansky one of the greatest living choreographers of classical ballet?
Well partly because, as last night's performance of
The Bright Stream
by the
Bolshoi
at the
Royal Opera House
proved, he can do comedy. To adapt the famous aphorism for ballet: sententious abstract dance is easy, even
Swan Lake
is comparatively easy, but doing physical comedy well enough to raise belly laughs from a very smart, high-culture crowd is hard, hard, hard. Ashton could do it; Robbins could do it; and
The Bright Stream
puts Ratmansky in their distinguished company.
Somewhat suprisingly, The Bright Stream invites comparison with Ashton in ways beyond its comic adroitness. I say suprisingly because, originally a Soviet ballet premiered in 1935, it depicts happy agricultural workers in a way that may have seemed politically correct under Stalin, but is out of all whack with the real experiences of those caught up in collectivisation and dekulakisation. Moreover, despite good reviews and a warm audience reception in Leningrad, the original production was condemned as degenerate in 1936 and its creative team suffered accordingly: composer Shostakovich never wrote another ballet, choreographer Fyodor Lophukov was disgraced, and the co-librettist Adrian Piotrovsky was arrested and shot in 1937.
In another Soviet ballet recreation, The Flames of Paris, Ratmansky twisted a pro-revolutionary plot into a poignant, critical human tragedy that questioned the role of art in supporting state power. He is also fascinated by the creative tensions of Shostakovich's life under Soviet authority and has made a full-evening work for San Francisco ballet on the subject. You might well expect The Bright Stream to have this critical, questioning spirit, but instead it is pure pastoral comedy, with as many happy peasants as La Fille Mal Gardée, as many disguised and confused lovers as The Dream and a synopsis that will make you go cross-eyed trying to follow its twists (I lost it completely at "she, in turn, is frightened by the tractor-driver who, still dressed as a dog, is riding the bicycle".)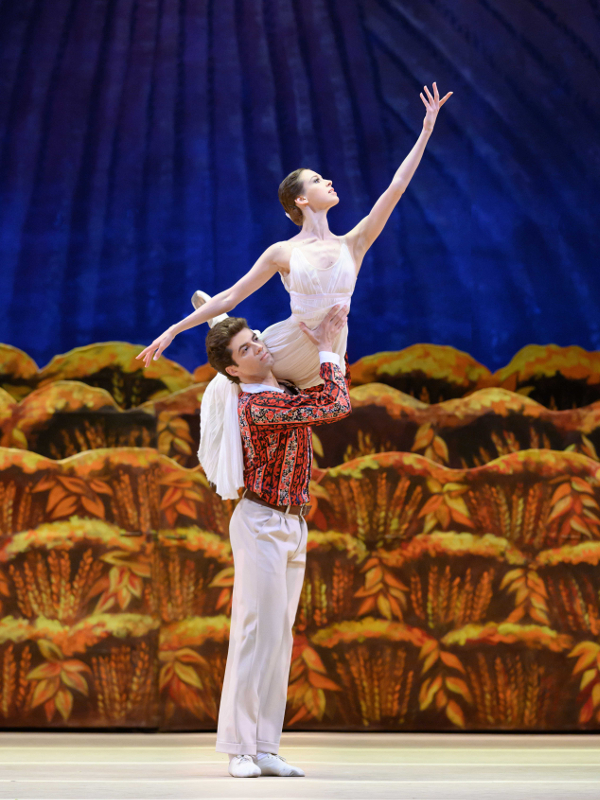 Fortunately, the storytelling is as clear as day on stage, a tribute both to Ratmansky's gift for characterisation and the tremendous acting of the Bolshoi dancers, who dial up the charm to 100 and look like they're having an absolute ball. I loved Denis Savin's spivvy accordion-player, all sleazy slides and pelvic thrusts, while Yuri Ostrovsky and Anna Balukova are delightful in the Widow Simone parts as an older couple each trying to make it with a nubile youngster. Principal Ruslan Skvortsov gets a show-stealing turn as the male ballet dancer who, dressed in a tutu and pointe shoes, performs a Trocks-worthy pastiche of La Sylphide, the kind of thing that is so purely funny as to draw snorts of laughter from even the most po-faced critic.
If all of this sounds tiresome and jejune, it's not — that's where the comparison with Ashton is merited, because Ratmansky and the dancers know exactly where to draw the line: there is sincerity lurking beneath the slapstick, and the high jinks are embedded in real, flowing classical choreography. The two female leads supply much of the straight sweetness, as well as the polished dancing: Daria Khokhlova (pictured above right) is fresh and charming as Zina, a happy innocent, whle Ekaterina Krysanova brings a little extra nous and humour to her role as Zina's city-polished ballerina friend.
By turns lush and sardonic, and roaming joyously across the orchestral soundbox for comic effect (a xylophone solo!), Shostakovich's score is a treat, with all the mood, colour and danceable invention of 19th-century ballet scores but with that extra edge and coherence you only get from a great symphonic composer. Boris Messerer's sets are also enchanting: the gloriously lavish painted cloths based on wheat and flowers are like a Samuel Palmer painting exploded across the stage — and get that inimitable, more-is-more Bolshoi touch at the end when the sun lights up with huge rays of sparkling LEDs.
While I would still love to see what a more interrogative approach to this material might look like, Ratmansky and the Bolshoi have created a gem of a comic ballet. There are only two performances in this tour, and there are plenty of tickets still left for tonight's. Clearly its unfamiliarity puts it at a disadvantage compared to Swan Lake (eight performances, sold out) but I bet those who took a chance on The Bright Stream are feeling mighty pleased with themselves already. Those who were on the fence might just want to cancel their plans for tonight and head down to the Royal Opera House for some good, old-fashioned, high-quality fun from one of the greatest choreographers, and greatest ballet companies, in the world.
The Bolshoi Ballet perform The Bright Stream at the Royal Opera House tonight, and other ballets at the same venue until 17 August.
There is sincerity lurking beneath the slapstick, and the high jinks are embedded in real, flowing classical choreography
rating
Explore topics
Share this article